Homer Spit, "End of the Road, Lands End"
We will start our walk with the signs.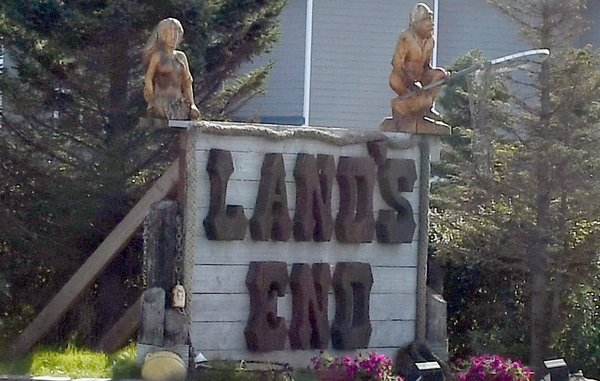 Nikon D7500 35mm lens f/6.3 1/2500 sec. ISO-400
The Hotel at the end of the Homer Spit is called Lands End. No roads beyond this point, until you reach land again. If you would like to more about the Hotel or enquire about cost here is a link to their page; https://www.lands-end-resort.com/
---
Next sign; this was a tricky one, the sun was shining on it, so I could not stand in front of it to get a good shot direct on. So I stood off to the side and then used my paint/photo program to try and straighten it out some. The sign was done by the Pratt Museum - -
http://www.prattmuseum.org/
- - in Homer Alaska .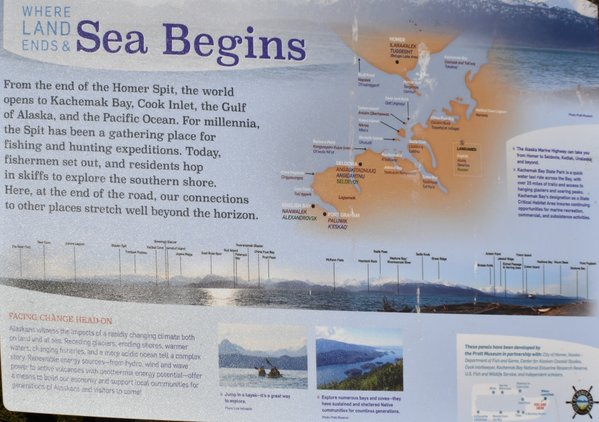 Nikon D7500 35mm lens f/16 1/1000 sec. ISO-400
It is a pretty informative sign with a lot of information, some of it is a little blurry, but I think if you downloaded and opened it in your own photo program you would be able to read most of it. Due to speed limit of my internet connection I do not like to upload the full sized images, I would be out of bandwidth in no time at all if I did that, so I shrink them all to 1000X whatever the crop comes out at.
Okay on to the beach. First the pier, it is pretty good sized for handling the big boats.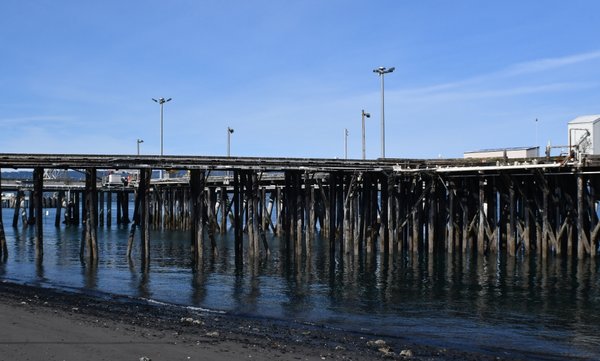 Nikon D7500 35mm lens f/13 1/640 sec. ISO-400
Kind of hard to get a really good picture from the beach with all those post holding everything up, but there is some nice reflections of the post, and the seagulls love all the little hidey hole areas under the pier. Sometimes you can see sea otters playing around under the pier, we didn't get to see any today, but have in the past.
It was about four o'clock, so a lot of fishing boats were coming back from their day on the water, the seagulls were having a blast just flying around or floating and bobbing in the water.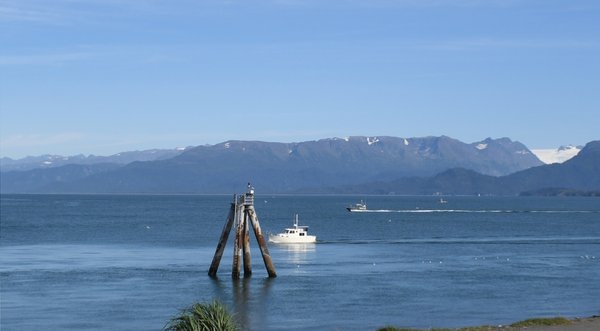 Nikon D7500 35mm lens f/6.3 1/2500 sec. ISO-400
On the way back up from the beach one last look down and I saw this nice little shell. Got as close a shot of it as I could, should have bought the macro lens along also, but didn't, still it came out okay. I would have take more shots of the flotsam on the beach but what there was just did not seem very photogenic to me at the time.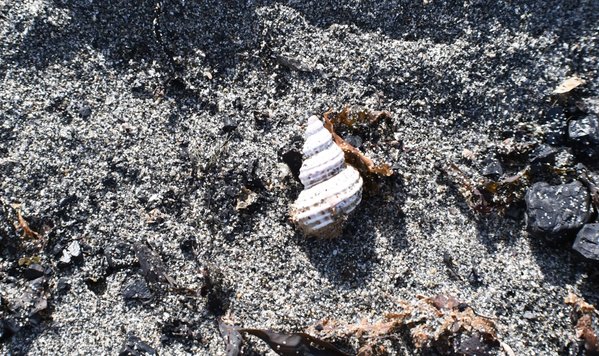 Nikon D7500 35mm lens f/6.3 1/640 sec. ISO-400
One of the forms of transportation in Homer is the Homer Trolley,
http://www.homertrolley.com/
This was the first picture out of the vehicle, you would think that by now I would remember to check what setting I am on before pushing the button, or at least use my eyeball to look at the eyepiece information along with the subject matter, Well it didn't happen. Fortunately I was able to rescue at least the Trolley part of the shot.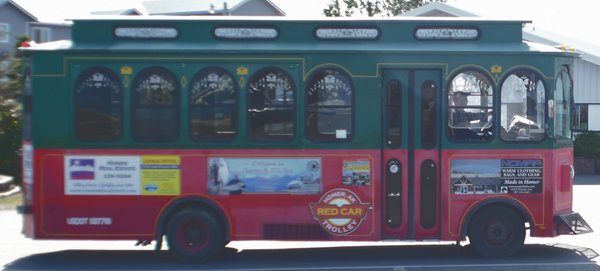 )
Nikon D7500 35mm lens f/2.5 1/2000 sec. ISO-400
So that pretty much concludes the beach part of our trip to the end of the road in Homer Alaska. There is a load of stuff to do and see on the spit, including the Salty Dog Saloon. Sorry no picture on this trip. to learn more about the community of Homer Alaska here is the link to their Chamber of Commerce web page: https://www.homeralaska.org/
---
I would like to thank all the people that came up with the
I hope you all do not mind my use of them. I think it is @lyndsaybowes who started walkwithme tag, but am not sure, and that BeachWednesday - led by @lizanomadsoul and initiated by @uwelang.
I got that off of @tatoodjay post - https://steemit.com/beachwednesday/@tattoodjay/beach-wednesday-walnut-beach. So I thank all of you. My third wednesday walk post. Soon our beaches will be snow and iced covered, not looking forward to those days.
---