JSEcoin will start trading publicly this October 18th

JSEcoin will start trading publicly this October 18th at LATOKEN and IDEX!
A little bit over a year ago, a new cryptocurrency project called JSEcoin launched. Its initials stand for Javascript Embedded Cryptocurrency, and this coin aims to make it possible to earn cryptocurrency by adding a simple HTML widget to your webpage or blog. Said widget is, essentially, a webminer, but unlike most web miners out there, JSEcoin's is lightweight and tries its best not to wear down the performance of the machines of people visiting sites with it. How do they achieve it? JSEcoin is, basically, an ERC20 token, and the webminer just performs a few ligthweight calculations to determine who gets what from a reward pool (basically). The result? This widget / webminer consumes way less processing power than an online video.
Why JSEcoin? JSEcoin seeks to become a complement (or even an alternative) to monetization solutions such as Google AdSense. From a webmaster point of view, this has a couple of advantages. First, websites can be easily monetized without flooding the whole place with banners of all kinds, and second, even traffic from far away countries can bring income, thanks to the ligthweight web-mining widget. From an user point of view, this will make it very easy to buy products and services online with a fast crypto. What is more, soon the JSEcoin group will also launch advertising space to go along with the webminer (optional for webmasters), meaning that advertisers will be able to quickly and painlessly show their ads on countless websites online.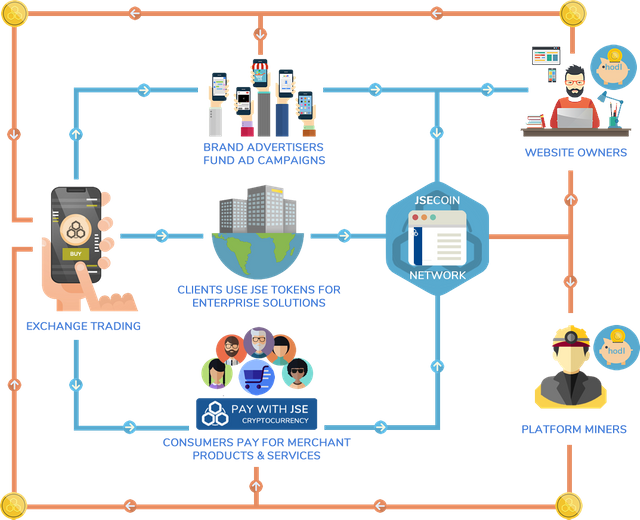 Credit - Image taken from the JSEcoin website
Until recently, JSEcoin was in an ICO stage, which ended last October 11th. Starting from next October 18th, the token will start trading publicly online at various cryptocurrency exchanges, including LAToken and IDEX This will allow people to buy and sell it with / for Bitcoin and Ethereum, which can then easily be exchanged for traditional money (FIAT) or spent on any number of sites online.
Learn more about JSEcoin at the official website, JSEcoin.com
Looking the BitcoinTalk thread? Its right here.