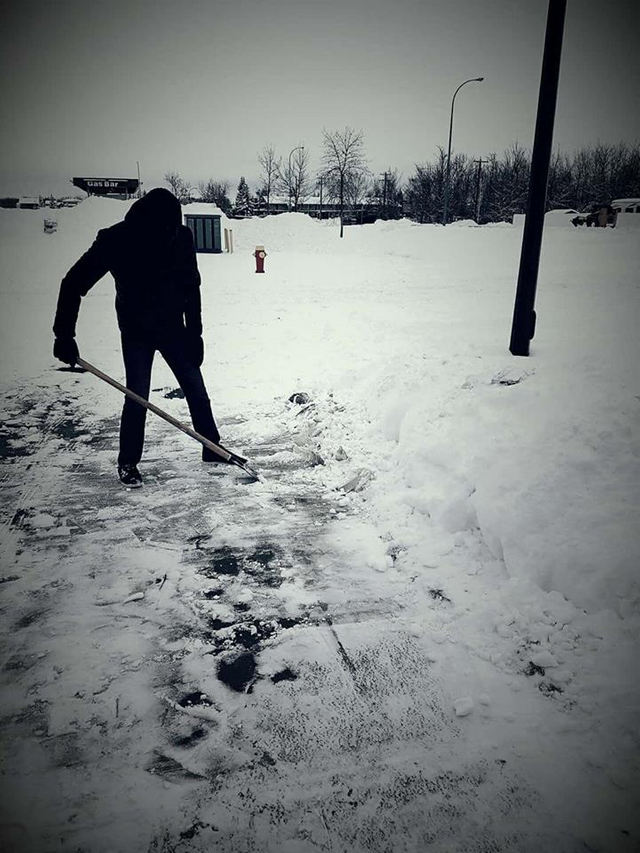 ---
This is me clearing my driveway, doing my Fatherly and husband duty in the freezing cold winter of Edmonton Canada. Temperature was minus 13 degree Celsius, i nearly froze to death doing that while my wife was inside nursing our little son. That alone gave me joy and energy to continue my task that morning.
"Steem is empowering users Worldwide".
Even though some of us had no believe that it would last this long in its early days and we left, though with a more cogent reason. I for one lost someone dear to me when i joined steemit in its early days back in 2016, but i went into depression that nearly took my life and so steemit was out of my conciousness till i joined back again earlier this year. How i wished i could turn back the hands of time and stay put then to get some fair share of early steembounties when the prices was still relatively low.
I am an accountant for a medical outlet, and in my spare time i double as the best father in the World. I have three siblings in Africa, i am a very adventurous dad who loves sport and everything associated with it. With my basic knowledge of Cryptocurrency and the Blockchain, i have made a few bucks in ICOs and some decent trading. Even though i am hoping steem would be my major portfolio in crypto-tradings and dealings, before that happens i wished Steem last more years and increase in Price so that late adopters like me and several others makes something from it.
Aside blogging on steemit, i would be posting on Dtube my Gaming escapades and micro-blog alot due to the nature of my work. But i will try my best to drop at least three educative articles weekly so help me God and the Whales of Steemit!
---
---
---
Full Steem Ahead as you upvote my full intro into the Steem Ecosystem, Thanks