I've never written so fully about this in public, but here goes.
I'm an artist and writer and new to Steemit. I love the community here.
In this post I wanted to share my story with you all. I hope it helps others who have experienced the same thing.
This is me when I was a kid. I loved drawing and singing. And I loved my parents.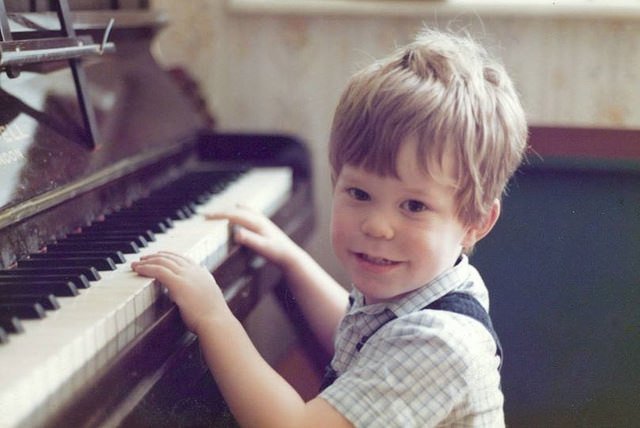 But my parents were sexually abusing and beating me. This made it very difficult to love them, and very difficult for me to stay alive as a kid. I depended on my parents to feed and protect me, but my dad drank heavily and would spiral out of control.
Society told my dad to be a thing called a 'man'; and being a 'man' meant you didn't talk about your emotions. Instead you acted them out on your family in private.
If you were the thing they called a 'man', society allowed you to drink and beat and abuse your children, but it didn't let you cry. It didn't let you tell people what happened to you as a kid. How you were abused. And so, like all pain that is not talked about, instead it was acted out on the next generation.
This is me at a street party in London. I have been dressed up as the Arch Bishop of Canterbury –– a priest. This is ironic since the priest at our church is abusing children too. He is abusing me: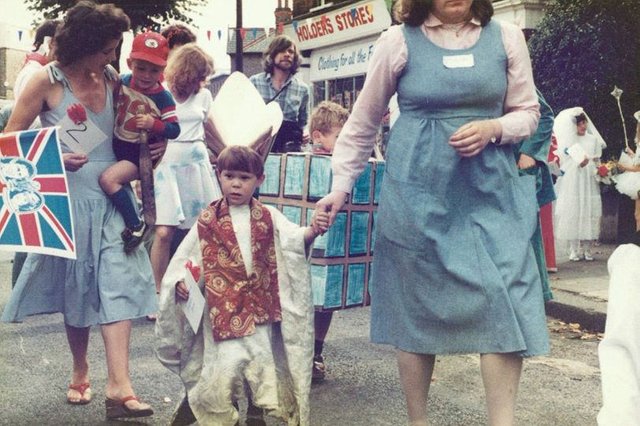 Years later, I watched the movie Spotlight and it made more sense to me how society allowed so many priests to rape its children.
Our vicar, like most vicars, was really a cult leader. But in Britain this cult is socially accepted and called 'The Church of England'. The 'Church of England' cult was obsessed with human sexuality and believed that an angry male authority figure they called 'God' would punish them. They also worshipped the sinister icon of a boy nailed to a cross with blood coming out of his body.
The vicar abused me in the room to the right of the altar in St Peter's Church Hammersmith: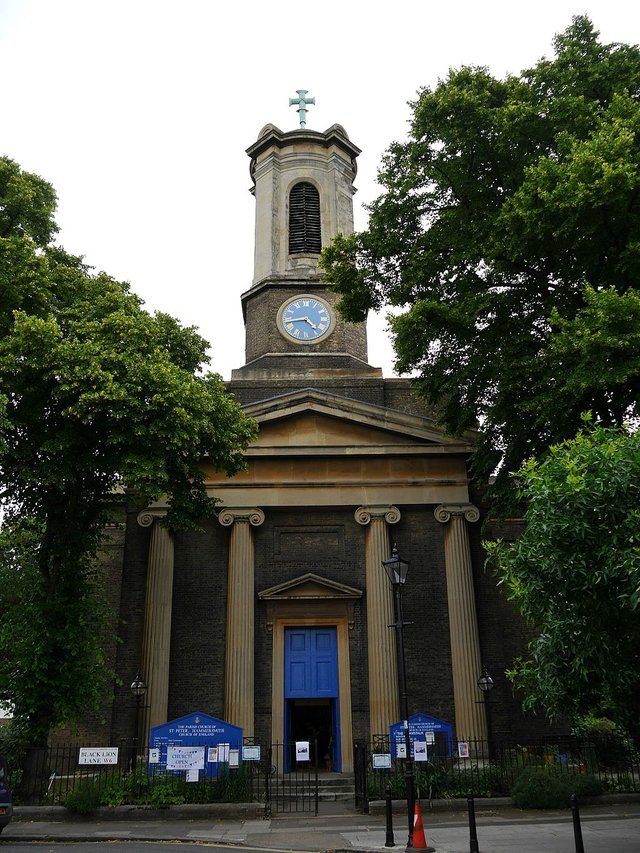 He would begin his assault by waving incense around the room in a metal sphere on a chain (called a 'Thurible'). He would then tell me that I needed to be cleaned of my sins. He would make me wear a white choirboy's tunic and then reach his hand underneath it and I would leave my body in terror.
Presumably this was a re-enactment of how he was abused as a kid. I can speculate that he was abused in this same way by the 'Church of England' cult when he was a kid. I now know, from reading a lot of psychology books, that many abusers are unconsciously repeating their own childhood abuse.
But back then it was overwhelming and terrifying. To place my experiences in context, I lived in a time when the British Broadcasting Corporation (BBC) was facilitating the rape of children. It would have continued doing so if it had not been exposed. Britain is a country that has, for decades, concealed and denied the institutional abuse of children throughout government and other institutions. This is the place where I grew up.
Sometimes me and my sister would try and call the police. But the police were abusing children too, and hiding the crimes of the British government. As a child, perpetrators threatened to kill us. They said they would call the police to come and take us away. They used the police as a threat against us. As kids, we believed it. And they were right, because — as we now know — members of the British Police Force were raping children too.
This is me with my rabbit: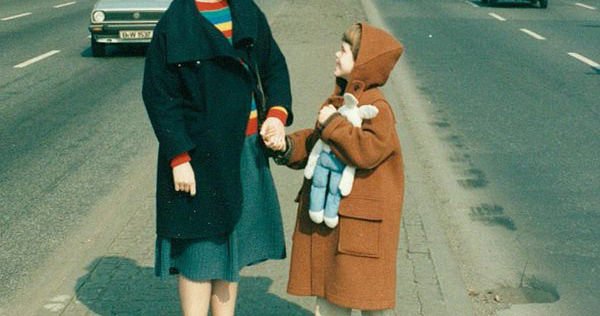 That rabbit meant a lot to me because it seemed to be one of the few people in my life at the time who didn't want to destroy me. Everyone who called themselves an 'adult' seemed to be determined to 'educate' me and the kids around me so that we could become just like them. But, I couldn't understand why they wanted us to 'grow up'. Most of the people I knew who were 'grown up' were drinking, beating kids, angry, depressed or violent. They seemed to want to start wars, and buy expensive objects they said we shouldn't touch. The objects seemed to matter more to them than kids. The world, to me as a kid, was run by insane people telling me to 'grow up' into them.
My uncle, for example, was an angry violent man who had returned from fighting in a war and seemed to hate everything. He also abused his children and seemed to be obsessed with watching movies where people killed each other. At his house, he would put on these war films and we'd sit for hours watching men kill each other. Perhaps that's what it was like inside his head. Nobody had heard of PTSD yet.
As an adult, I drew a picture about it. This is how it felt to be with my uncle, and his television set that showed war all the time: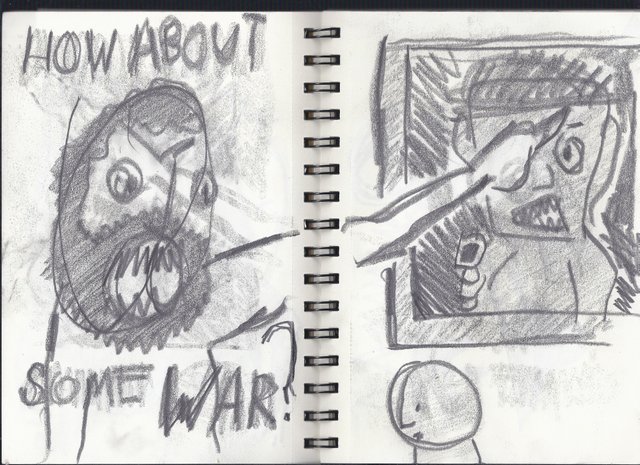 So many adults seemed to be preoccupied with molesting us in some way. Looking back, I think this is because British culture and religion has completely repressed the natural human connection with sexuality. So, instead of well-rounded adults with a healthy connection to sex, Britain is full of adults who were themselves abused as children and taught to believe that their bodies are their enemy. They're psychosexually jammed in childhood and can only relate to children as sexual partners. And so, the cycle repeats endlessly: generation after generation.
Here is a picture I drew later, as an adult. It shows a British adult taking my clothes off, when I was a kid, under the pretence that I 'need a bath'. On the right is one of the places I would escape to in fantasy, to flee when this happened to me. This psychological response is called dissociation. It's where a victim of sexual abuse will detach into a dream state to avoid the pain of the experience of being violated. It's also how I hid a lot of memories from myself: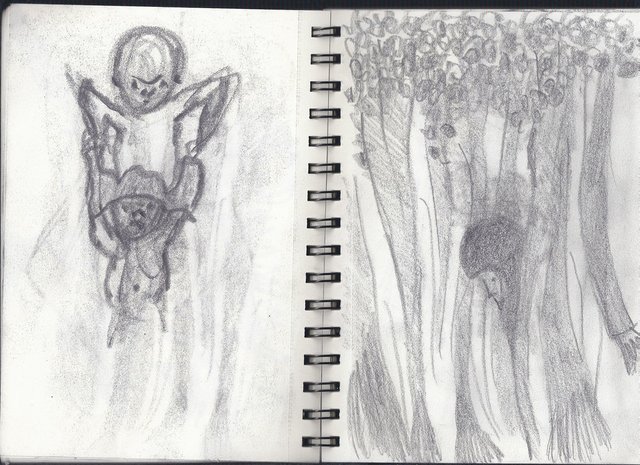 My parents sexually abused and tortured their children. However, they were also once abused. This is why they abused. They repeated a behaviour pattern instead of confronting it.
What is not talked about is acted out. Because British society does not want to talk about the epidemic of child abuse in the UK, it is instead acted out by millions of parents. Many of them know no other reality. My parents, like the parents of many of my friends, acted out their abuse on their children.
When I was around nine years old, I was sent to a place called King's House School in Richmond, London. It's now been made public that a paedophile would be allowed to operate in the school, but back then, nobody talked about it.
Back then, it just happened. In many places it still is.
What is not remembered is acted out; and not many people seem to remember.
This photo is of King's House School. When I went there, many of the teachers there were sexually abusing children. The teachers who were not abusers also participated, because they seemed to know what was happening, but would turn a blind eye to it. I think this was because they had been abused themselves and did not want to face the reality of it. This is pretty much how society functions in general: A lot of perpetrators; even more deniers.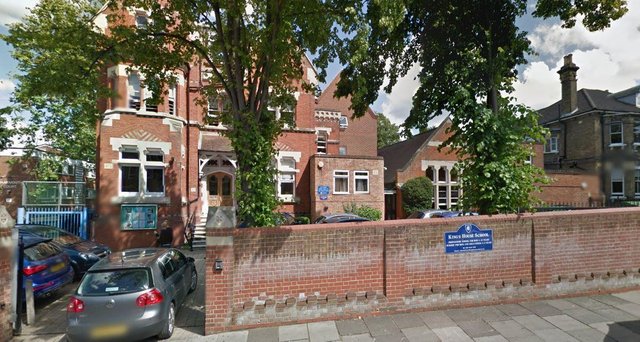 I want to talk a bit about my teachers at King's House and how they abused the children, including me. Hopefully this will help others who have memories of being hurt in the same way. The school continues to say that it really knew nothing about the paedophiles operating in it –– just like the BBC knew nothing; and the government knows nothing. Britain is home to a lot of people knowing nothing about child abuse.
The sad reality was that the school was effectively run by child abusers. Many teachers abused me and other children at King's House. It was institutionally corrupt.
The computer Teacher at King's House School molested me, and others, in the computer room. He would often lock the door to the computer room and hurt kids. There was a small attic room next to the main room in the computer lab and he would take me into the room and assault me in the darkness. This allowed him to attribute confusion and misunderstanding to me as a child. It was extremely confusing being molested in the dark. As an adult, I drew some pictures about how this felt: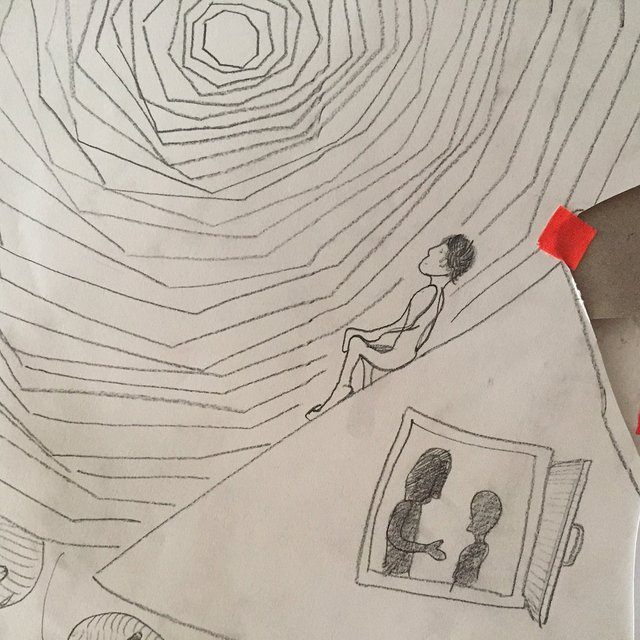 This drawing shows the computer teacher is with me in the cupboard. The drawing also depicts the psychological defence mechanism of dissociation. In the illustration, I have metaphorically left my body and I imagine that I am on the roof of the building, looking out into a void. This is preferable to being fully aware that I am in the cupboard, in the dark, being assaulted.
After the first assault the cupboard took on a sinister meaning for me. I felt there was a monster in there. But the monster was really out there. He was teaching the class.
Many other teachers at the school knew what the computer teacher was doing, but only expressed vague feelings about it. Some of them were abusers too.
Here's an old school report of mine, where another teacher has alluded to the abuse, writing that I find it easier to "relate to adults" and am "vague and forgetful", "disorganised" and that "computing seems to clutter rather than clarify" my thinking.
I guess sometimes it is difficult for a school to simply admit that a teacher is molesting his students. So, this is the kind of thing you get instead: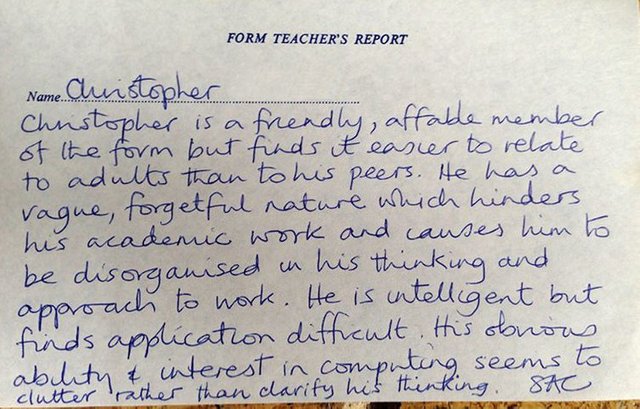 This is typical in institutions where children are being abused, and happens throughout British society. Instead of taking interest in why a child might be clouded and confused, the child is blamed for showing symptoms of abuse.
This is a drawing I made of how the cupboard in the computer room at King's House felt to me and some of the other kids at the school: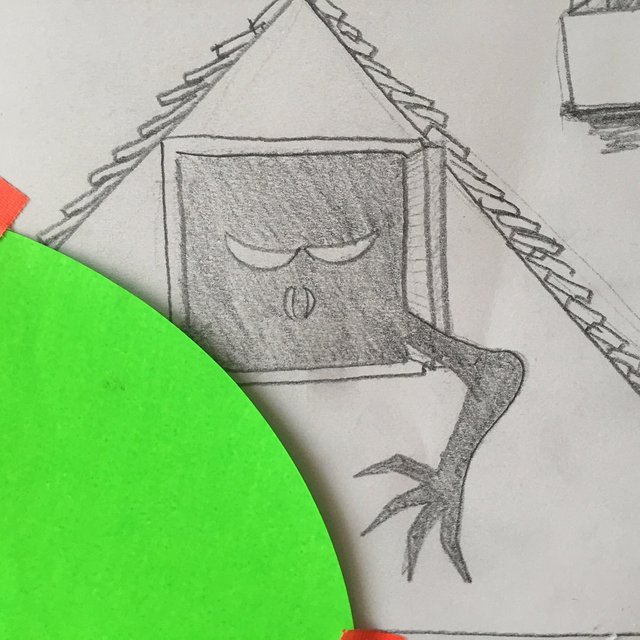 Being molested in the cupboard was doubly-traumatising because my mother used to lock me in a cupboard when I was a small kid to 'teach me a lesson'. The lesson I learned was that my mother was so distressed and out of touch with herself that she couldn't relate to children. Later, I drew a picture of the cupboard, and how now, as an adult, I had finally broken my way out of it. I broke out of it by remembering what happened. Until that point –– when I fully accepted what happened –– I was, psychologically still trapped in the cupboard. Hence my decades-long anxiety which has now evaporated.
In this illustration I am breaking out of the cupboard in my parent's house. The cupboard is symbolised by a monster that held me trapped inside my head. The monster has split open, to reveal the child in the dark inside. And now, as an adult, I have drawn myself comforting the child I once was. Holding him in the dark and telling him it will all be ok. I'll come back and save him: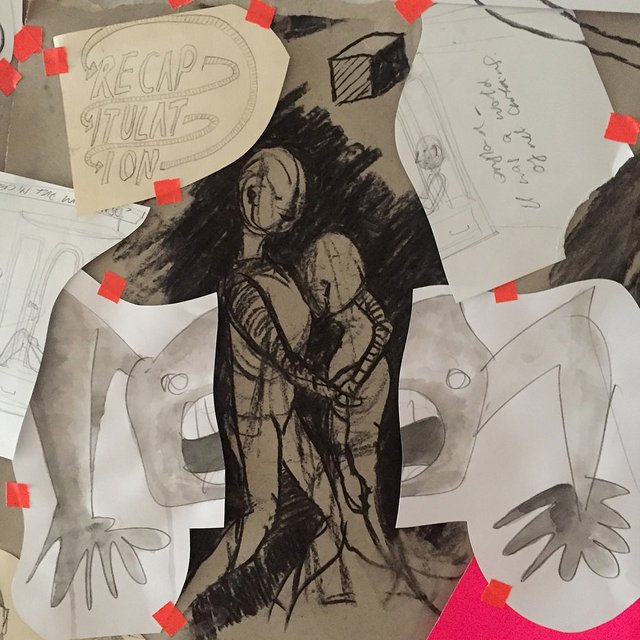 My piano teacher at King's House School was also sexually abusing me. He would molest children during piano lessons which were held in a small, private backroom in the music school at King's House. For me, the abuse would begin with anger and threats. He would say that I had made a mistake in playing and then twist my hair violently, or hit my hands with a wooden ruler. This progressed to pushing my head down onto his crotch and forcing oral sex. Other times he would attempt to do the reverse. This was terrifying and confusing. I was just a kid.
Here, you can read a school report written by the piano teacher. You can see that he is completely unable to reflect on what he is doing to me and other kids: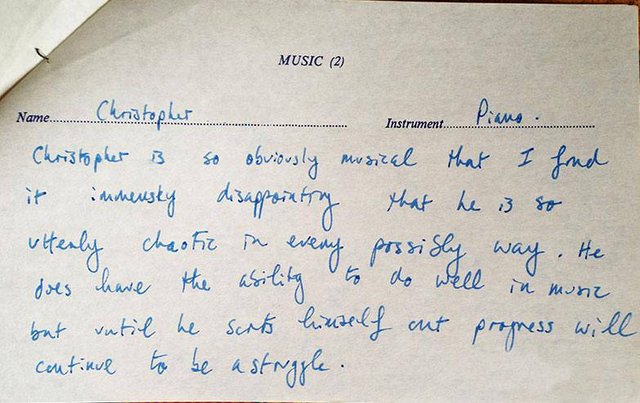 He writes that I am "utterly chaotic in every possible way" –– which is a projection. It is him, as a sexual predator, who is in a state of chaos. This report actually makes a lot of sense when I look back, if I read it as a projection. My piano teacher at King's House School was obviously musical, but he was "chaotic", "struggling", and needed to "sort himself out". It's a shame he could not see these problems in himself, and chose to attack children instead.
I was ten years old.
Here is another report that shows how abusers discredit and blame their victims for their symptoms. Here, the science teacher, who was also abusing children at the school, writes that I am "in a dream":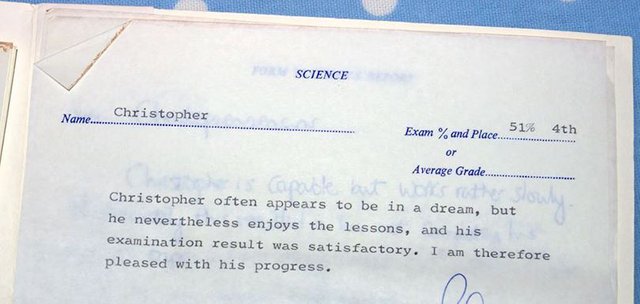 I am in a dream at the time because I am dissociating. This is because the science teacher is abusing children together with a history teacher. This history teacher was the most openly abusive teacher at the school. He would beat children on their naked bottoms in the middle of lessons –– I realise this may be hard for us to imagine happening in a modern school but, in England, it happened. He would approach children unexpectedly during lessons and twist their hair or bend their fingers back. Again, presumably, repeating his own experiences as a child.
Together with the science teacher, he systematically isolated children and sexually abused them.
He would also watch children in the communal showers after sports activities and seek to isolate them in an smaller shower area at the back of the sports field changing rooms. Here he would molest them. I survived this experience several times.
With two other teachers, he took many of the kids, including me, on an Outward Bound 'holiday' to a place in the west of England and systematically isolated and abused children over a period of days. We were not the only kids this pattern of abuse happened to. Why didn't we say anything? They said they would kill us. And, besides, in my case my mother and father were abusing me too.
Eventually the school was unable to contain the obviousness of what the history teacher was doing and they persuaded him to leave. Notice that they did not call the police, or identify the other abusers. They just asked him to go. The message seemed to be clear: You can abuse kids at this school; but do it in private. This quiet dismissal of offenders happened in institutions across the country, and still does.
The school also used the standard institutional tactic of blaming victims of sexual assault for their symptoms. Here is an example of another report that does this. It's interesting, looking back, to see how society can only seem to find fault with the child. It cannot consider that it is causing the problem by abusing the individual: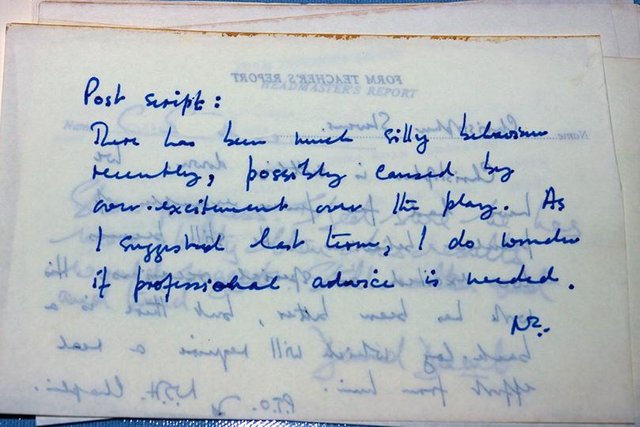 The "silly behaviour" referred to in the report, was me as a 12-year-old kid seeking attention in a state of high distress over the fact the school had multiple sexual abusers as teachers. And, the "professional advice" that should be sought is, again, a projection. This teacher, and the school, should have sought professional advice to dismantle the pedophile network it concealed. Back then, nobody listened to 12-year-old boys, and so they –– as do many societies –– attempted to pathologize a child's natural reaction to their abuses.
My form teacher at the school would also abuse children. He did this by isolating them during what the school called 'detention'. Detention was where a child who was distressed from being abused, and acting out loudly in class, would be 'punished' by being made to stay after school, alone with the a teacher, where they would be abused again.
Like many teachers at King's House, my form teacher followed a familiar pattern of abuse. He would isolate a child alone in the classroom and then force them into a stationary cupboard at the back of the class.
In the back cupboard, he was preoccupied with attempting oral sex on me. Presumably, this was the way in which he himself was abused as a kid, and the behaviour he sought to repeat. I noticed this with many of the adults who hurt me: They each seemed to be obsessed with acting out a very specific form of sexual violence, and would repeat specific acts over and over again. As if stuck in a loop.
So many of my friends were beaten and sexually abused in the UK, throughout the 80s and 90s. By multiple perpetrators, in multiple institutions. Amazingly, it continues today. Britain just can't look at itself in the mirror.
I was sexually abused, sometimes with other kids, in places including:
• My School
• Scouts
• My home
• Swimming pools
I know many other kids had similar, if not worse, experiences. Some of my friends committed suicide, others are in deep depression. Some just lost all their dreams, and chose to have 'careers', or pursue the drab material possessions that the television dishes out as an alternative to being alive.
In other words, they chose to 'forget' childhood.
Others are healing.
Some, like me, are free.
I am unusual because I remember fully, and I am also credible. This is not usually the case with survivors of such extreme abuse. Usually it destroys us.
There is a good reason why the British government have lost the dossier on political paedophiles https://en.wikipedia.org/wiki/Westminster_paedophile_dossier
There is also a good reason why the national child abuse enquiry has gone through four different Chairs and is being called "stage managed" by survivors: http://www.bbc.com/news/uk-38037110
The problem is this: Child rape goes straight to the heart of power.
When I grew up, there were not a few members within a society who abused children. What happened is that a huge swathe of British society abused children, from the Prime Minister down. They did that either by perpetrating the abuse, denying the abuse, or turning a blind eye to the abuse.
So, we are dealing with a very complex problem: What do you do when an entire society commits a crime?
There was a lot of child abuse going on in England. Years later we would discover that many of the leading TV presenters at the time were abusing children. Some of them, like Jimmy Saville, abused over 1,000 children. The former British Prime Minister was raping children, and Margaret Thatcher was covering up for child abusers in her government.
You can imagine then, what was happening out in the community where I lived. Most kids I knew were being beaten, and many of them were being sexually abused. We thought it was what childhood was in London in the 80s and 90s. We had nothing to compare it to. We got the clear message from 'adults' not to talk about it; and later to pretend it never happened.
For me the answer is simple: I will talk about it. I wil make art. I will make music.
I will stay awake, and share my story.
So that's what I do now.
Thanks for reading my story and being part of this community. I'm glad to be part of it.
Phoenix.