I've been using Steemit for only about two months and even not been active all the time. Nevertheless other Steemians are writing posts pointing out the professionality of my work:

So, how did this come about?
Well, the usual story: I spent one year in a secret training facility in the desert where I learned everything about the inner workings of Steemit which enabled me to register a Steemit account and to work as a professional downvoter with regular payments coming in. The following is one of the rare photos of myself during my time in the desert: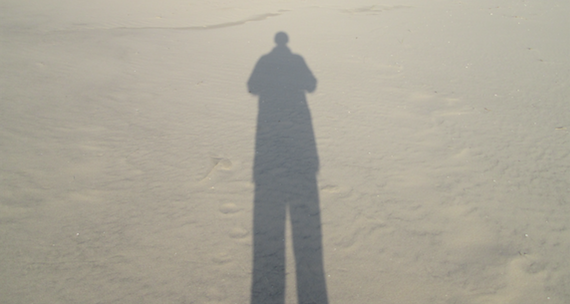 "The prisoners cannot see any of what is happening behind them, they are only able to see the shadows cast upon the cave wall in front of them." --- Plato
My Steemit experience
Some time ago I registered a Steemit account and used Steemit mostly reading, voting, rarely commenting, and without the intention to start writing posts immediately.
There is no doubt that there is a lot of decent content around, also excellent content, only sometimes hard to find. I enjoyed reading high quality content, some of which I tried to accumulate as resteems on my blog page. And surely there are many more excellent authors to discover for which didn't had the time yet.
To complement my Steemit experience, I also looked out for the opposite side of the spectrum. Here we have the advantage that one doesn't have spend too much time searching for it, it doesn't hide, you directly run into it.
These shitposts seem to form a whole universe of its own. A subset of this low-quality content is produced by some very industrious users pushing conspiracy theories. I learned from Steemit that there are people believing in the Chemtrail conspiracy theory or the or the Pizzagate conspiracy theory, and there even seem to be some Flat-Earthers around:

On a similar intellectual level, probably more harmful, there are those pushing Climate change denial. And there are accounts engaged in hate speech and in pushing conspiracy theories that discredit certain groups of people, one example being the Protocols conspiracy theory.
Downvoting and new conspiracy theories
Given this overabundance of crap on Steemit, and keeping in mind that the negation of the negative is positive, I started to reserve part of my voting power to downvote some of these shitposters, conspiracy-theorists, antisemites and racists. Also, what to do when you have surplus voting power and not the time to search for good content - bad content is always at hand. And I didn't want to be one of those users who never ever have used the downvote button, this way missing half of the full Steemit experience.
The reactions were various. The most pronounced reactions came from the flagged antisemite conspiracy theorists, which made me even more interested in them. My flagging appeared to have caused some uneasiness in the conspiracy theory scene and they began to fabricate their own new conspiracy theories: that Steemit censors, that I were a professional downvoter paid by Steemit Inc.

or by the Israelis for downvoting certain posts

and funded through a very suspicious account

Introduce myself
I'm not a downvoter paid by the Israelis or Steemit Inc., in fact I'm not paid by anyone for what I do on Steemit. My activity on Steemit is not limited to downvoting. I'm not a blogger, therefore I'm not blogging. And I don't like to make too much information about myself available on the internet. However, it is not false that the picture above shows a shadow of me.
"Take a good look at this world, how riddled it is with huge, gaping holes, how full of Nothingness, the Nothingness that fills the bottomless void between the stars, how everything about us has become lined with it, how it darkly lurks behind each shred of matter." --- Stanislaw Lem, "How The World Was Saved"
Flagging on Steemit
Though we all have seen the shocking pictures of all that beautiful steem flowing over the dam and daily come in contact with content that is in urgent need of flagging, to me it seems that downvoting spam, shitposts, abuse and excessive self-upvoting is not as widespread as it should be.
What do my readers think? Do you not feel enough rewarded for spending your valuable voting power on downvotes, do you see flagging as censorship, do you fear retaliatory flagging, do you lack the negative attitude required for proper and effective flagging, do you don't want to judge what's good and bad or don't waste time on this, or is it that there is so much shit around that you don't know where to begin flagging?
Or maybe, this vibrant, ever-regenerating and self-affirming biotope of shitposts just forms a vital part of Steemit, to serve as material only in relation and comparison to which good content becomes good content and mediocre content becomes mediocre content, and therefore needs to be preserved?