A Challenge: What are you doing to claim food sovereignty for yourself or your community, and why? My Response...
@Homesteaderscoop put out a challenge with hopes of bring some knowledge forward concerning food sovereignty. Find out more at: https://steemit.com/community/@homesteaderscoop/challengewhatareyoudoingtoclaimfoodsovereigntyforyourselforyourcommunityandwhy-64xiaq0q0m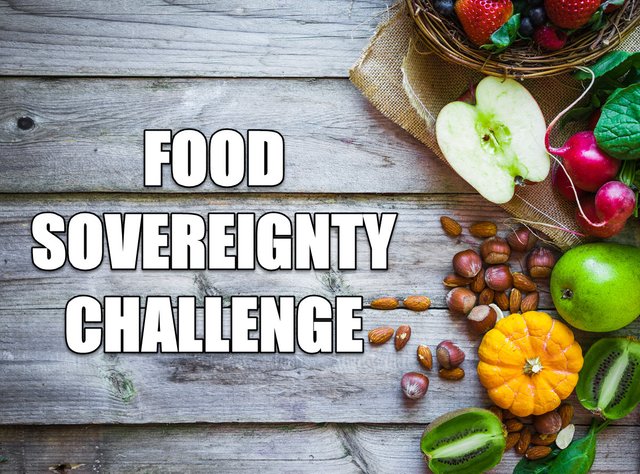 This concept of food sovereignty has guided our way for some time now.
Gardening has been a big part of this for me. I've always had a garden of some sort, whether it was the family backyard garden of my youth or the container garden while living in a camperized bus or an acre of rich garden land on the prairies and on to our present day, multiple garden plots in our forest home. Gardening began to play a bigger part when I began to see more and more degradation of our food system with the depletion of the soils and the numerous chemicals that our foods were becoming laced with.
Also I saw the writing on the wall, when I realized our stores are only stocked with enough food for a few days and they are reliant on regular shipping to get their goods. This upped my efforts to grow my own food so I would have access to good nutritious foods that I knew what went into it. I also began sourcing out more locally sourced foods to cut out the amount of shipping necessary to get our food. This often opened up doors to bartering and building of relationships with our food producers.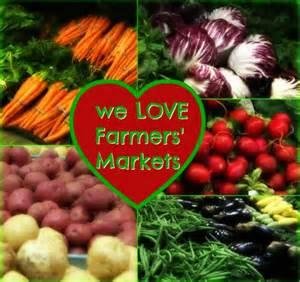 Back when I was in my later 20's, we purchased land (back when it was $800.00 per acre) and started building our homestead. Always my first thing was to build up the soil and establish the gardens plus plant our fruit trees. Our acreage bordered the forest crown land with an abundance of wild foods all around us. I dove into studying the wild edibles and medicinal plants, taking herbology courses and building up my resources for being able to treat and feed ourselves and animals with nature's food and medicines.
Although we are not "off grid", we built our place to not be dependent on the power grid if it falters. We have a wide mouth well that we can draw water from, a good wood heater (with a large woodlot) and the ability to be able to close off rooms if it were really necessary to hunk-er-down. Our septic system is gravity feed to a septic lagoon and we have a water collection system for both summer and winter. See our water collection system at: https://steemit.com/ecotrain/@porters/the-maker-challenge-no-3-water-collection-storage-usage-system-my-system
We have coal oil lamps and the oil to go in it plus we do have a small solar system set up on our camperized van which we could bring to the house if needed.
Sad to say, but we have prepared for the internet no longer being available, which it very well could be, with a good library of books and music plus a tight local community.
We have a good supply of grains and seeds, pulses and rice in a storage room that keeps cool and dry.
We know how to cook things from scratch, can and preserve our foods and have a diet that we are happy with and are not reliant on the stores to maintain it.
This past year we took our gardening one step further and began our indoor gardening project.
See all nine parts on this -
Gardening for Food Security Indoor Gardening Project
Part 1 - https://steemit.com/gardening/@porters/gardening-for-food-security-indoor-gardening-new-project-beginning
Part 2 - https://steemit.com/gardening/@porters/gardening-for-food-security-indoor-gardening-new-project-beginning-part-2
Part 3 - https://steemit.com/ecotrain/@porters/gardening-for-food-security-indoor-gardening-project-part-3-the-experiment-worked
Part 4 - https://steemit.com/ecotrain/@porters/video-tour-gardening-for-food-security-indoor-gardening-project-part-4
Part 5 - https://steemit.com/ecotrain/@porters/why-i-brought-my-gardening-indoors-indoor-gardening-project-part-5
Part 6 - https://steemit.com/dsnapx/@porters/gye4b7sv
Part 7 - https://steemit.com/ecotrain/@porters/gardening-for-food-security-indoor-garden-project-part-7-a-walk-thru-and-making-cuttings
Part 8 - https://steemit.com/dtube/@porters/k4yhd5b7
Part 9 - https://steemit.com/dtube/@porters/5x0x3oz7
We live in an area with a very short outdoor growing season and having an indoor garden is a very valuable asset to us.
Also we follow Martin Armstrong with his computer system (Socrates) that predicts cycles and it is showing a cooling trend and erratic weather patterns plus other cataclysmic events, making it more difficult to be able to grow outside so this nudged us forward to putting the effort in to set up our indoor grow space now.
You can follow Martin Armstrong's blog at: https://www.armstrongeconomics.com/blog/
It's well worth looking into and finding out more about his computer system Socrates and his Solution.
The government had been trying to gain control of his system but Armstrong refused and was actually jailed for a number of years in an attempt to break him. He wants to keep it out of the hands of government and he uses his information to warn people and give solutions of how to thrive in the coming hard times.
I'm very happy we set up our indoor garden for it is providing us with our fresh greens for the winter and also the grow lights have helped me beat the S.A.D. syndrome (Seasonally Affected Disorder) which usually hits me around January. Not this year! I'm happily tending my garden indoors.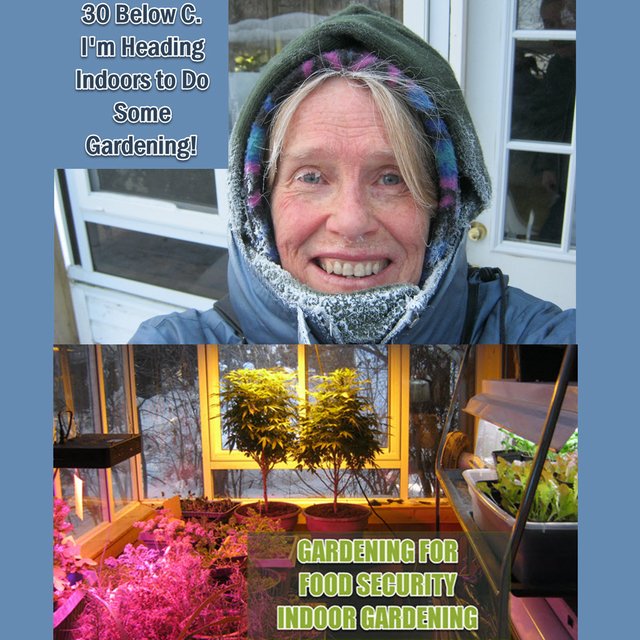 Thanks for stopping by!
I love engaging with folks here so please feel free to leave any comments or questions..