Die Sommersonnenwende kommt näher. Höchste Zeit noch etwas Rhabarber zu ernten! Und die beste Grill-Salsa der Welt in Gläser zu füllen - für den langen Sommer, den wir hoffentlich haben werden.
Summer Solstice is approacing. About time to harvest some more rhubarb! And to prepare the best-ever BBQ-Salsa in the world - filling many glases to last for the long summer that we will hopefully have.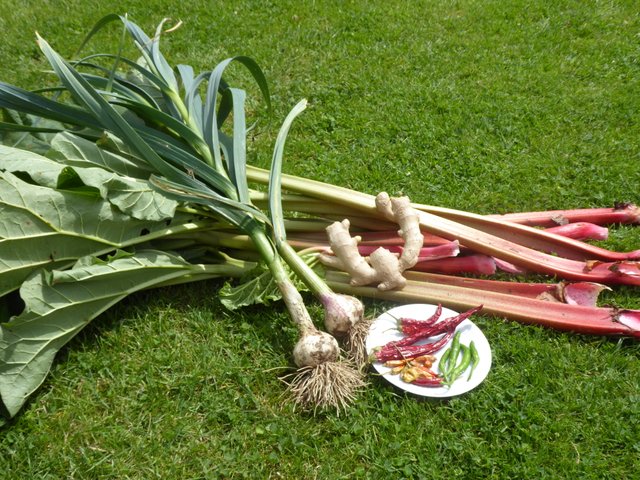 Neben Rhabarber wird junger Knoblauch geerntet - bis die Knollen ausgereift sind braucht es noch 5 bis 6 Wochen, aber die ein oder andere Pflanze wandert auch jetzt schon gerne in die Küche - sind ja genug da :-)
Besides rhubarb we need to harvest some garlic - it will take another 5 to 6 weeks for the cloves to be fully grown, but here and there some already find their way into my kitchen - luckily there are quite many out there :-)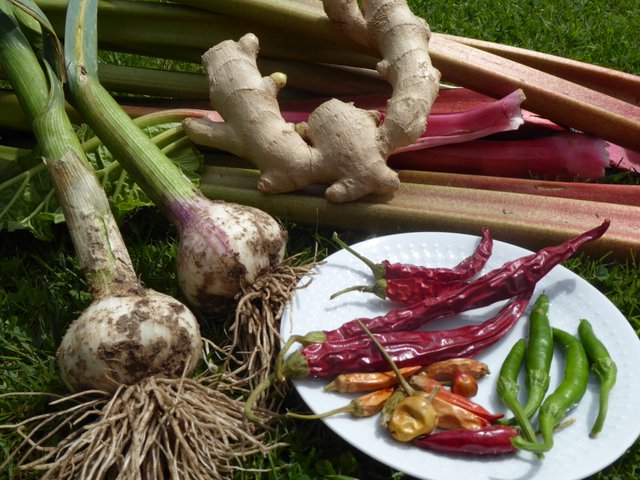 Wie ihr auf dem Bild sehen könnt, brauchen wir auch Ingwer und Chili für die Salsa - die ersten grünen Chili konnten heute hier geerntet werden, die roten sind getrocknete Chili aus dem Vorjahr. Ingwer müssen wir hier im Laden kaufen.
As you can tell from the picture, ginger and chili are also needed for the Salsa - the first green chili could be harvested here today, the red ones are dryed from last year's harvest... and ginger is something we have to go and buy in the store here.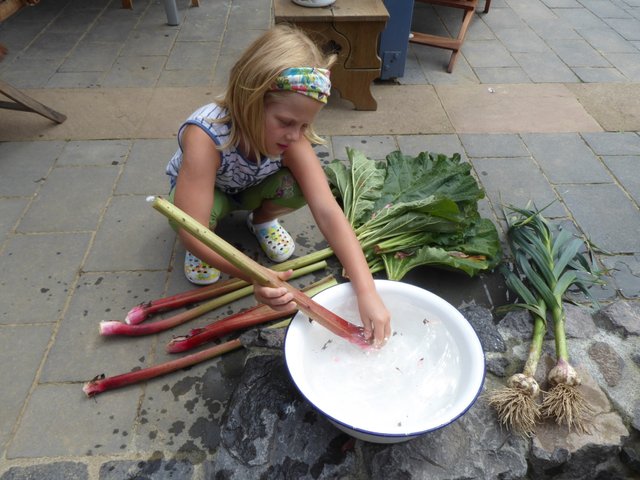 Glücklicherweise hatte ich wieder mal eine Siebengebirgs-Zwergin, die mir helfend zur Seite war!!! Die Ernte waschen und für das Kochen bereit machen.
Lucky me had a Seven Mountain's dwarf helping with the process!!! - Cleaning the harvest and getting everything ready to be mixed and cooked :-)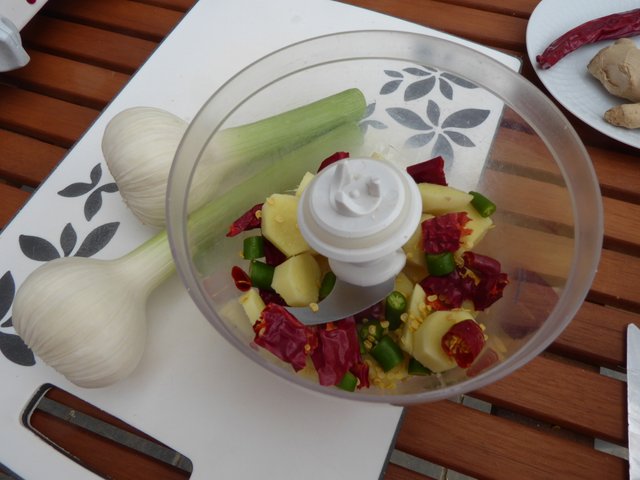 Heute habe ich Ingwer, Chili und Knoblauch auf die ganz schnelle Weise zerkleinert! ;-) Mit dem in kleine Stücke geschnittenen Rhabarber im Topf gemischt, etwas Wasser, (Rohr-)Zucker und Salz dazu und zum Kochen bringen.
I did take the fast way of chopping ginger, chili and garlic today! ;-) Adding it to the sliced rhubarb with some water, sugar and salt and then heating up for boiling.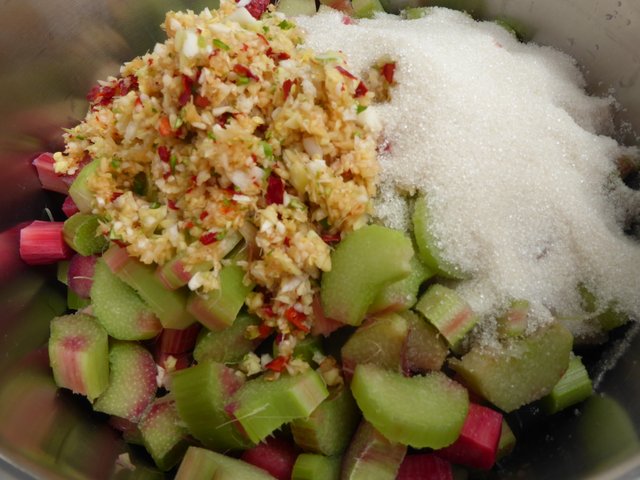 Auf mittlerer Hitze etwa 10 Minuten köcheln lassen - dabei immer mal gut durchrühren, damit nix anbrennt!
On medium head let it cook for apox. 10 minutes - and steer so nothing burns!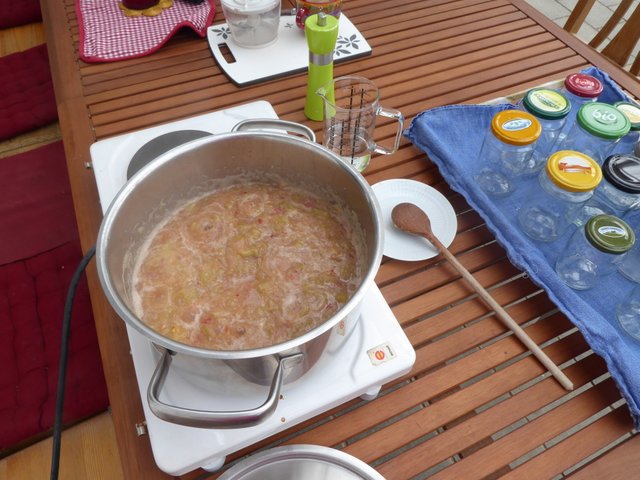 Ihr fragt jetzt vielleicht "wie viel von was man denn so nehmen soll" und meine Antwort wäre "so, wie es euch schmeckt" :-) Aber damit ihr eine grobe Größe habt: 500 g Rhabarber, 1 gutes Stück Ingwer (5-6 cm), 6 Knoblauchzehen, 2 (rote) Chili, 80 g (Rohr-) Zucker, 100 ml Wasser, Salz - alle Zutaten können dem eigenen Geschmack nach mehr oder weniger sein!
You might wonder "how much of what you should take" and my answer would be "as much as you like" :-) But to give you a rough recipe: 500 g rhubarb, 1 large piece ginger (5-6 cm), 6 cloves of garlic, 2 (red) chili, 80 g sugar, 100 ml water, salt - all ingredient can be more or less depending on your taste!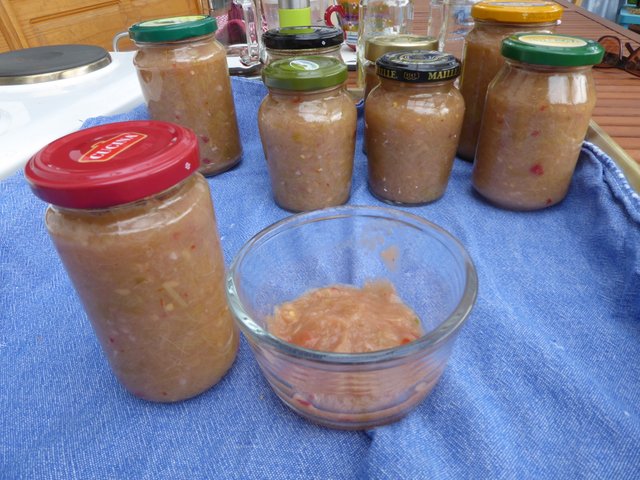 Von dem, was ich heute geerntet habe, konnte ich acht Gläser füllen - heiß abgefüllt hält es sich problemlos für 3 bis 4 Monate (ähm, bei uns "hält" es sich nie so lange, da es vorher aufgegessen wurde)...
*My harvest filled 8 jars - fill the hot salsa in the jars and it will keep perfectly for 3 to 4 months (well, they never "keep" that long here - too many BBQs, haha)....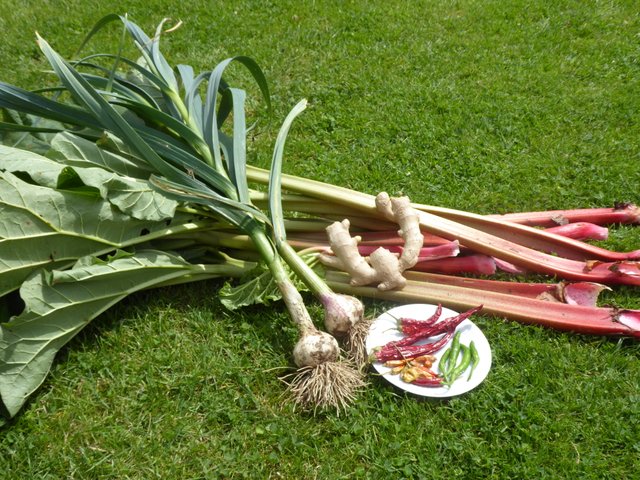 Euch allen einen wundervollen Abend und herzliche Grüße aus dem Siebengebirge!
*A great day and evening to all of you - Cheers from the Seven Mountains in Germany!
All pictures are mine as well as the rhubarb salsa