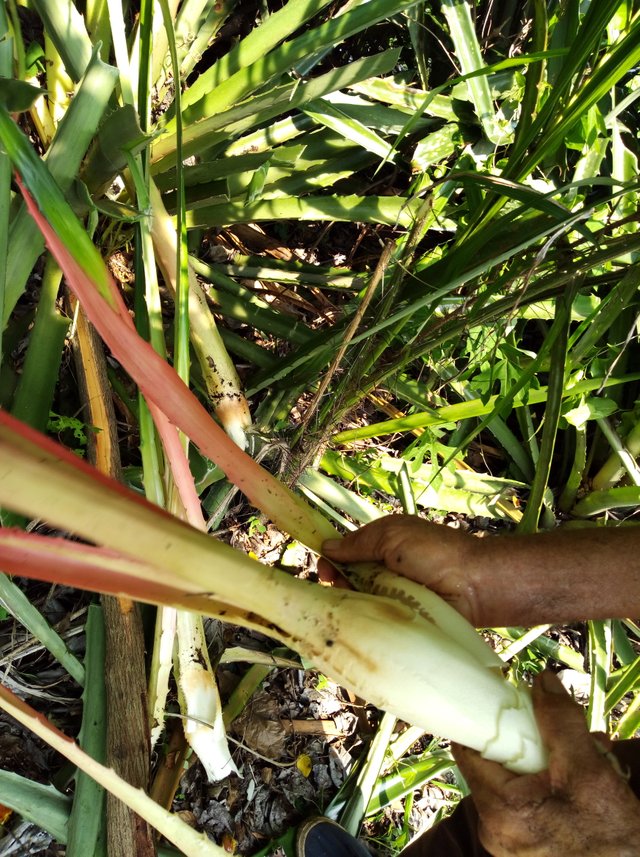 En el campo se sobrevive con los pocos recursos que la naturaleza provee, aquí una gloriosa planta comestible que es una fuente alimenticia para muchas familias pobres de nuestra localidad, hablamos de los mutates que es la base floral de esta mágica planta la piña silvestre o Bromelia pinguin como ven en el título.
In the countryside people survive with a few resources that nature provide them, here a glorious edible plant that is a food source for many poor families in our locality, we talk about the mutates that is the floral base of this magical plant call it wild pineapple or Bromelia pinguin as you see in the title.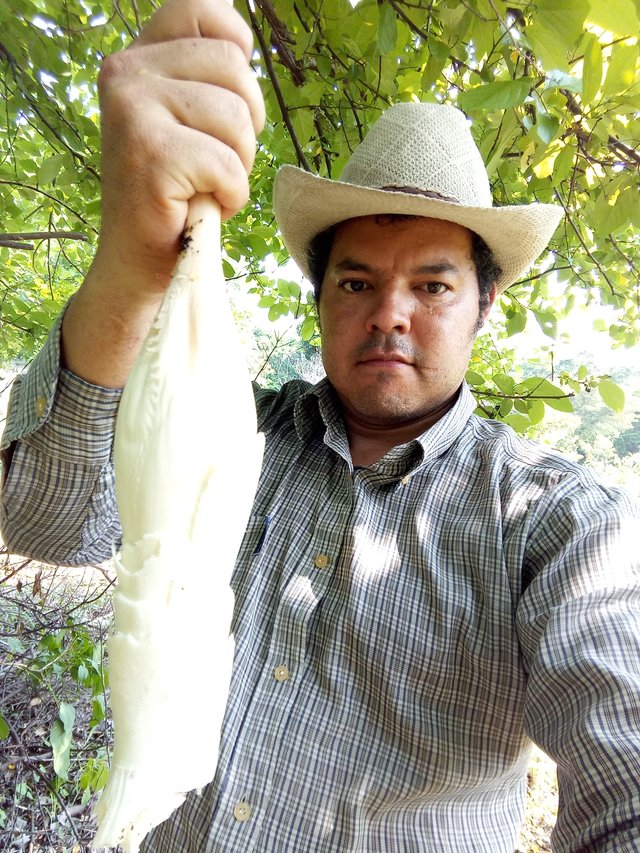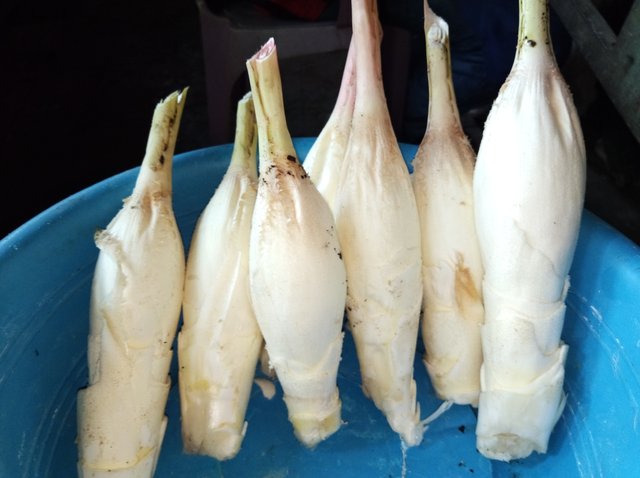 La naturaleza siempre nos sorprende y basta saber buscar para alimentarnos, aquí les mostramos otro de los frutos alimenticios que esta planta maravillosa nos proporciona, ya en anteriores post hemos descrito la planta así que abajo les dejo los vínculos, por si quieren explorar más sobre su descripción botánica, lo que hoy colectamos lo llamamos mutates que son una parte importante de la piña silvestre o piña de ratón, a continuación te explico que es y como extraerla de la planta sin morir en el intento, porque el proceso es bastante técnico y complicado.
Nature always surprises us and it is enough to know how to wanted for food, here we show you another of the food fruits that this wonderful plant provides us, and in previous post we have described the plant so below I leave the links down, if you want to explore more about their botanical description, what we collect today we call mutates that are an important part of the wild pineapple or mouse pineapple, then I explain what it is and how to extract it from the plant without dying in the attempt, because the process is quite technical and complicated .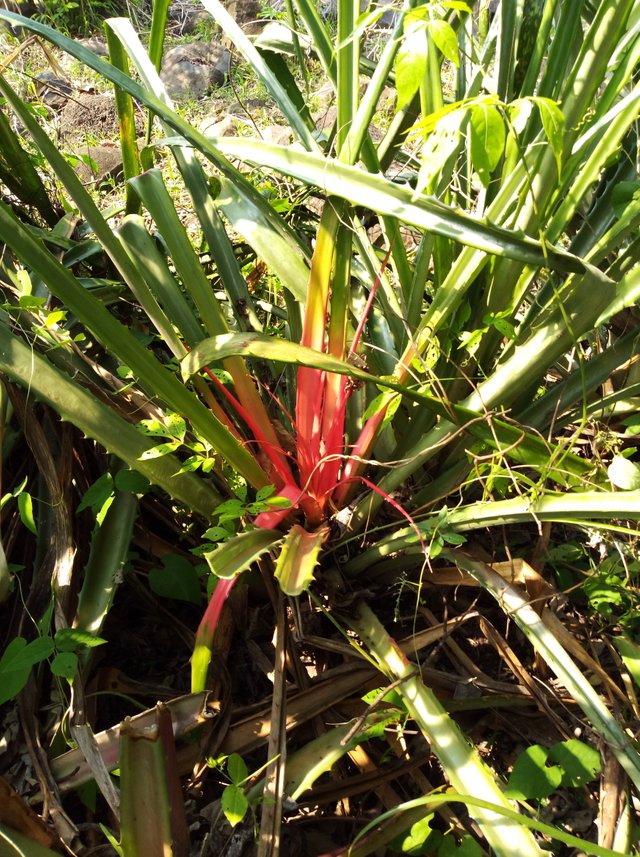 Primero elaboramos una palanca de madera con punta aplanada (Una tranca), la cual es la que nos sirve para golpear el lado inferior central de la planta la que nos dará y permitirá extraer los famosos mutates, aquí les muestro esos detalles de cómo elaborar la tranca.
First we elaborate a wooden lever with flattened tip (One bar), which is the one that helps us to hit the lower central side of the plant which will give us and allow us to extract the famous mutates, here I show you those details how to make the bar.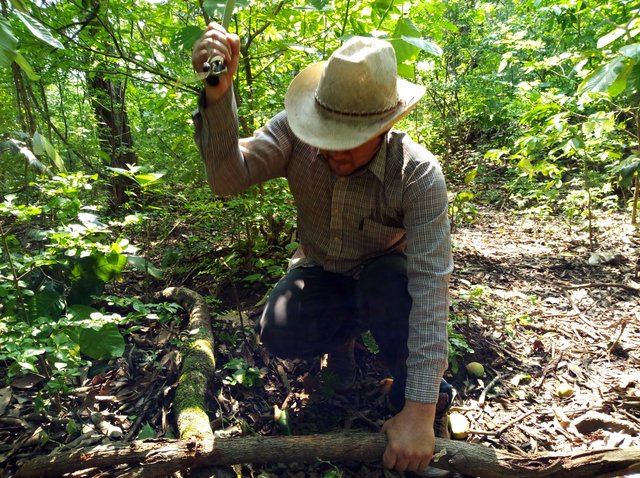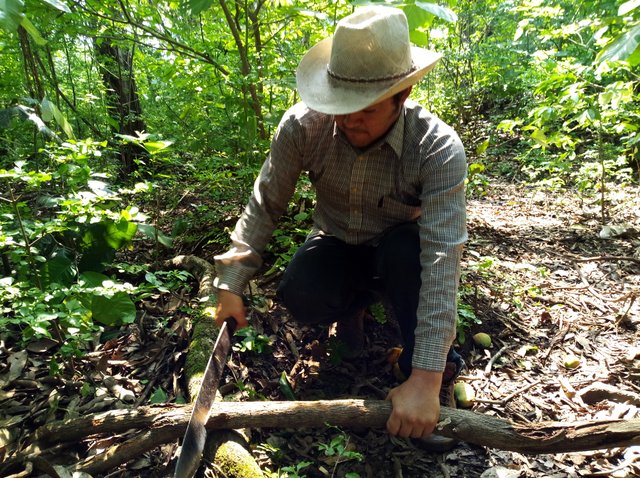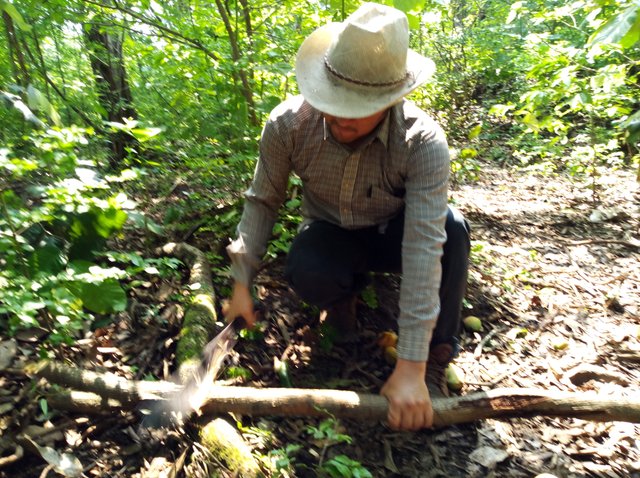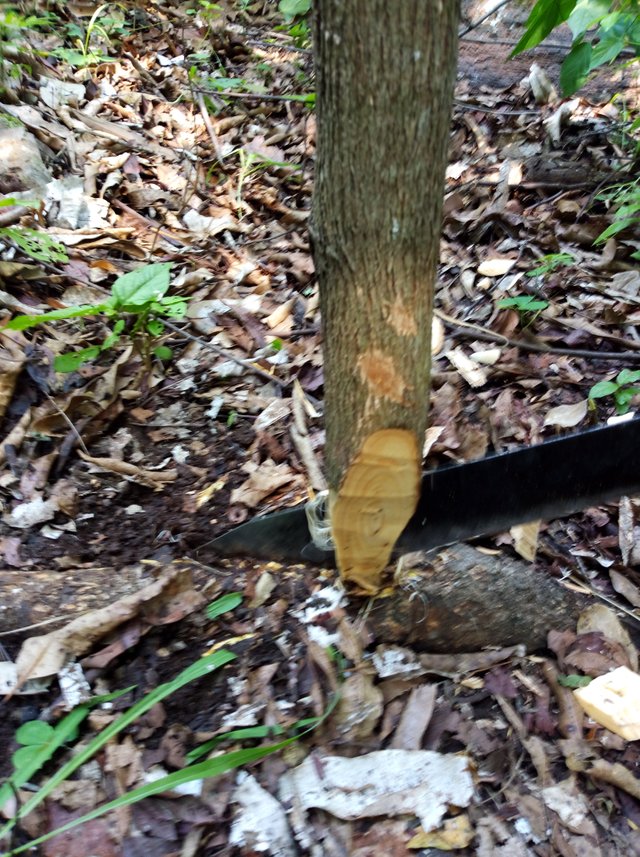 Como se extraen los frutos, primero identificamos las plantas que presentan una coloración entre roja y rosácea en el centro como pueden ver aquí, la limpiamos con un machete o instrumento afilado, recuerden que nuestra planta tiene cientos de espinas en toda sus hojas, por lo que debemos ser muy cuidadosos ya que las espinas son muy dolorosas, ubicamos la tranca inclinada en un ángulo de unos 60 grados, en la parte central inferior.
How the fruits are extracted, first we identify the plants that present a coloration between red and rosacea in the center as you can see here, we clean it with a machete or sharp instrument, remember that our plant has hundreds of thorns in all its leaves, so that we must be very careful since the thorns are very painful and hurt you, we place the bar inclined at an angle of about 60 degrees, in the lower central part of the plant.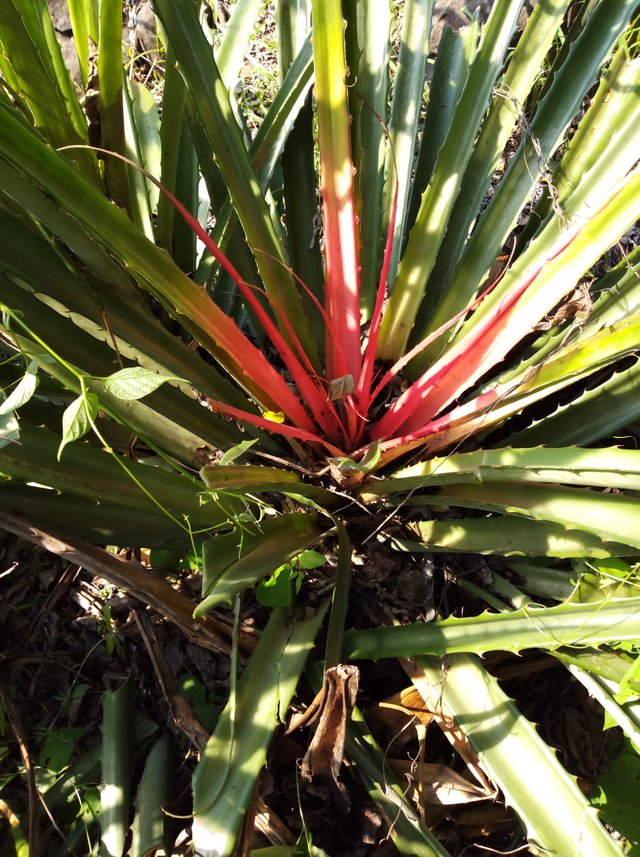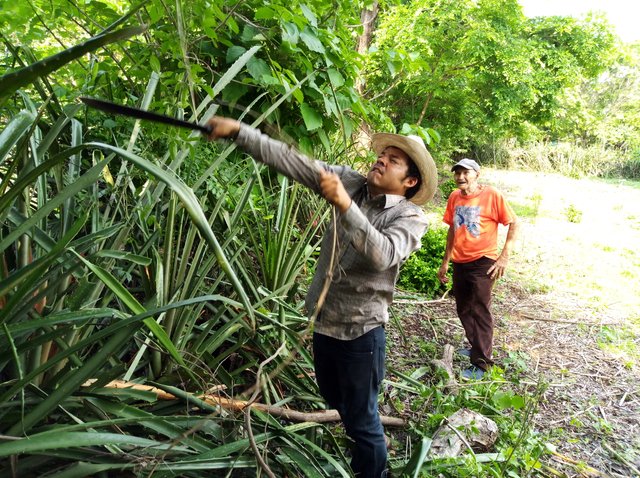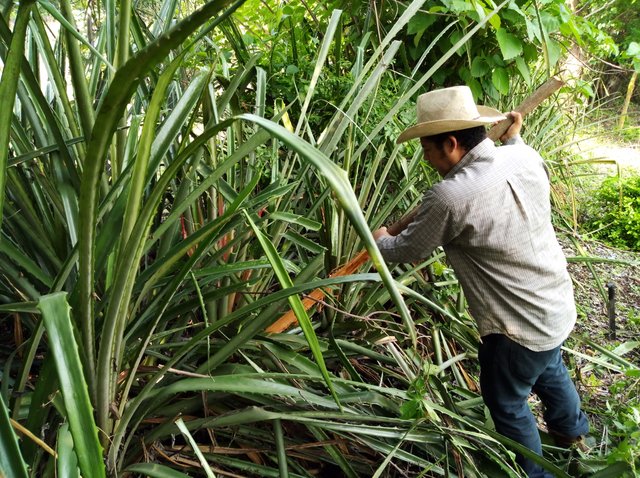 Procedemos a dar golpes fuertes a la mata, quizá unos 6 golpes y veremos que ira ablandando y la punta de la tranca se introducirá, una vez observemos que la parte central de la planta se mueve fácilmente bajamos la tranca hasta el suelo con lo que la mata subirá y procedemos a extraer el mutate con las manos, siempre nos vamos a dar unas pequeñas espinadas pero vale la pena, una vez lo tengamos empezamos a quitar las hojas de la planta como ven hasta dejar las más delgadas y obtendremos el cuerpo blanco del mutate que en realidad no es más que la parte tierna de las hojas de la planta, que es muy deliciosa tiene un sabor entre dulce y amargo tiene un poco de amargor y picor, recuerden que es pariente directo de la piña, de la familia de las bromelias.
We proceed to give strong blows to the plant, maybe about 6 strokes and we will see that it will soften and the tip of the bar will be introduced, once we observe that the central part of the plant moves easily we lower the bar to the ground so that the plant will rise and we proceed to extract the mutate with our hands, we will always give some small spines but it is worth it, once we have it we begin to remove the leaves of the plant as they see until they leave the thinnest ones and we will obtain the white body of the mutate that is really only the tender part of the leaves of the plant, which is very delicious has a sweet and bitter taste has a bit of bitterness and itch, remember that is a direct relative of the pineapple, the family of the bromeliads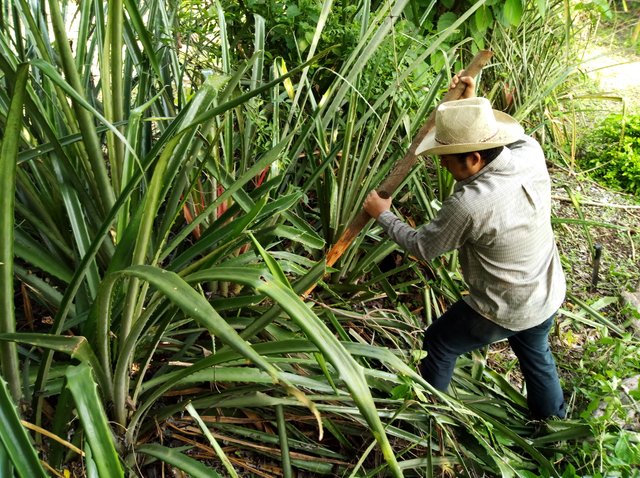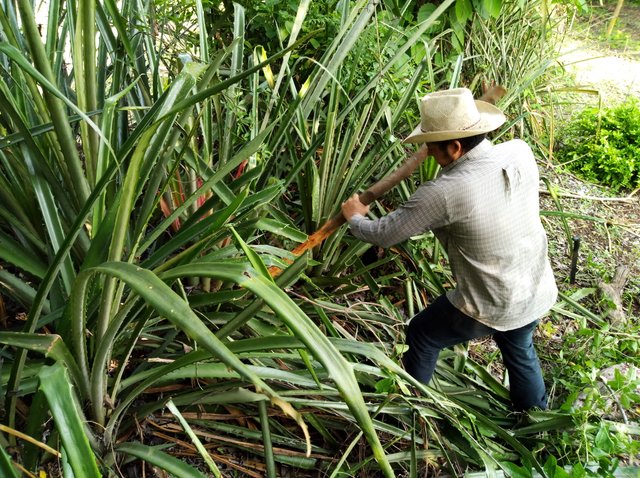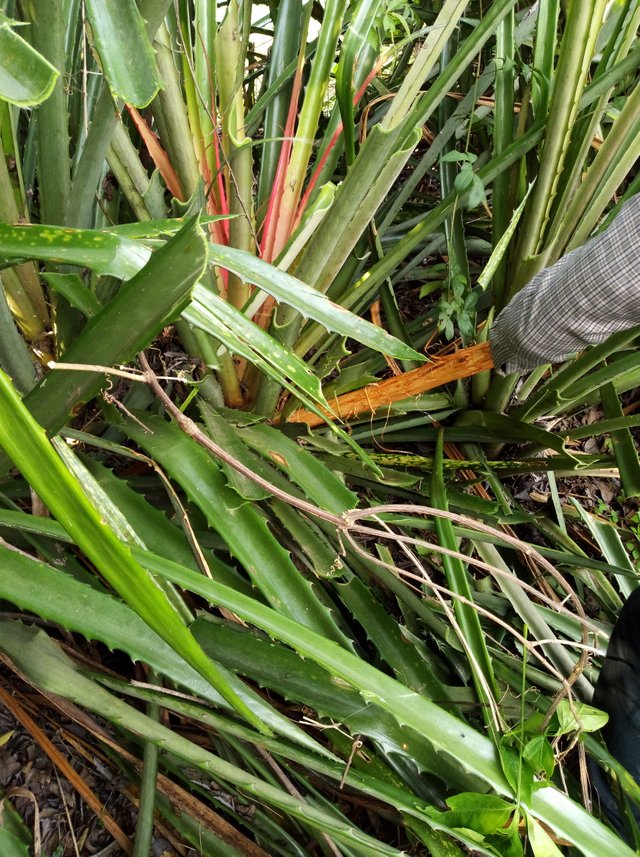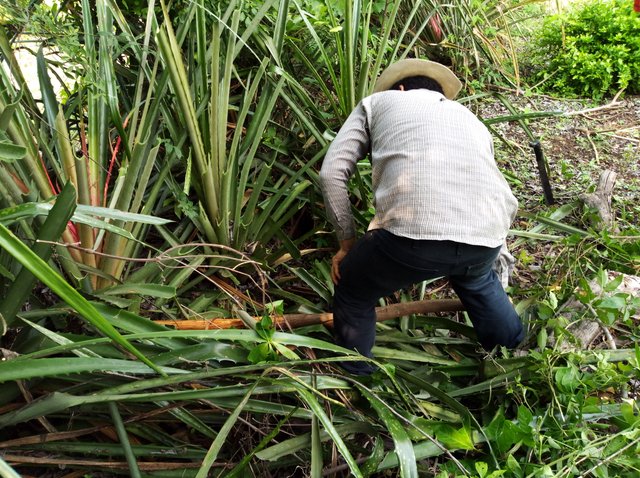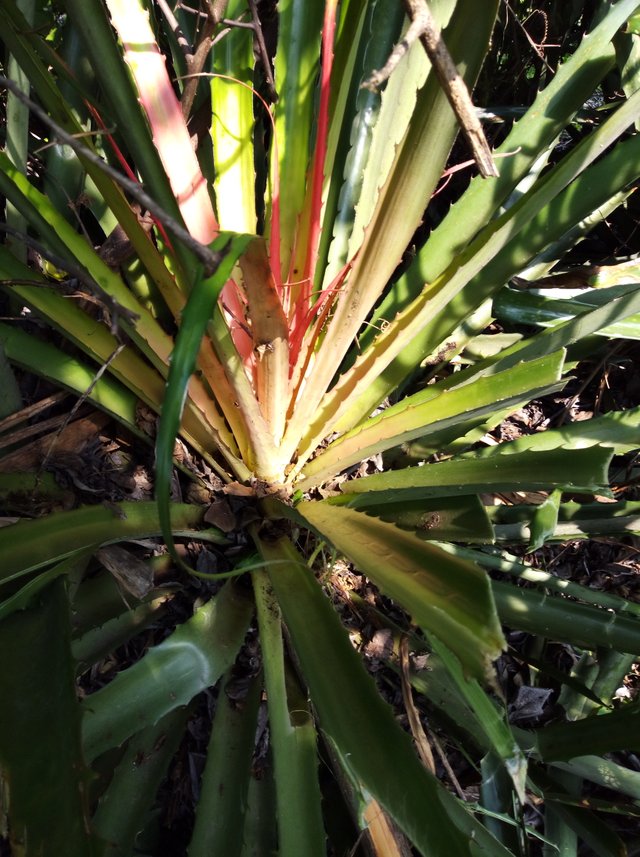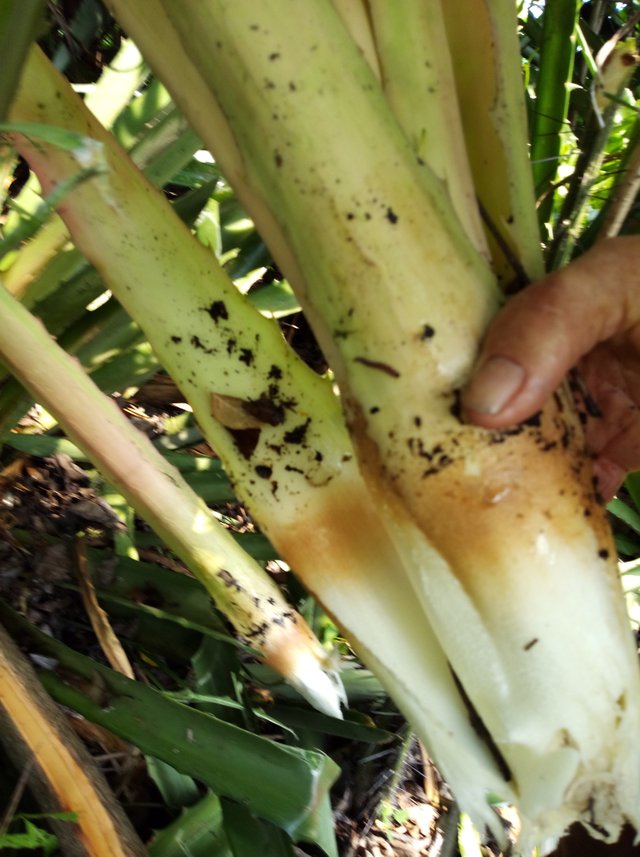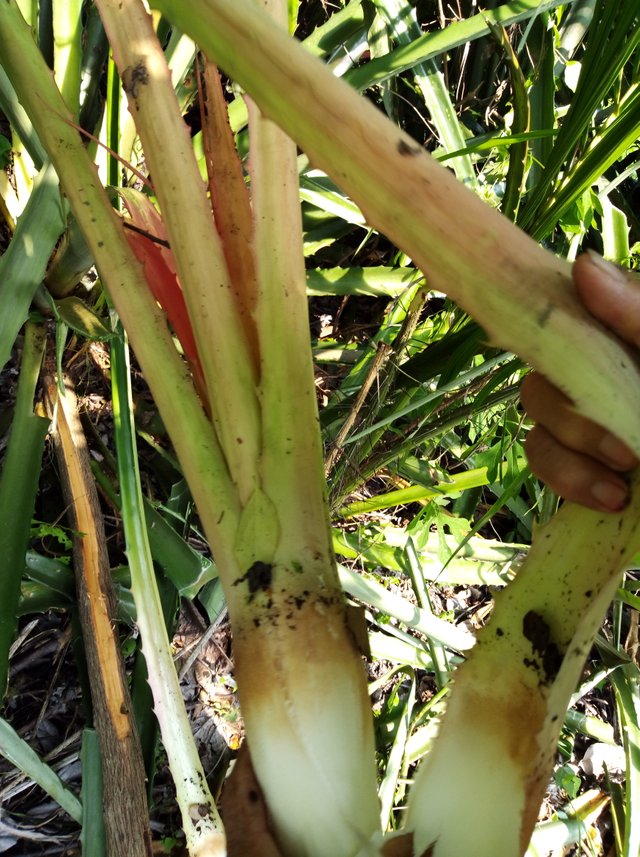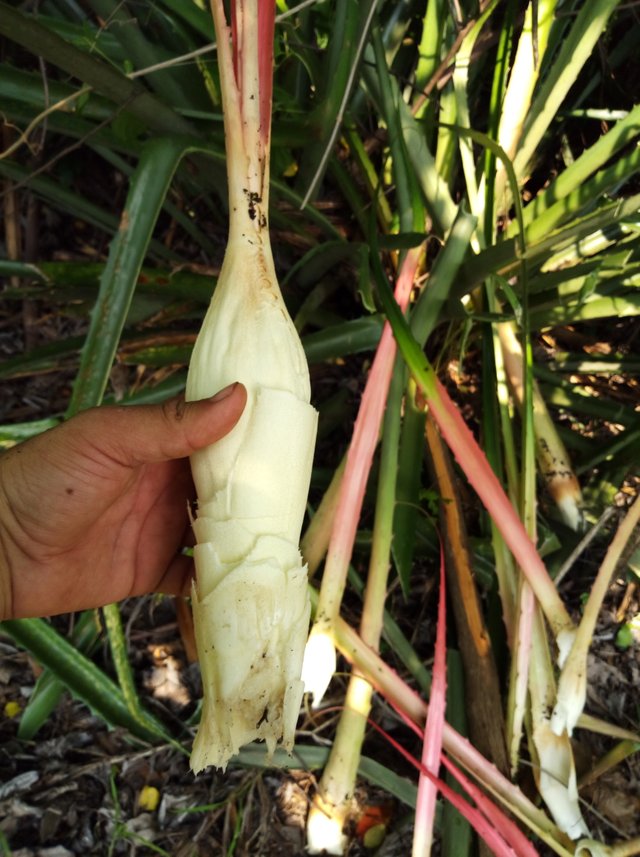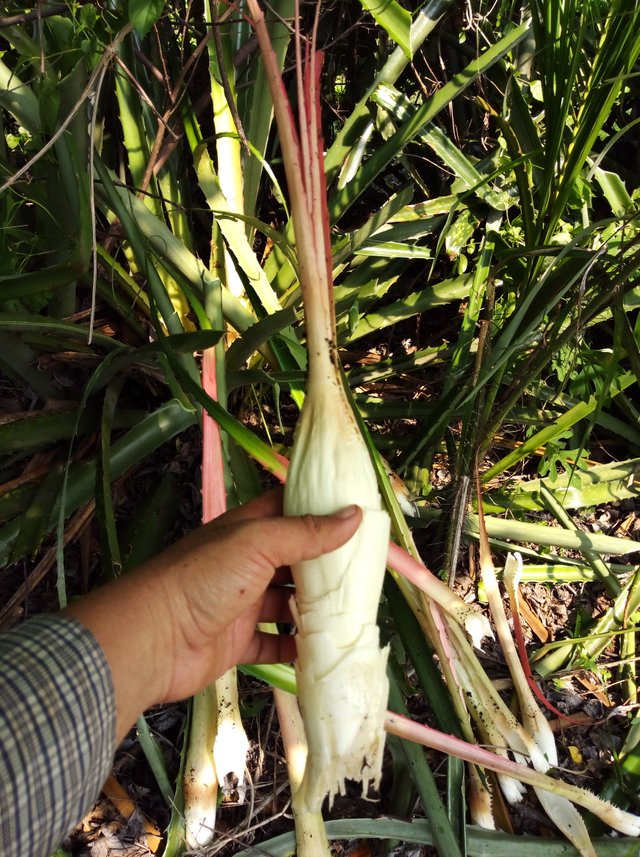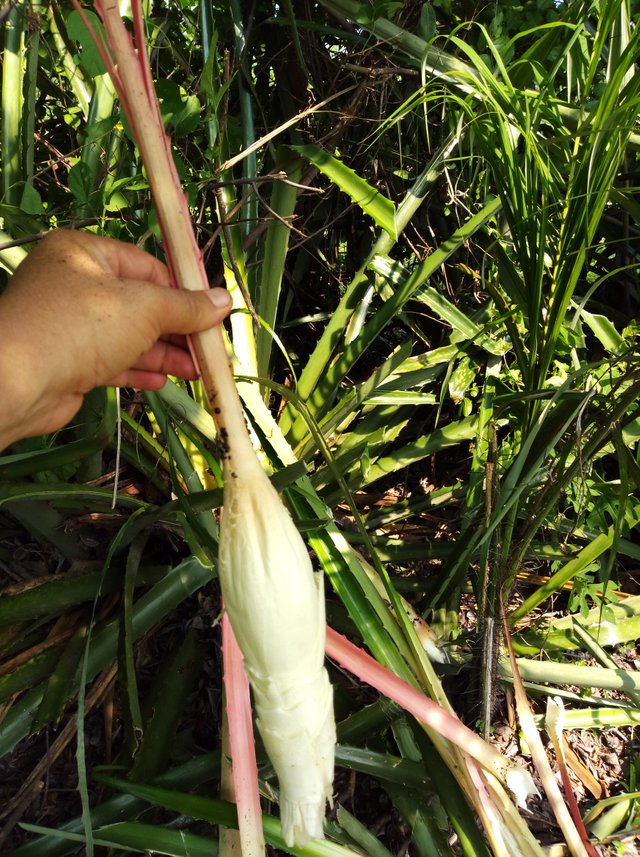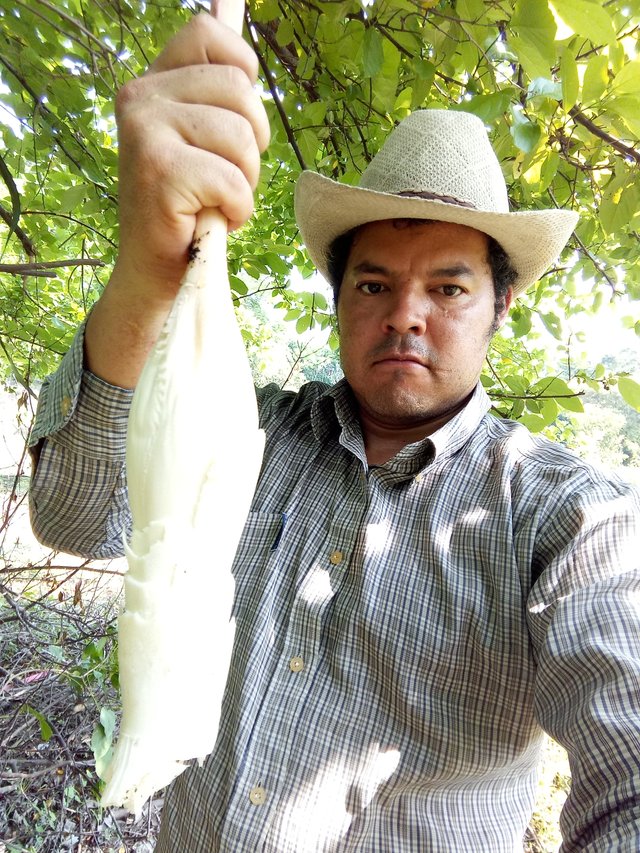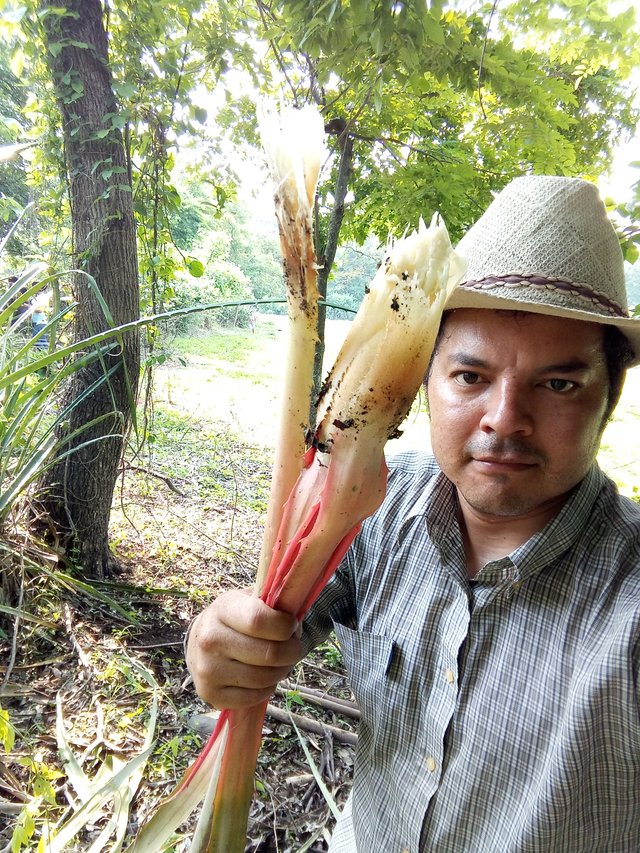 Repetimos estos pasos hasta conseguir varios mutates para tener y poder comer durante varios días, que es algo estacionario que solo se disfruta durante unos pocos días, por ende debemos obtener la mayor cantidad posible, vale aclarar que si se deja florecer la planta saldrá una bella flor, y esta se convertirá en una piñuela que es con la que elaboramos un rico postre que esta detallado abajo en los post anteriores.
We repeat these steps to get a lot of mutates to have and be able to eat for many days, which is something stationary that is only enjoyed for a few days, therefore we must get as much as possible, it is clear that if you let the plant bloom a beautiful flower, and this will become a piñuela that is with which we elaborate a delicious dessert that is detailed below in the previous post.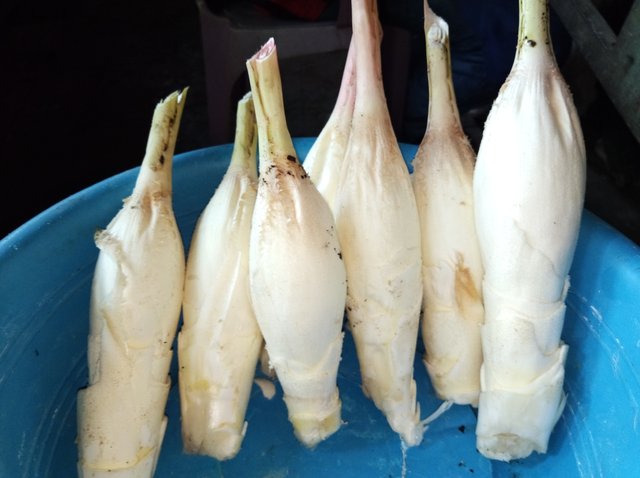 Cómo podemos disfrutar los mutates, se pueden comer crudos directamente con un rico sabor entre dulce y amarguito, solo que igual que la piña te quedará la boca levemente amarga, o puedes cocinarlos como un relleno, agregarlos a una sopa o a un caldo como un vegetal más, en este caso los hemos agregado a una exquisita sopa de pollo como pueden ver y admirar aquí, para nuestro disfrute y también lo agregamos a una sopa de frijoles.
How we can enjoy the mutates, you can eat raw directly with a rich flavor between sweet and little bitter, just as the pineapple flavor will leave your mouth slightly bitter, or you can cook them as a filling, salad, add them to a soup or a broth like a vegetable more, in this case we have added them to an exquisite chicken soup as you can see and admire here for our enjoyment, and we also add it to a bean soup.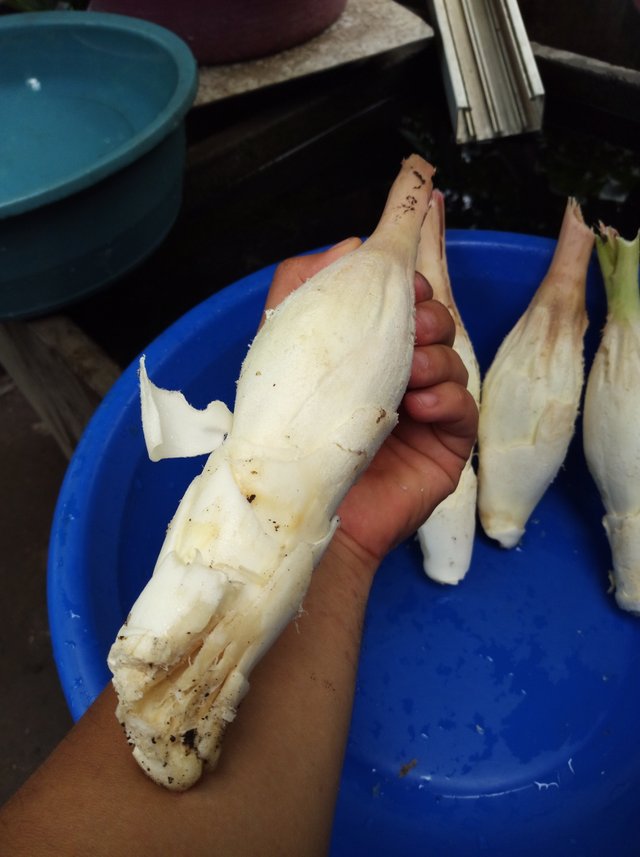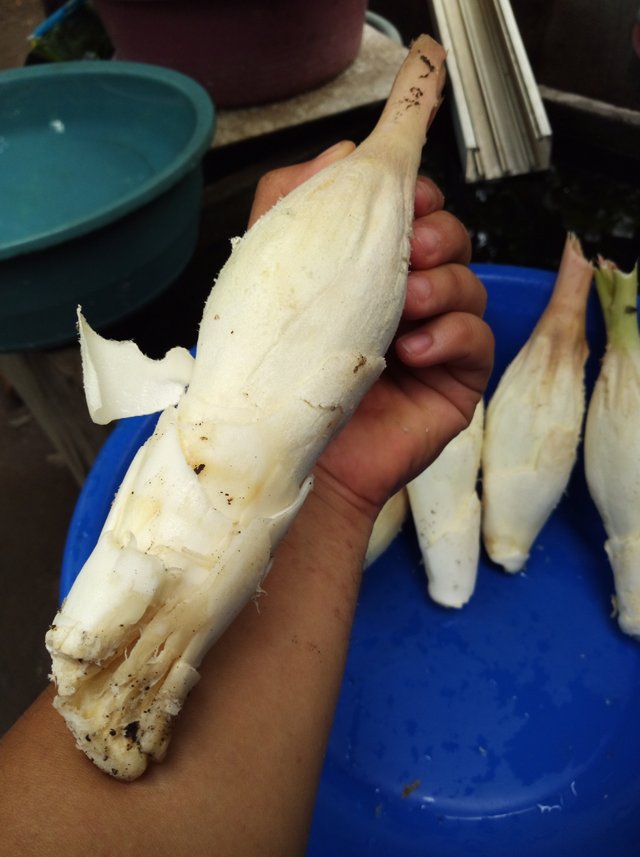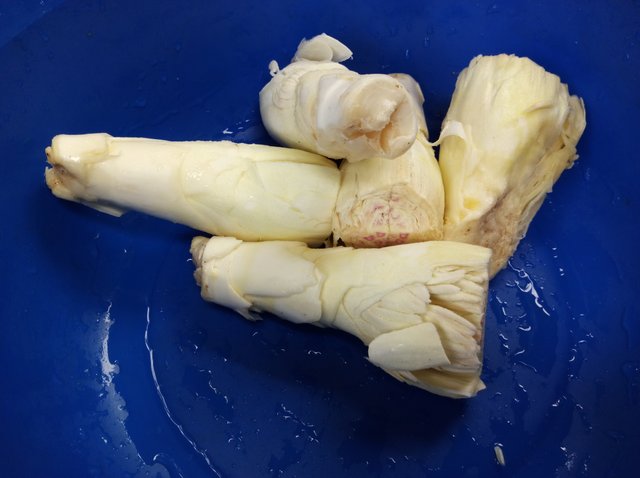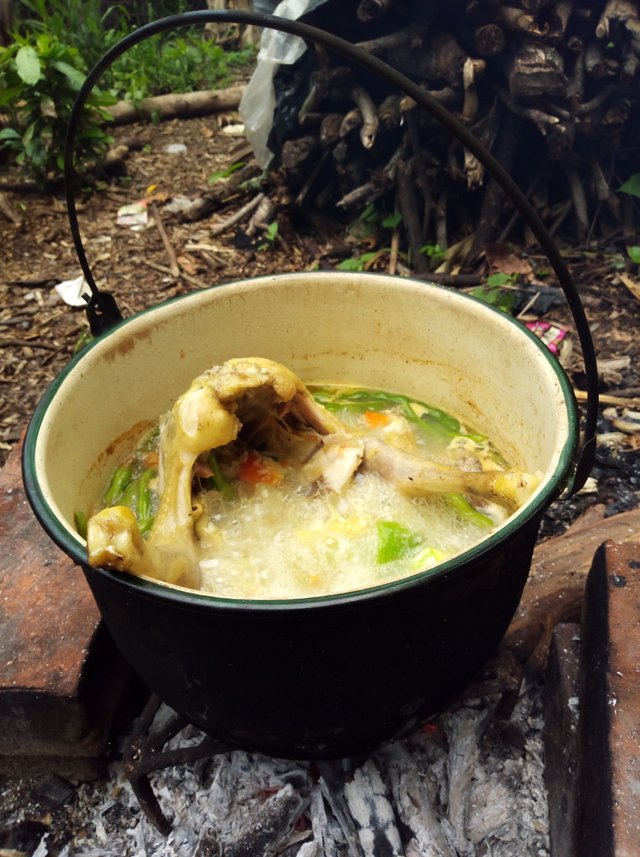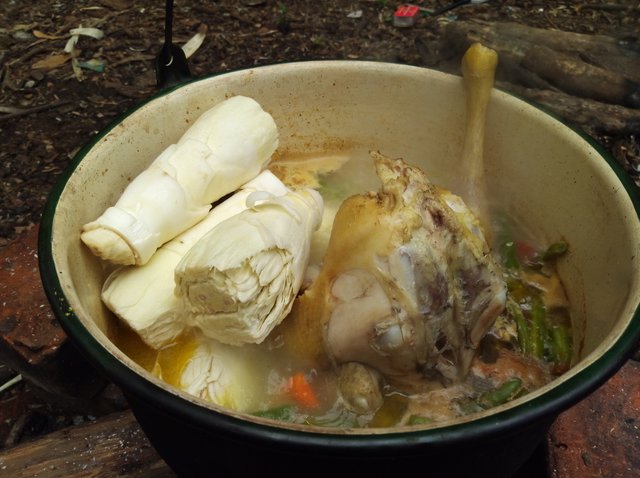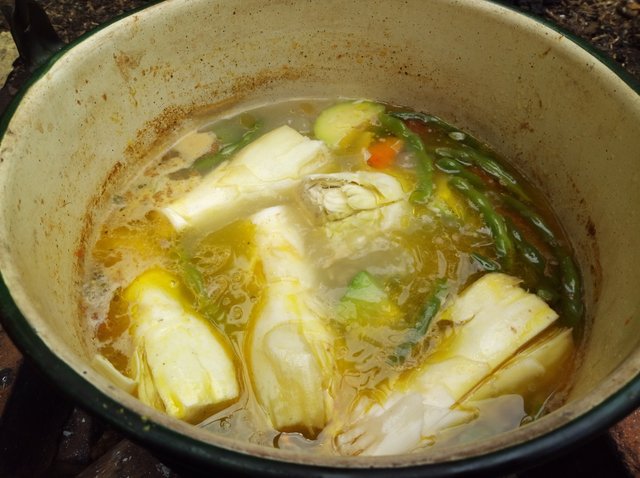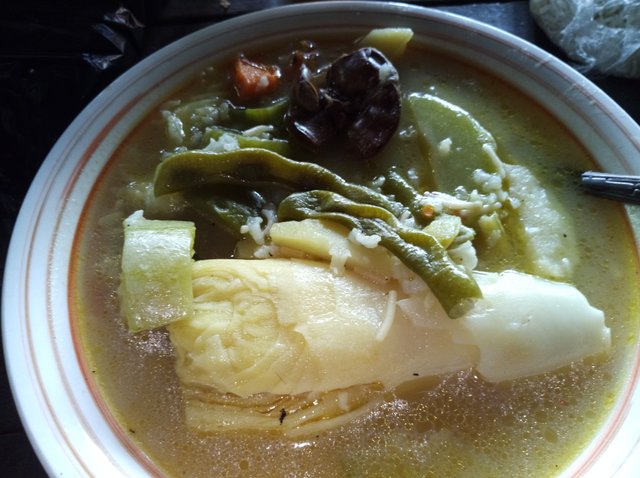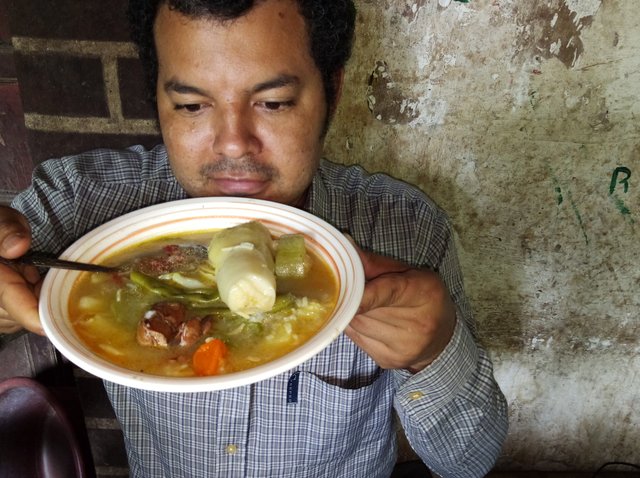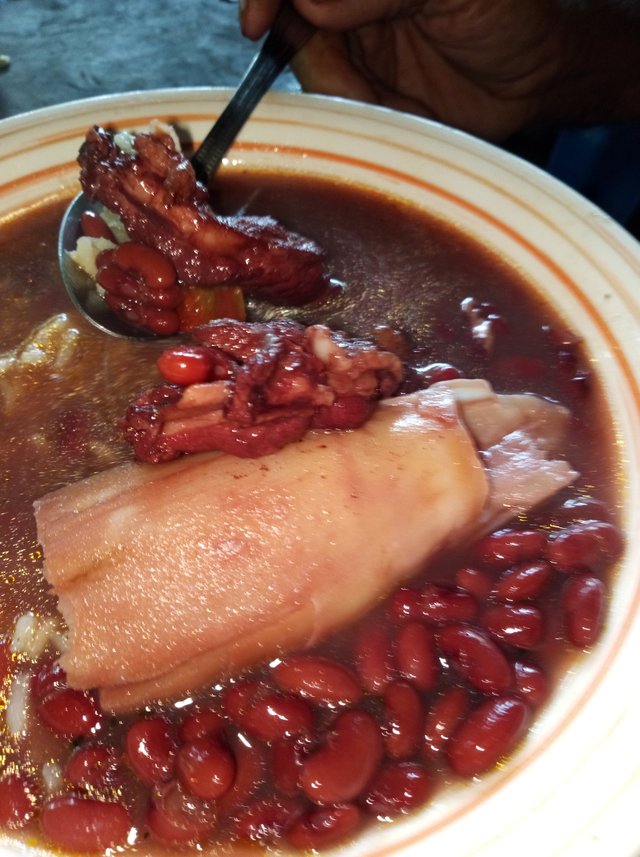 Gracias por ver y comentar cuéntanos has probado esta o una planta parecida o conoces esta variedad por tus tierras, espero si la conozcas, y me dejes tu comentario, recuerden material propio fotos incluidas, traducción al inglés con google, nuestro lenguaje nativo es español.
Aquí les dejo otra forma de alimentarnos con esta gloriosa planta.
Thank you for watching and commenting tell us you have tried this or a similar plant or know this variety for your land, I hope if you know, and leave me your comment, remember your own material photos included, English translation with Google, our native language is Spanish.
Here is another way to feed us with this glorious plant.
https://steemit.com/foraging/@galberto/tender-buds-of-wild-pineapple-or-mouse-bromelia-pinguin-an-unimaginable-source-of-food-brotes-tiernos-de-pina-silvestre-o-de
https://steemit.com/spanish/@galberto/pina-de-raton-o-pinuela-bromelia-pinguin-planta-silvestre-que-nos-da-un-postre-muy-rico-llamado-atol-de-pinuela-wild-pineaple-of