Community of the Week Challenge entry for PROJECT.HOPE Community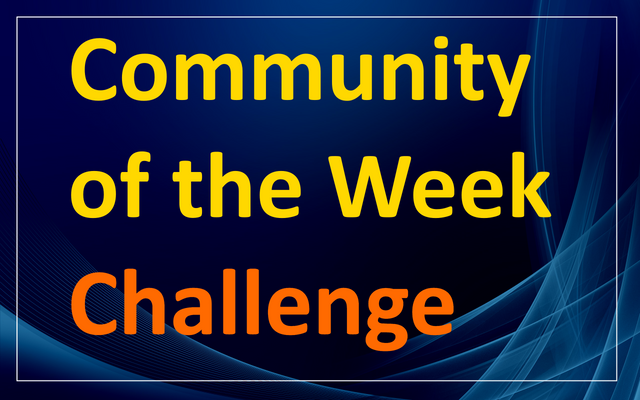 ---
INTRODUCTION

This post is a response for recent contest: Community of the Week organized by @pennsif, with 10k SP delegation being a main prize.
Main goal of this contest is to present project.hope HIVE/community to wider audience and to address following questions:
Presentation of the Community (description, rules etc)

How the Community is promoting itself within Steem

How the Community is promoting itself OUTSIDE of Steem to attract new people to join Steem and their Community.
Today I would like to introduce you to our HIVE. It's a community of people sharing similar interests, values and goals. Build by several like-minded users, who understand that working as a team can get us far. Users who have been carefully selected and invited to be part of our team.
So without futher ado, allow me to present PROJECT HOPE HIVE. (catchy name, right?).
FEW WORDS ABOUT US

We've been around for quite sometime already and topics we cover are mostly related to:
technology,
steem,
blockchain,
artificial intelligence,
machine learning,
economy,
business,
marketing, social media, psychology etc
At the bottom of this post I will include links to our website, our detailed introduction to core team and also publication explaining how are we organized (our economy).
Our goal is to support mostly already EXISTING users, with has proven some sort of track of activity and strong engagement with other steem users. As much as we do appreciate quality content - we believe that it's simply not enough and we focus on upvoting publications of those, who are supportive towards other authors posting within project.hope community. We prioritize content creators, who are willing to invest their own time also to engage with others.
BRINGING VALUE INTO STEEM BLOCKCHAIN

It's time to answer @pennsif questions: how do we promote ourself within Steem and how do we plan to attract new people to join Steem?
Our project is focusing on supporting current users, who create quality content (related to topics mentioned above) and who struggle with lack of engagement and little to zero rewards. Onboarding new users isn't our priority for us as we believe that it's crutial to ensure that already existing userbase will not continue shrinking.
At the same time - in the nearest future - we're planning to ONBOARDING NEW BUSINESSES to steem blockchain and support current projects already build on top of our chain.
Onboarding new businesses
---
I've already managed to introduce steem blockchain to couple of businesses and I'm constantly learning how to attract business owners to get involved. Currently my long term goal is to create start-up, which would offer beta-testing, marketing and community building services for those businesses, which have something to do with blockchain technology and artificial intelligence.
Supporting current and existing projects
---
Currently we're discussing options of collaborating with 2 different small teams of developers, who are planning to launch their games on steem blockchain. Our idea is to promote those games with ref-links. Not as a single individual affiliate marketer, but as entire well coordinated team. Team capable of building strong and active community around promoted project.
Lately we've managed to bring total over 150users to @holybread and we consider it just a "warm up". I believe that profits coming from ref-link programs (affiliate marketing) would allow our project grow even bigger.
This is exactly how we're planning to bring value into steem and attract serious businesses to our blockchain.
WEEKLY PASSIVE INCOME

Do you like our efforts and what we're trying to achieve? Would you agree that our actions can bring value to steem blockchain and are worth your support? Or perhaps you're busy and you don't have time to carry on with daily manual curation ?
If any of those answers is YES, then consider delegating some of your steem power to @project.hope and ENJOY 100% CURATION REWARDS being paid on weekly basis.
You can find more details here.
RESTEEM if you support our efforts :)

There is one more way to support our efforts. Resteem this post to help us reach out to wider audience. I would greately appreciate it.
Yours,
@crypto.piotr
---