I got downvoted because I don't downvote people
A few days ago I did a post about how I prepared for Chinese New Year in Taiwan. It got quite a lot of engagement from real human beings and I was very fortunate that people liked it and upvoted it. And before I start my rant, today is Chinese New Year, let me wish you all a very happy year of the rat!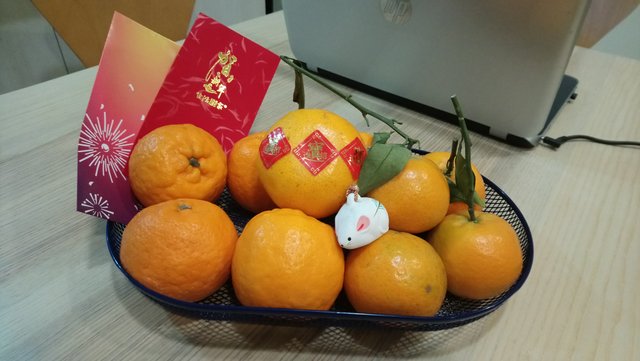 Anyway, back to my post. The next day, I got hit with a big downvote which wiped 10% off my post payout. I get downvotes all the time because there are a lot of parasites on Steemit and I've learnt to live with it. This one was from a lot bigger account and it was totally uncalled for as mine wasn't a shit post.
Some say you should try speaking to that person if you encounter these problems, to see if there's any misunderstanding. I left a polite comment on one of his/her post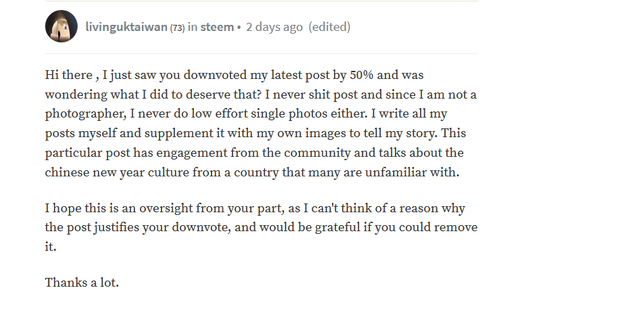 Today, he/she came back with a response, and another 50% downvote on my latest post. Apparently, I am guilty of having 100% downvote power. That's it. Not because I shit post, not because I used bid bots, not because I circle jerk, not because I don't engage and not because I don't upvote other people's post. Just because I have 100% unused downvote power, and I don't downvote people.
I am told as a stakeholder I have a responsibility to use my downvote power, and it seems that if I don't I get punished. Period.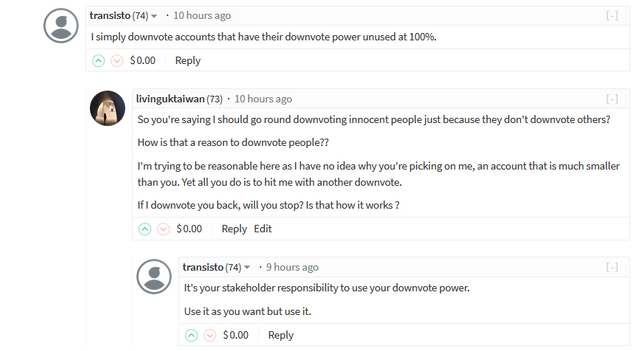 ---
This is the most fucked up thing I have ever heard on Steemit. A stakeholder responsibility on Steemit is contributing to make this a better place and support the growth of Steemit and Steem. Ok, that's me saying this, but tell me if it's wrong. Stakeholder responsibilities can take different forms. Not being an arsehole is one. Onboarding new users and supporting others count. Having faith in Steem, powering up and not post, cash out and run is another. Downvoting, for the right reason, is also being a responsible stakeholder. But not doing all of these does not make me an irresponsible stakeholder.
---
A year ago I would have been totally pissed off at losing so much payout from my post. I'm not saying I don't mind now, but as someone said on Discord today, it's not ours till payout, so yeah, I'm annoyed, but I'm not going to lose any sleep over it.
What really annoys me is being punished for not doing something, and then only to be told of the stupid twisted logic when asked. Since when did Steemit become a kindergarten?