Achievement 5 Task 4 by @khezcute : Review steemdb.io
Hello Steemians as well as the Newcomer Community!
Wherever you are, I hope you are well and always given good health, this post will continue the Achievement 5 Task 4 Review of steemdb.io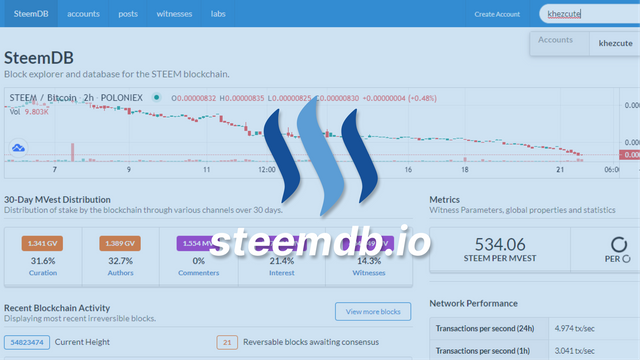 In this post, I will share experiences while exploring and using steemdb.io, and answering the questions given in Achievement 5 Task 4, here is my review of steemdb.io
---
1. How do I see the "recent history"?
"Recent history" is a useful feature to see all our activities on the steemit platform, this feature will show all of our activities from, curation, incoming or outgoing votes, posts, comments, transfers, and others.
To use this feature, we only need to enter our username in the search field, then click on search, and wait a few moments for our username to appear, then click on the username listed.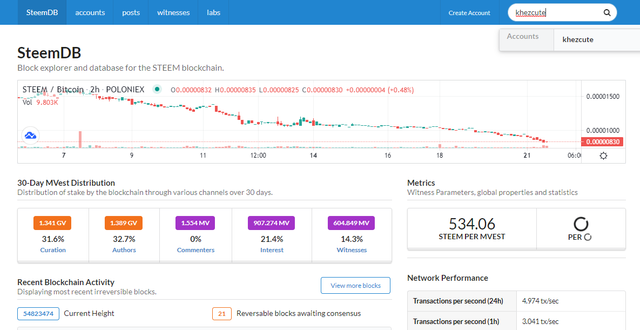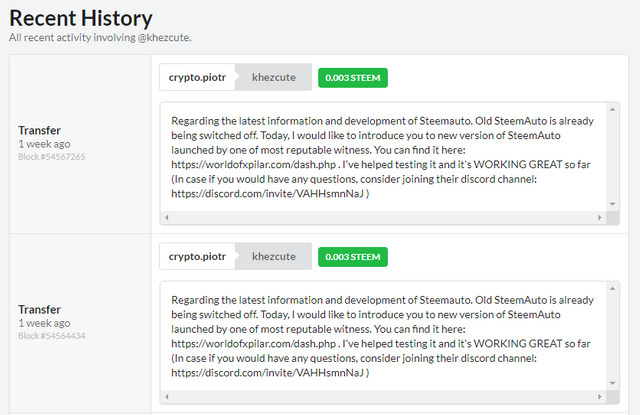 2. How do I check the different activities: Posts, Votes, Reblogs, Replies, Rewards, Transfers, etc
To see the activities that we do differently, or more specifically, we can use some of the menus in the Activity dropdown menu, in this menu, we will see several different activity options.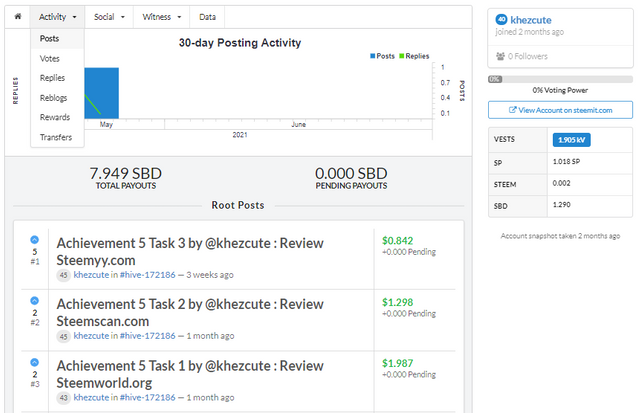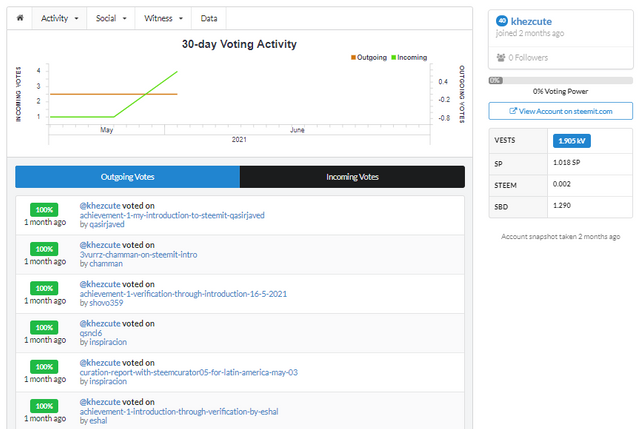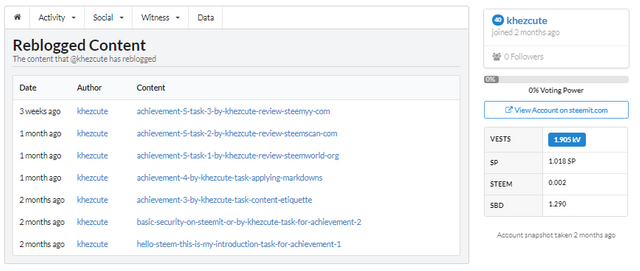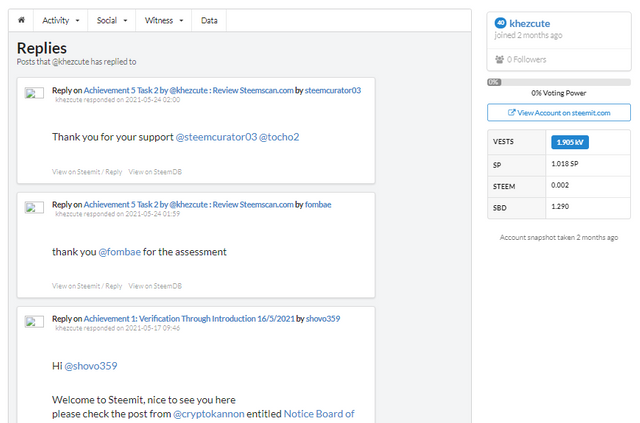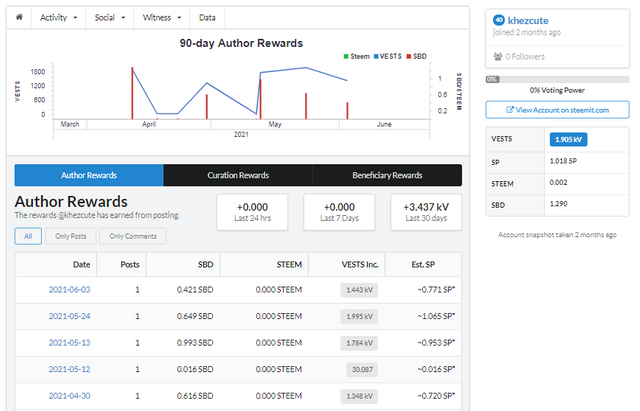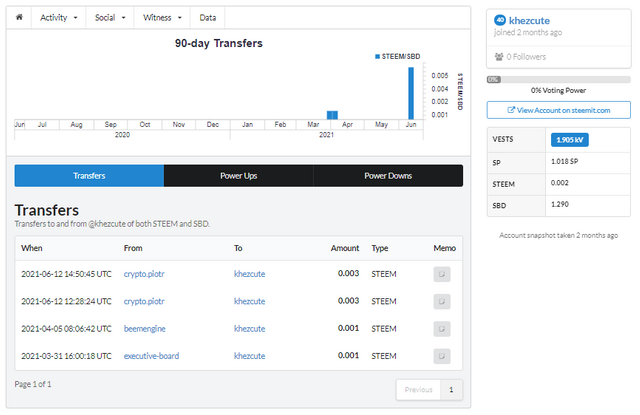 3. How do I know who has reblogged my post: (Social: Follower, Following, Reblogged)?
To be able to see who reblogged our posts or see followers or following, you can do this by selecting the social dropdown menu, in this menu, there is a feature to view Followers, Following, and Reblogged.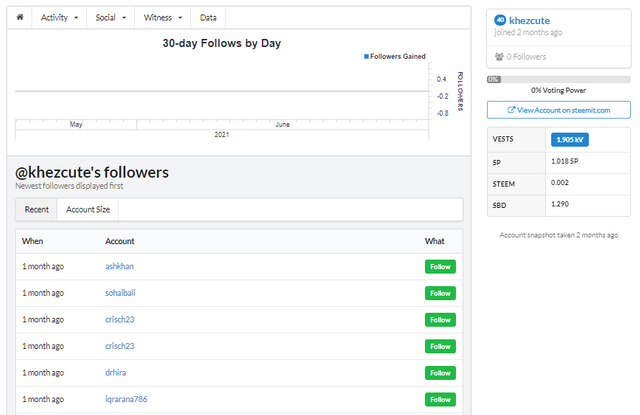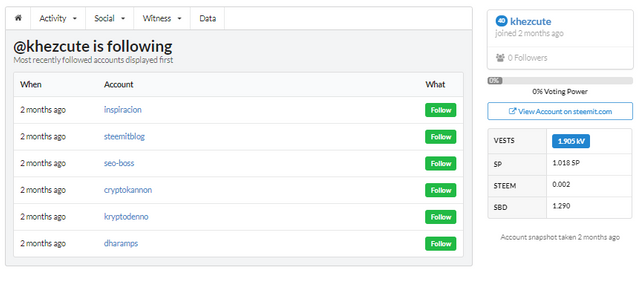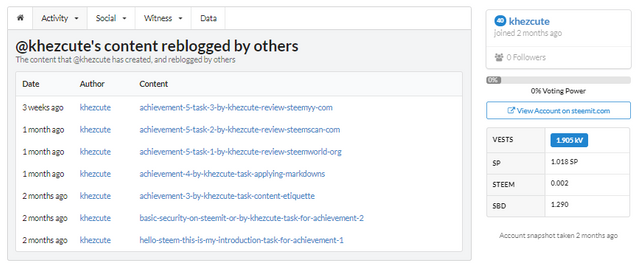 4. How do I check my Voting Power?
We can access this feature in the same way as the steps above, to see the voting power we have, it can be seen on the right

That is the summary of Achievement 5 task 4 about steemdb.io tools that I can convey, I receive all forms of suggestions and criticism very well so that in the future it can make me better and able to make quality posts.
All pictures are my screenshots
Other Achievements :
Achievement 1 by @khezcute Task : Introduce Yourself
Achievement 2 by @khezcute Task : Basic Security On Steemit
Achievement 3 by @khezcute Task : Content Etiquette
Achievement 4 by @khezcute Task : Applying Markdowns
Achievement 5 Task 1 by @khezcute : Review Steemworld.org
Achievement 5 Task 2 by @khezcute : Review Steemscan.com
Achievement 5 Task 3 by @khezcute : Review Steemyy.com
Thank the curators for taking the time to read this post
@steemcurator01
@steemcurator02
@steemcurator03
@inspiracion
@cryptokannon
@yohan2on
@booming04
@besticofinder
@fendit
@saxopedia