Achievement 5 Task 2 by @khezcute : Review Steemscan.com
Hello Steemians as well as the Newcomer Community!
Wherever you are, I hope you are well and always given good health, this post will continue the Achievement 5 Task 2 Review of Steemscan.com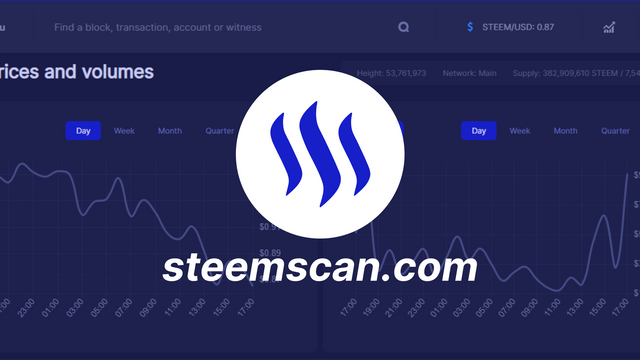 "Steemscan.com is a useful tool to help steemit users, Steemscan is a steem exchange tool built on top of the steem blockchain. It is used in converting steem into other cryptocurrencies such as USDT, BTC, TRX. Steemscan was developed by @futureshock and @roadofrich. It is a user-friendly tool that can easily be understood by even a first time user. The other beauty about the steem scan tool is that it requires no KYC for someone to use it." Source
In this post, I will share experiences while exploring and using Steemscan.com, and answering the questions given in Achievement 5 Task 2, here is my review of Steemscan.com
---
1. Please explain the current Steem price and volumes on the date of submission of this review?
At the time of this post, on May 15, 2021, at 5:30 p.m. data on steemscan.com shows:
STEEM/USD = $0.87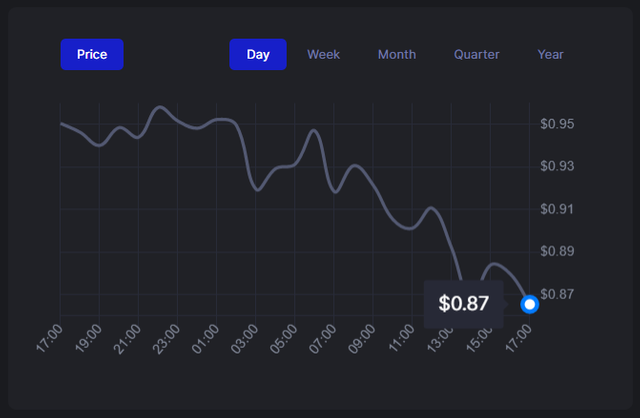 Volumes = $91,476.14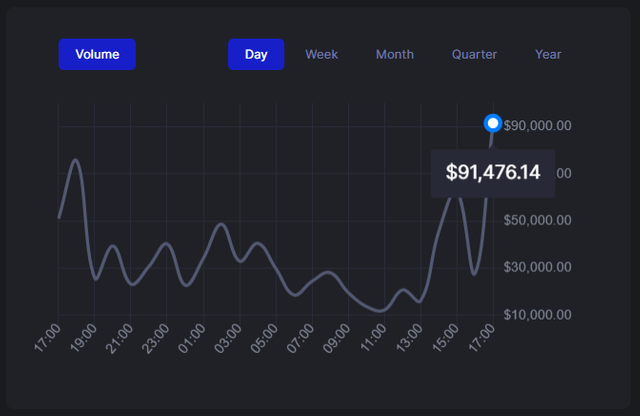 2. Please explain what all information is shown under the latest transactions and latest blocks section?
In the latest transactions section, we can see various transactions made by Steemit users, we can see, vote, comment, follow, etc.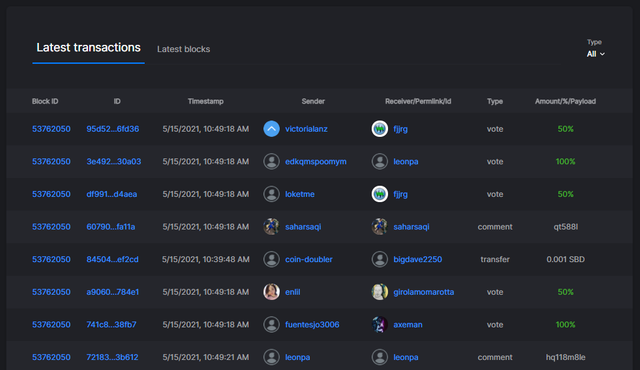 In the latest blocks section, we can see information in the form of ID, Height Of The Block, Timestamp, Block Transaction, and the miners' nicknames.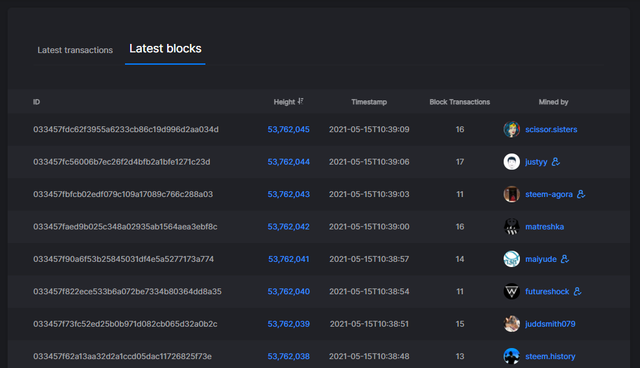 3. Please explain what all information is shown under the Witnesses section and steps to vote a Witness?
In the Witnesses section, we can get information in the form of:
Total Witnesses : 14949
Total Mined (STEEM) : 382,983,581
Last Block Height : 53, 797, 890
Transaction Count : 9
Current Witness : dlike
You can also see the active witness, in this section you can vote for the witness, you can find the button Vote! at the far right of each Witness.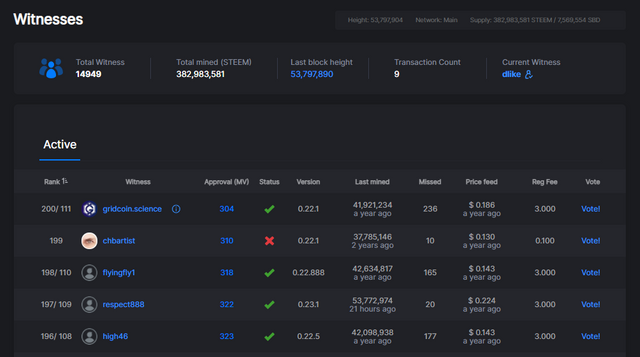 4. Please explain What is DApps and mention 3 DApps which you have already used or may use in future as per your interest?
DApps is a part of steemscan.com DApps are developed on the Steem blockchain, there are many types of DApps that you can try, most of them will give rewards or payments if we use them, Steemit.com which I and you used when was one of the examples from DApps.
3 DApps that I might try apart from steemit, TravelFeed, Holy Bread, and Epic Dice.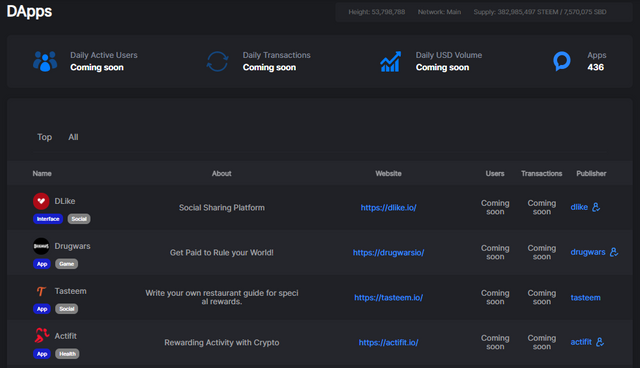 5. Please explain How to use "Quick Convert" and what is the fee charged for different Steem amounts for withdrawal?
To use the Quick Convert tool, you can enter the Quick Convert menu.
Then enter the amount of steem you want to exchange.
Then choose the currency you want, there are 3 currency options, USDT, BTC, and TRX.
After that enter your crypto withdrawal address.
Select Create Order.
After that information will appear, which requires you to transfer to a specific address using steem.
After everything is done, select Proceed Payment and follow the next instructions.
It should be noted that every time you convert a currency, you will be subject to Fees, and each currency has a different Fees, the following is the comparison using 20 steems for conversion.
| Steem Amout | Currency | Receive | Fees |
| --- | --- | --- | --- |
| 20 | USDT | 14.38639282 USDT | 1.16720926 USDT |
| 20 | BTC | -0.00064681 BTC | 0.00050360 BTC |
| 20 | TRX | 133.45610996 TRX | 1.37200112 TRX |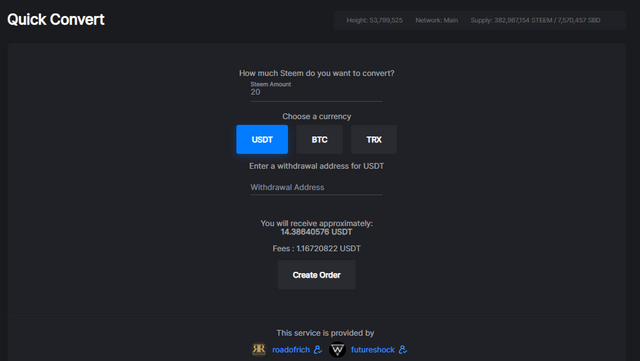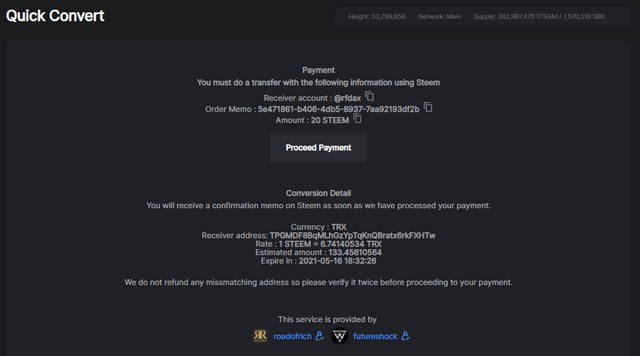 6. Please explain what information is provided by the "Search" feature?
The Search feature functions to display information in the form of Transactions / Block / Accounts, Transfers, Comments, Delete Comments, Account Updates, etc.With the "Search" feature it will make it easier for steem users to find the information they are looking for, which is recorded on the steem blockchain.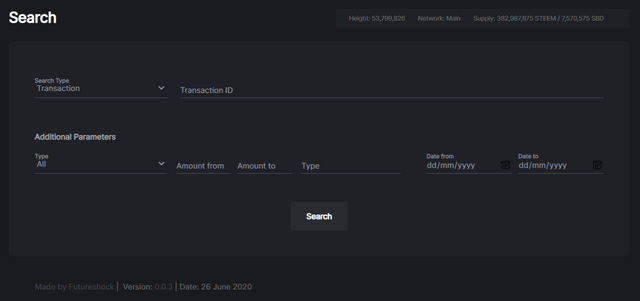 That is the summary of Achievement 5 task 2 about steemscan.com tools that I can convey, I receive all forms of suggestions and criticism very well so that in the future it can make me better and able to make quality posts.
*All pictures are my screenshots
Other Achievements :
Achievement 1 by @khezcute Task : Introduce Yourself
Achievement 2 by @khezcute Task : Basic Security On Steemit
Achievement 3 by @khezcute Task : Content Etiquette
Achievement 4 by @khezcute Task : Applying Markdowns
Achievement 5 Task 1 by @khezcute : Review Steemworld.org
Thank the curators for taking the time to read this post
@steemcurator01
@steemcurator02
@steemcurator03
@inspiracion
@cryptokannon
@yohan2on
@booming04
@besticofinder
@fendit
@saxopedia