WEEKLY STEEM NIGERIA CONTEST: THE RELATIONSHIP BETWEEN FAILURE AND SUCCESS
Hello everyone,
It's another edition of Steem Nigeria weekly contest and this time we will dig deeper into our psychic to find answer the questions.
CONTEST TOPIC: THE RELATIONSHIP BETWEEN FAILURE AND SUCCESS.
---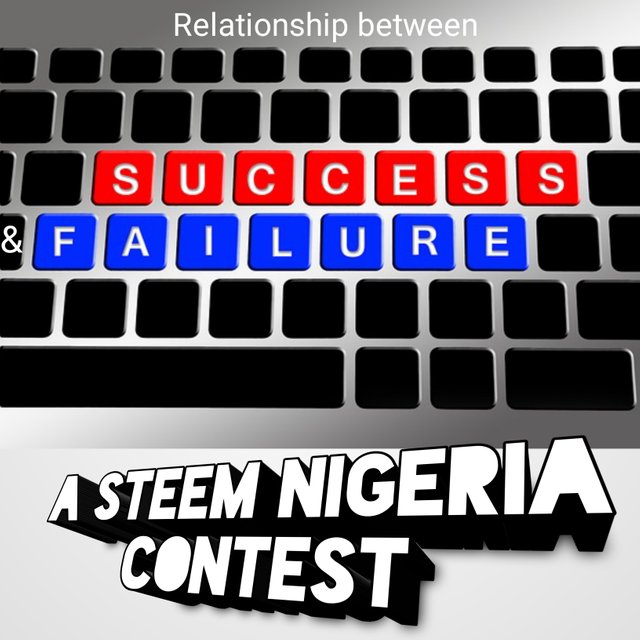 ---
Success has been a thing for the brave hearted, the hard worker and never for the most intelligent but for the one that is intentional. Success only goes to the house of the planner, executor and risk takers.
---
So in the next 7 days, I want us to be intentional about both topic, be specific and enjoy the ride into the psychologic reasoning.
---
This contest is not limited to the Nigeria community alone. Anybody from any around the world can participate. There is a saying, meditation helps our mental health to be balance from an imbalanced perspective.
---
RULES:
---
Where there is no rule, there is no sin. So here are the rules;
Post must be on the Steem Nigeria community

Your country tag is important as one of the first five tags.

All post should be submitted as a comment below this contest.

Subscribe to the community.

Use contest as one of your tag.
We all know that commenting on contest post is important and encouraged by @steemcurator01. Your comment under this post must be engaged as one of the criteria to choosing the winner. We will be looking out for sincere engagement.
---
Rewards:
---
The prize is going to be slightly different this time because I want to reward the most psychological writeup not just the one that read and dumb.
First place - 4 steem
Second place – 3 steem
Third place - 2 steem
Fourth place - 1 Steem
Fifth place - 1 steem
---
Note:
This reward is not limited to the above alone but might be raised if the support on this post is enough to raise it.
---
Let's see some psychological improvement in our reasoning faculty in this contest.
See you soon