Steemit Engagement Challenge / S11W1 - "Happiness is the highest form of health."
Introduction
---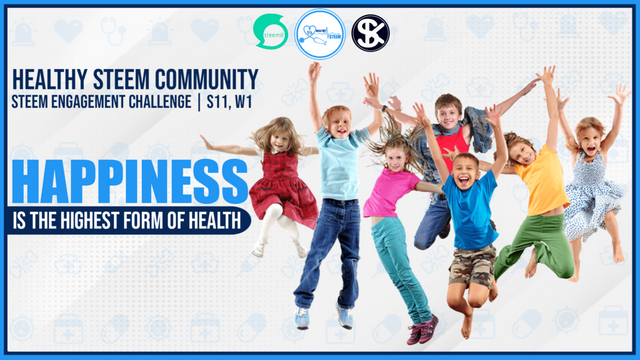 We are excited and happy to welcome you all to the first week of the Engagement Challenge Season 11 in the Healthy Steem community with great delight and enthusiasm. We are happy to host this contest in order to spark our curiosity for this season 11 and, in turn, establish the tone for the next weeks.
The topic for this week is very interesting and Engaging. This theme shows the connection between Happiness and Health. As we know , Happiness act as a powerful catalyst for a healthier lifestyle.

"Happiness is the highest form of health"
---
Happiness is considered as an intangible emotion that plays an important role in shaping our lives. Happiness has the potential to significantly impact on our quality of life, mental being and physical health.
As we drive into the words of the Dalai Lama, it reveals the intricate connection between happiness and health. This week we are going to explore the wisdom that is encapsulated within the Dilai Lama's statement.
If we explore the bond between emotional contentment and physical health, we realize that happiness is not merely a destination but a transformation journey.

What do we expect from the Challenge?
---
As the Dalai Lama said: "Happiness is the highest form of health". For our first contest we want you to share with us about Happiness, that beautiful and full feeling that makes us see life in colors. We are expecting the answers to some questions that will help you develop the topic.
👩‍⚕️ What does the word "happiness" mean to you?
👩‍⚕️ Do you consider that happiness is a decision of each person?
👩‍⚕️ What things make you happy? Give an example of an incident that made you happy.
👩‍⚕️ Do you think happiness can help your health?

Guidelines and Rules
---
Post must be #steemexclusive.

Participants must not use any bot voting service. Do not be involved in vote-buying.

The participation time is between Monday, July 24th, 2023, 00:00 UTC to Sunday, July 30th, 2023, 23:59 UTC.
Participants must be verified and active users on the platform.

The community moderators would be leaving quality assessments on your articles and probable upvotes.
The publication can be in any language.

Post must be over 350 words. (350 to 500 words)

The images used must be the author's own or free of copyright. (Don't forget to include the source.)

Plagiarism and the use of AI is prohibited.

Upvote and resteem this contest post. Follow @hive-168205 if you have not done so.
Use the following title: Steemit Engagement Challenge / S11W1 - "Happiness is the highest form of health."

Use the tags #healthysteem-s11w1 #country (example- #venezuela, #pakistan) #steemexclusive.

Use the #burnsteem25 tag only if you have set 25% beneficiary to @null.

Post the link to your entry at the comment section of this contest post.(very important).

Invite at least 3 friends to take part in this contest.

Endeavor to leave valuable comments on other people's entries.

Share your publication on Twitter and drop the link as a comment on your post.

In addition, your article must get at least 10 upvotes and 5 valid comments to count as valid in the contest, so ensure you interact with other users' entries.

Winning Criteria & Reward
---
Top 3 users will get 15 SP Reward.

SC01 and SC02 would be checking on the entire 7 participating communities and upvoting outstanding content. Upvote is not guaranteed for all articles. Kindly take note.
At the end of the week, we would nominate top 3 users that had performed well in the contest and they would be eligible for votes from SC01/SC02.
Important Notice: The nomination of the top 3 users in our community is not based on good grades alone, it includes their general engagements (quality and quantity of their interactions with other users' articles) to measure the overall performance. Also note that generally, you can only make one post per day in the Steemit Engagement Challenge.
Good luck to everyone!
Thank you!
The Healthy Steem Community
👉Join us on Discord !👇