Contest: How Obesity Affects Our Health!
Greetings and welcome everyone to this Community
Today we will talk about an extremely important issue that is affecting many people in the world, perhaps due to bad eating habits or simply because it is a health problem beyond diet.
We will talk about obesity, although it is true that obesity is due to excessive consumption of calories which are not burned through exercise, the body does not assimilate it well and therefore, it adheres and converts into body fat causing certain damage to the body. Our organism!!
So I bring you to share this contest so that you can give your opinion regarding this disease that is increasing every day!! And it affects us both physically and mentally!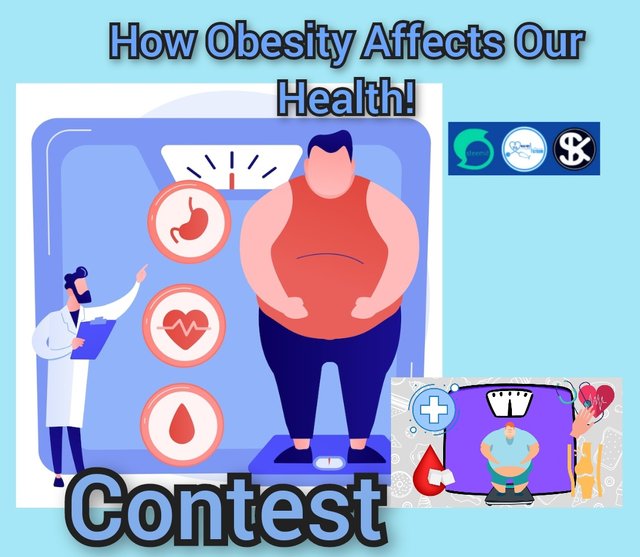 What do I expect from this contest?
💫 Do you consider that obesity is a disease caused by bad eating habits?
💫 What negative consequences can obesity bring to our physical and mental health?
💫 What recommendation can you give to people who are obese?
💫 If you were obese, would you agree to have invasive surgeries or would you simply diet and exercise?

Contest Rules
⭐The post must be written on Healthy Steem Community.
⭐Post must be #steemexclusive
⭐The participation schedule is between Monday, August 11, 2023 at 00:00 UTC and Sunday, September 17, 2023 at 23:59 UTC.
⭐The publication can be in any language.
⭐Tag my username @edgargonzalez, so I can get notified of your post.
⭐Post must be over 250 o 300 words.
⭐The images used must be the author's own or be free of copyright. (Don't forget to include the source.)
⭐Plagiarism and the use of AI is strictly prohibited.
⭐Participants should appropriately follow #club5050 or #club75 or #club100.
⭐Use the following title: "How Obesity Affects Our Health!!"
⭐Use the tags #obesidad #salud #country (example: #venezuela , #pakistan )
⭐Use the #burnsteem25 tag only if you have set the 25% recipient to @null .
⭐Post the link to your entry in the comments section of this contest post (very important).
⭐Dale resteem a esta publicación e invita a 3 amigos a participar @tahispadron @norat23 @sisol @mile16 @anasalueidy @petrarodriguez
⭐Share your post on Twitter and place the link as a comment on your post.

Premios!
| Primer premio | 1 booming vote |
| --- | --- |
| Second prize | 6 Steem |
| Third award | 4 Steem |

Good luck to everyone!
👉Join us on Discord !👇