Steemit Engagement Challenge, S9-W2: "honey! Pack Your Bags Right Now!"
Greetings to all Steemians, men, and ladies!...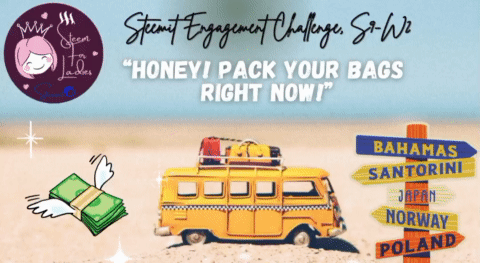 Edited On Canva
---
Week 1 was an awesome week with lots of fun! You know all too well how to keep us, the Steem For Ladies team, busy. We have received 176 entries so far but will still be counting as there are still a couple of hours left to tell us if "Women are always right."
For week 2 of the Steemit Engagement Challenge we've chosen a great topic.
"Honey! Pack your bags right now!"
Show us one person that doesn't like surprises. We all LOVE them!
What will you do if your partner comes running into the house, slams the door, and shouts at the top of his/her voice, "Honey! Pack your bags right now! I've won the lottery"?
This week we want you to tell us all about your reaction to this surprise.
Do you like unexpected surprises like this? Yes or no tell us why.

If you had to pack your bags "right now" what 5 items will you pack? Best you show us some of your own images.

If you could tell 5 other people to pack their bags as they are going with you who will it be?

Lastly, if your partner won the lottery what would you like to do, pack your bags, or stay at home? Tell us in detail what you would like to do.
---
Entries to this contest are open to ALL Steemians
Post in Steem For Ladies Community
Make sure that you follow club status (Club50/50, Club75, or Club100)
The title must be: "Steemit Engagement Challenge, S9w2: Honey! Pack Your Bags Right Now!"
Write a post of at least 350 words in any language
Plagiarism, AGI content, and voting bots are prohibited!
Only your own or free copyright images (source mentioned)
Posts must be exclusive therefore use the #steemexclusive tags among the tags #steemladies-s9w2 #yourcountry #clubstatus
Leave the link to your entry post in the comment section of this post
Vote and resteem this post
Lastly, invite two of your friends to join the contest
As this is an engagement challenge posts should get at least 10 upvotes and 5 valid comments from other users to qualify as an entry at the end of the week. We encourage you to vote and give quality comments (50+ words) on posts from fellow Steemians. By doing this you will also receive some back.
The community will select 3 winners each week that will receive STEEM.
1st prize – 5 STEEM
2nd prize – 3 STEEM
3rd prize – 2 STEEM
SC01 will randomly select and vote on good posts across the 7 communities throughout the week. All the weekly winners (selected across the platform), will receive extra prize votes.
---
Participating time is from 00:00 (UTC) on Monday to 23:59 (UTC) on Sunday 30 April 2023.
---
| Club Status | #club100/75/5050 |
| --- | --- |
| Steem Exclusive | ✅ or ❌ |
| Plagiarism Free | ✅ or ❌ |
| BOT Free | ✅ or ❌ |
| Voting CSI | 0.00 ( 0.00 % self, 0 upvotes, 0 accounts) |
| Score (quality/rules) | 0,0/10 |
| Verification date: | 2023-04-00 |
| #Burnsteem25 | ✅ or ❌ |
1. Determination of Club Status refers to the https://steemworld.org/transfer-search Web-based Application
2. Plagiarism Checker: https://smallseotools.com/plagiarism-checker/
3. AI Content Detector: Corrector App, OpenAI/, CopyLeaks
---
The entire Steem For Ladies Team is responsible for holding this Contest.
@liasteem Admin
@patjewell Admin (Organizer)
@ruthjoe MOD
@solperez MOD
@mayberling MOD
@pandora2010 MOD
Best of luck!
See you next week!