Team #3 : Curation Report Week #02 - February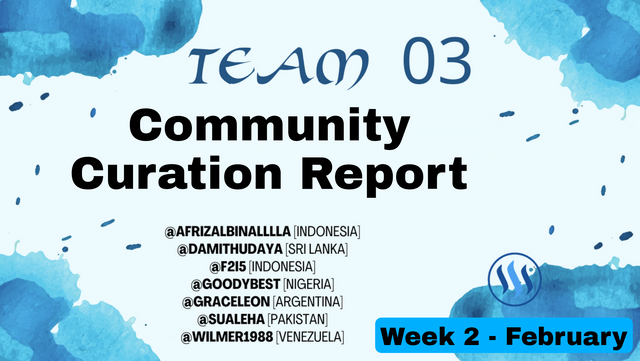 ---
The second week of this month of February is over and today I want to share with all my 3 community curation team the results obtained during these 7 days in charge of the steemcurator06 account as part of the community support that steemit provides to its users.
That is why today we want to show all the contribution provided to all those users who are authors of 100% original content that were part of this digital medium with quality content, on the other hand, during this week we also wanted to contribute to those steemians who are always ready to give a little more and interact through excellent comments made.
All this through a distribution that guarantees support for users from different countries, communities and as well as under the use of different labels:
---

General scope: analysis and statistics (last week)
---

Total Curated Posts: 181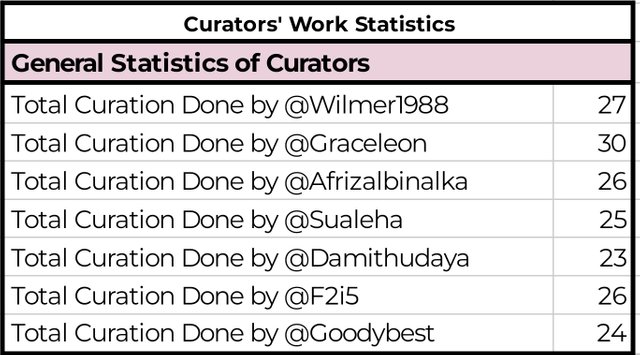 Curation Done By Each Team Member
---
---
Curation by country: analysis and statistics
---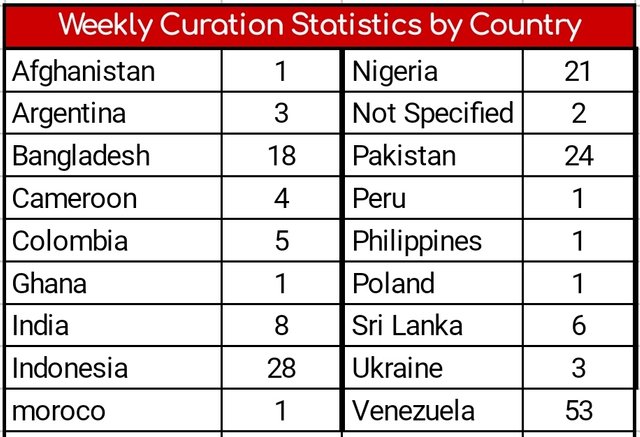 The number of authors is double digits for 5 countries whose topics were enjoyed by our team thanks to their original and valuable content. Our team invites authors from other countries to work on the quality of their publications so that their countries can grow within steemit.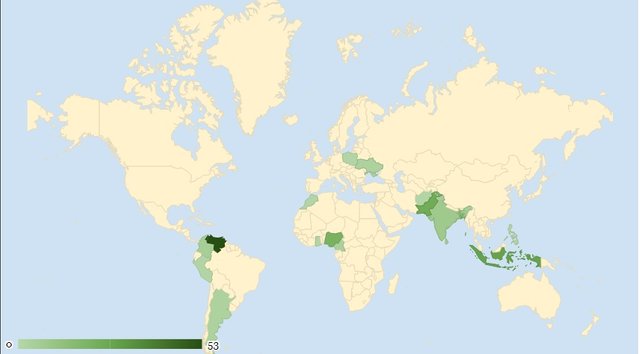 Curation by Country (Graphics)
The lighter color shows that the selection of publications from this country has been low, and the darker color shows that the selection is higher than the lighter ones.
---
---
Communities and club status: analysis and statistics
---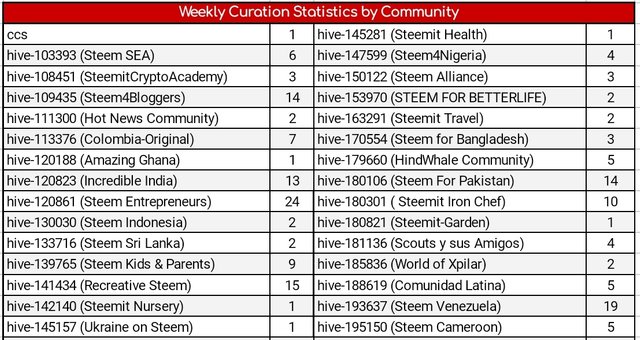 Curation by Communities (Statistics)
We were able to curate posts from 30 different communities this week.
---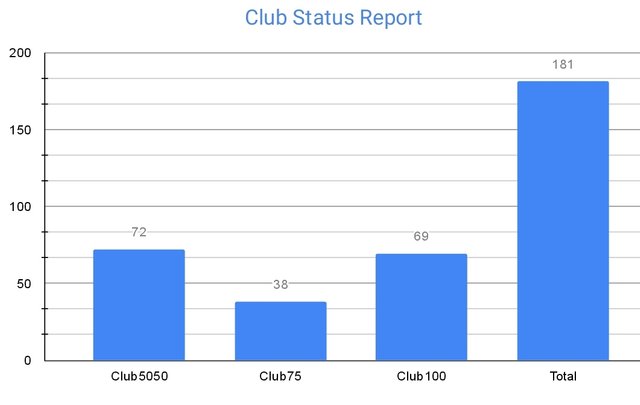 Club Status of Curated Users (Statistics - Bar Graph)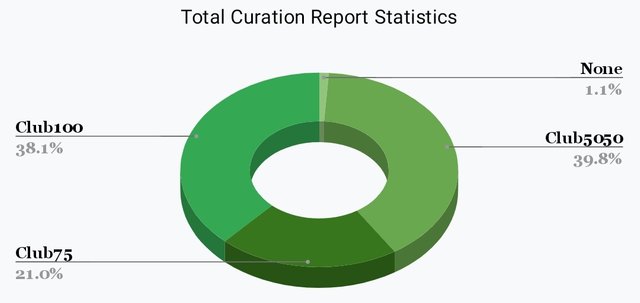 Club Status of Selected Users (Statistics - Pie Chart)
---

We believe that good comments should also be highlighted in this report, so we decided weekly to add a small space to recognize the best comment of the week, maybe there can be a little motivation for him too :)
---

Recommended posts for this week
---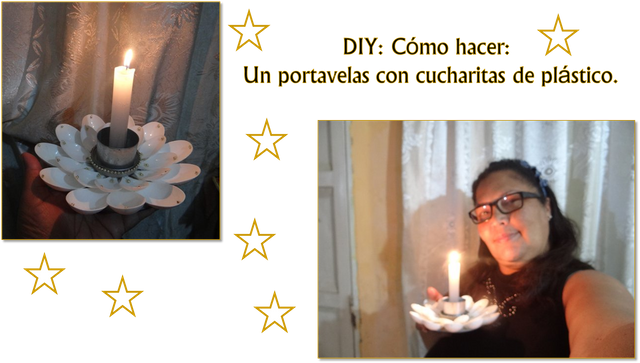 Author: @zhanavic69
Club status: #Club5050
Post link: DIY: Cómo hacer: Un portavelas con cucharitas de plástico.// DIY: How to make: A candle holder with plastic spoons. - Timed out
This user is so creative, she taught us how to make a beautiful candle 🕯️ stand using some waste products an:d it turns out amazing 🤩: I hope she will be encouraged to do more.
Nominated by:@goodybest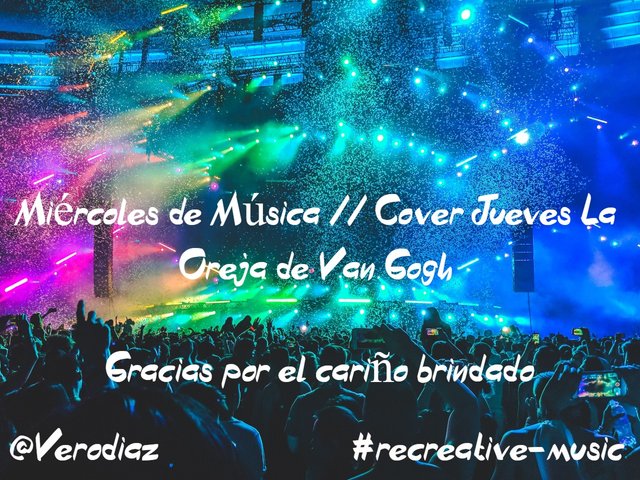 Author: @verodiaz
Club status: #Club5050
Post link: Miércoles de Música // Cover Jueves La Oreja de Van Gogh - Timed out
She is a young and talented artist who has demonstrated her vocal ability by interpreting a protest song against terrorism in Spain..
Nominated by:@graceleon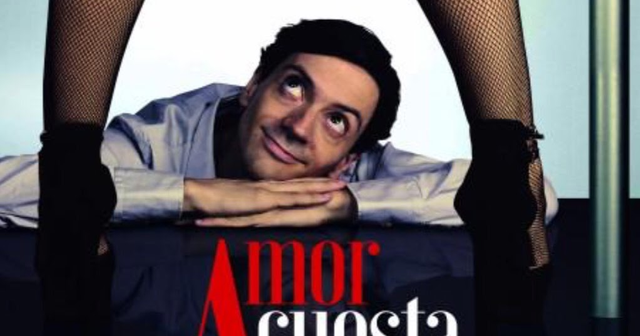 Author: @solperez
Club status: #Club5050
Post link: Reto Recreative-Movies 6ta Edicion: Mi Película preferida con una Gran Historia de Amor - Timed out
The user has shared about her favorite movie with a great love story, 'Uphil Love', a Venezuelan film. The post contains a detailed review of the plot, the characters, and the overall theme of the film. She has written it an engaging way, tempting the readers to watch it. Overall a great effort from the user..
Nominated by:@damithudaya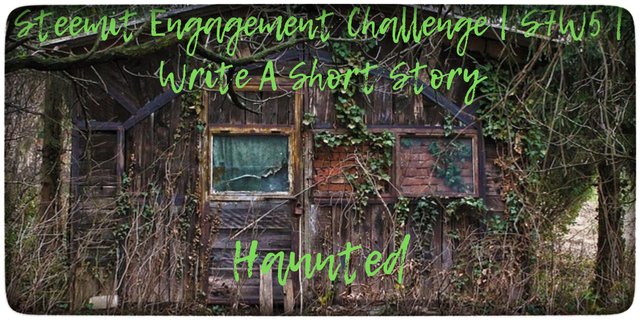 Author: @sofian88
Club status: #Club5050
Post link: Steemit Engagement Challenge | S7W5 | Write A Short Story - Timed out
Short stories are one of the favourite reads of people in general, especially parents who often read fairy tales to their children before bed.

In this topic, she has explained well a short story that happened 20 years ago. I think this theme is very interesting with very good words, and easy to understand. This is a creative idea..

Nominado por: @afrizalbinalka

Author: @marijoluna

Club status: #Club75

Post link: Sábado de Recreación Familiar al Aire Libre - Active

@marijoluna shares with us a fabulous Saturday with the family enjoying the beauty of nature, managing to carry out good maintenance and care for crops of different types of field products, a very profitable day in the company of her daughter and granddaughters.

Nominated by: @wilmer1988

---

---

Author: @ashkhan

Club status: #Club5050

Post link: The Diary Game | Better Life | Welcome a New Member to Family | Welcome Zohaan - Active

The beautifully written blog by auther ,she shared with us how she and her family welcome new born baby,new members of the family named zoohan in very emotional and full of pleasured ,how they pre plans and nough shopping for new baby in her diary game .The most beautiful part of the blog that I liked that is 🛍️🛍️ for new little cutee zohan ,may God blessed bay healthy and long life.

Nominated by: @sualeha

Author: @chopper46

Club status: #Club5050

Post link: Economic_diary_game // Beautiful café a la five star hotel - Active

Perfect review content. Some of the photos shown are truly perfect shots. Every angle shown is included with excellent reviews. From the reviews submitted, everyone wants to visit this business location immediately to see and feel the luxury of its decoration.

Nominated by: @f2i5

We hope that you like our report.

---

Club Status of Team 03 Curation Members,

---

---