Steemit Engagement Challenge S5-W6 | THE END…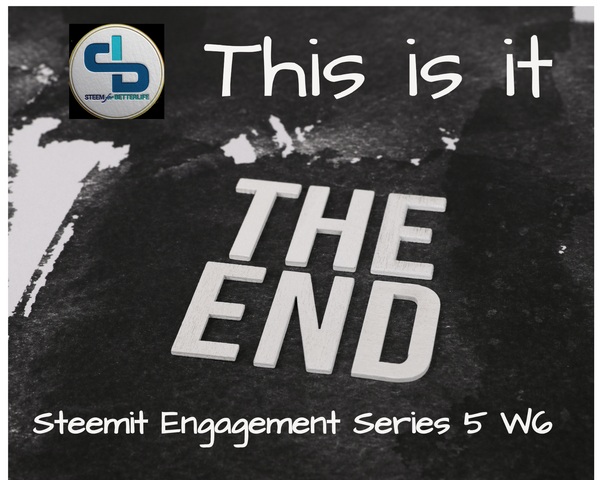 Image Source
Season 5 Week 6 of the Steemit Engagement Challenge is here!
The most important part of a book, movie, dramatic narrative, song, etc. is the end.
These endings can be;
a good ending, like you, wanted it to be
an unexpected ending where nothing is accomplished
a tragic ending
an ending half-half of what you've expected
no ending… You don't know why it ended
It is THE END of 6 weeks of the Steemit Engagement Series 5.
For this challenge we want you to write whatever you want.
It can be a story, a poem, a song, a "My Diary Game", "My town in 10 pics", etc.
All that is required is that it must be ORIGINAL and you must end it with a classic "THE END".
Posts must be posted in the STEEM FOR BETTER LIFE community
Write a post with no less than 350 words
Post must be steemexclusive
All relevant languages are allowed
Use your own images, and if not you must Avoid non-copyright-free images and post the source of the images
Use Post Title "Steemit Engagement Challenge S5-W6: THE END…"
You must use the #steem4betterlife-s5w6, #yourcountry, #club? tags, among your first 5 tags
Participants may not use any auto-vote services
Paste your post link in this post to make searching easier
Upvote this post, resteem it and invite 3 other users to participate
Actively commenting on other engagement participants across the engagement community
Like with all contests there must be a verification and scoring process.
This will be as follows;
Scoring System or Verification Format
| Verification Date | Month Date, Year |
| --- | --- |
| O'clock | 00.00 PM/ AM |
| Get Upvote | 0 |
| Valid Comments from Other Users | 0 |
Description
Information
Score
Plagiarism Free
✅ or ❌
1
#steemexlusive
✅ or ❌
1
Bot Free
✅ or ❌
1
Club Status
✅ or ❌
1
Markdown Style
2
Quality Content
4
Total Score
10
Club Status Verification Period
Month Date to Month Date, Year
Voting CSI
00.00 ( 0.00 % self, 00 upvotes, 00 accounts, last 7d )
Determination of Club Status refers to the https://steemworld.org/transfer-search Web-based Application
| Note | Development Notes from Verifier |
| --- | --- |
---
---
---
We do not guarantee that every participant will be supported by steemcurator01 or steemcurator02
The jury's decision cannot be contested
The main hashtag for this contest search is #steem4betterlife-s5w6
Engagement: Post should have good upvotes and valid comments from other users. (Comments like "great" "good" "nice" etc. simple words are not eligible.)
Participating time is from 00:00 (UTC) on Monday to 23:59 (UTC) on Sunday.
Good luck and most importantly, enjoy it!
This is us