Steem for Better Life Contest #3 : How Active Are You In Steemit This Week?
Hello, Steem For Better Life Members...
I am happy to invite you all, to participate in the contest on the steem community for better life. Let's take a look back to see how active and developed you have been in steemit in the last 7 days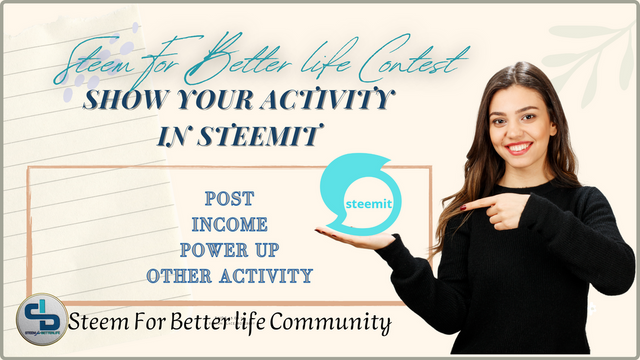 Image Edit with Canva For education
Steemit has become a home for every Steemian from around the world to gather and share knowledge in the form of diary content, art, contests, and many other interesting contents.
Up to now, you have shown commitment to the platform. I want to know how active you are in Steemit every week in contributing to this platform, and what benefits you have received.
In this contest, you have the opportunity to share your activity on the platform with your various achievements, for example writing inspiring posts, providing quality comments on other users' articles in the last 7 days. Whatever your activity in steemit, I really appreciate it
This contest aims to measure how active you are on the Steemit platform and what are your achievements over the past week
To make this contest more focused, I have prepared contest tips as follows:
How much content have you published in the past week? and what are the categories of your content?
How many rewards did you receive in 7 days (use https://steemworld.org/ to check the reward summary)
Let me know how much Steem you power-up during the last 7 Days. Berapa Banyak Steem power aktif anda saat ini, berapa reward kurasi yang anda terima dengan mununjukkan voting CSI
What do you plan for the next week to show that you are one of the active steemians?
Tell us about your other activities in the form of contributions to the platform (for example: curating with your personal account, managing the community, inviting and mentoring newcomers)
Please do not write the question above in your entry
The contest starts from the publication of this post until September 27, 2023 at 11:59 pm UTC. Contest announcement will be published after all entries have been checked
Contest prizes of 21 steem power for the 3 best entries and @booming support
Subscribe and Post only in Steem For Better Life Community
Resteem this post and invite 3 of your friends to join the contest
Contestants must be verified in the Newcomer Community and paste the Achievement 1 post link at the end of the contest entry.
Contestants must join a club, at least #club5050
Posts can be written in any language that can be translated into English
Write the Title: "Steem for Better Life Contest #3: How active are you in steemit this week?".
You must include the #sfblcontest3, and #yourcountry tags
Support the Charity Community @worldsmile or @steembetterlife
Drop your contest entry link in the comments of this post
We look forward to your participation, Let's strengthen the Steem community with various activities to build investment in the future.
Show the world how active and excited you are in using the Steemit platform this week. Give the best of yourself, and win the contest prize that I have prepared for you!
Happy participating and good luck!
Thank you,
Contest organizer
September 20, 2023
cc : @disconnect
We cannot guarantee that the winner will get an upvote from @steemcurator01 and @steemcurator02. The winner's decision is entirely the right of the contest organizer and cannot be contested
I invite you to support @pennsif.witness for growth across platforms


Click here

.