💪🏃 CONTEST: What do you do to stay active?! 🏃⭐ 45 STEEM IN PRICES!! ⭐ // 💪🏃 CONCURSO: Qué haces para mantenerte activo?! 🏃 ⭐ 45 STEEM EN PREMIOS!! ⭐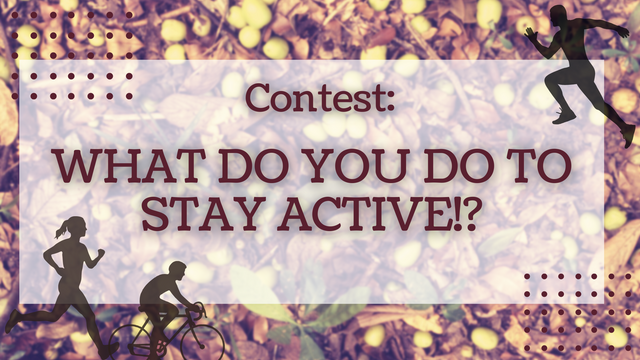 ⭐ WHAT DO YOU DO TO STAY ACTIVE!? ⭐
As this community is all about wellness in general, you will be asked to write a post in which you talk about what activities or habits you perform in order to feel better with yourself and have a healthy lifestyle.
Also, in your post, make sure to tag and invite three other Steemit users so that they get to know about this community! (I'll be checking this into the entries!!)
---
Rules are the following:
Any language is welcome. Your entry should be at least 200 word long.
Resteem this post, so that more people find out about this contest
Make sure to tag me (@fendit)
Share the link of your post in a comment. I won't consider entries that aren't in this post or posted in other communities.
Join this community & invite three other users to participate in this contest
---
Entries will be received until July 6th, 23.59 Argentina time
---
Prizes:
Prizes will be as follows:
1st prize = 15 STEEM
2nd prize = 12 STEEM
3rd prize = 9 STEEM
4th prize = 6 STEEM
5th prize = 3 STEEM

[Español]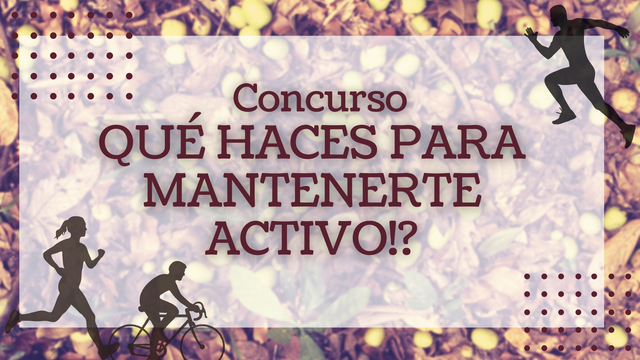 ⭐ QUÉ HACES PARA MANTENERTE ACTIVO!? ⭐
Como esta comunidad se basa en bienestar general, no circunscripto a nada en particular, la consigna de la semana será que redacten un post detallando qué actividades hacen o qué hábitos mantienen para estar activos y sentirse mejor con ustedes mismos.
También, y para que más personas se enteren de esta comunidad, en tu publicación deberás invitar a otros tres usuarios de Steemit (estaré revisando esto!!).
---
Las reglas son las siguientes:
Aceptamos publicaciones en cualquier idioma. Tu posteo deberá contener como máximo 200 palabras.
Resteemea esta publicación, así más personas se enteran del concurso.
Asegúrate de etiquetarme :)
Comparte el link de tu publicación en un comentario. No tendremos en cuenta las entradas que no se encuentren anunciadas en este posteo o que estén publicadas en otra comunidad.
Unete a esta comunidad e invita a otros tres usuarios a que participen.
---
Las publicaciones se aceptarán hasta el 6 de Julio, 23.59 hora de Argentina
---
Premios:
Los premios serán dados de la siguiente forma:
1er lugar = 15 STEEM
2do lugar= 12 STEEM
3er lugar= 9 STEEM
4to lugar = 6 STEEM
5to lugar = 3 STEEM

Cc.
@steemcurator01
@steemcurator02