Steeming Community Weekly Mini-Contest " My Name is Who?" Season 2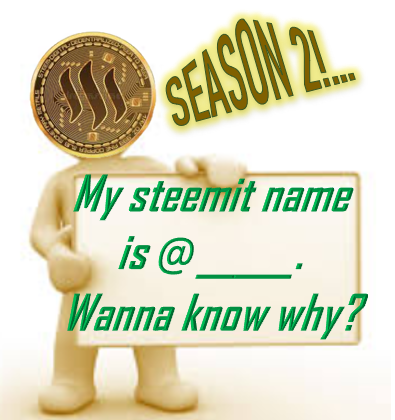 Steemzen all over the world! We are glad about your warm participation and patronage of our contest " My name is Who?". Even after the contest ended, there are still many who expressed their interests and submitted their entries. So we decided to have a season 2 to accommodate all those entries. We hope that you are still with us, supporting this contest. We hope to know you more and tell us the stories behind your steemit name.
Tips?👌👌👌
Tell us the reasons why you came up with that name.
How was your experience while deciding on it?
To whom did you dedicate that certain name?
Are you satisfied with that name?
If given a chance, will you change it?
Rules! 📝📝📝
📌Your entry must be posted here at Steeming Community
📌Show us your creativity through writing by using 200 words or more. (Make it original)
📌Include in your post a selfie with your account name on it.
📌Invite 3 or more of your friends to join the contest.
📌Remember to use the tag #mynameiswho for your entry to be easily seen.
📌Paste the link of your entry on the reply section of this post.
📌Resteem this post.
📌Share it on your social media, twitter or Facebook (show a picture of your proof).
📌This contest is exclusive for steemingzen members only!
Prizes; 🏆🏆🏆🏆
👍 First prize: 20 steem
👍 Second prize: 15 steem
👍Third prize: 10 steem
👍Fourth prize: 5 steem
Entries submitted on April 26 and for those unverified entries are considered as valid. Please comment the links below. Contest Endeed on May 4-2011.
Lastly, we would like to inform you that we are about to announce our another contest, " You can Win by Delegating Your Steem-power!" Who are willing to join with us?
We are hoping for your support and help build our community by delegating your steem power. We appreciate any amount as long us it is freely given. The Steeming Community will also pay you back monthly depending on the amount that you've delegated. Help us to reach our 100k steem power target by the end of this year.
For questions don't hesitate to reach us out at our discord channel.
Contest Initiated by,
@juichi
🙏The Steeming Community Team!💁‍♀️💁‍♀️👨👨