Renewing Steemit Pakistan Labels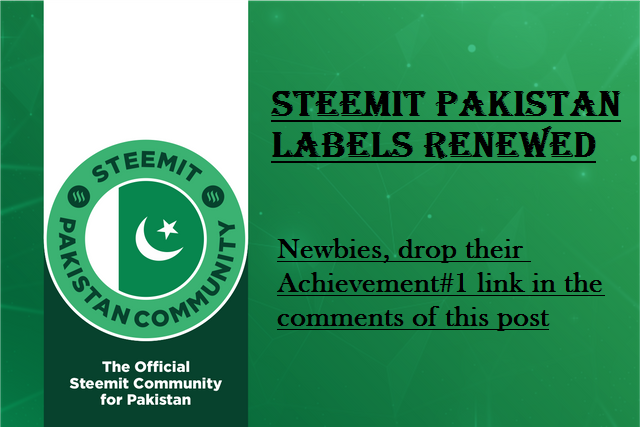 Dear members,
Days ago, we informed you that we are working on renewing the labels. As you know, labels play an important role in the first impression of a user. Curators also check labels while evaluating a post for curation.
Users who make an effort in powering-up their Steem and making delegations need some distinction. We can't overlook what they are contributing to the community and Steem itself. Therefore, we will now be labeling each member according to their Power-up level and Delegations.

What is a Power Up level?
Power up level is given according to the total Steem one has powered up in his/her entire Steemit journey. It doesn't include the Author SP. Here's how the levels will be allocated:
| Power-Up Amount (sp) | Level Number |
| --- | --- |
| 50-499 | 1 |
| 500-999 | 2 |
| 1000+ | 3 |

What is a Delegation?
Delegation is an amount of your steem power that you lend to some other account. Delegator can take it back whenever he wants but he won't earn curation rewards for the delegated power. The Delegatee can earn the curation rewards of the borrowed steem power but can't do anything else with it.
Delegators miss out on curation rewards but Steemit Pakistan gives them delegation rewards.
We are giving a title to each delegator according to the amount delegated to @steemit-pak.
| Delegation Amount | Title |
| --- | --- |
| 50-99 | Bronze |
| 100-499 | Silver |
| 500-999 | Gold |
| 1000-1999 | Diamond |
| 2000-2999 | Platinum |
| 3000+ | Leader |
Example: @username [ Silver Partner | PU-level 2]

Newcomers Title
Since newcomers cannot delegate or power-up in the initial days until they have earned some rewards. So newcomers who have gotten their achievement 1 verified will get a label Verified Newcomer.
Example: @username[Verified Newcomer]
---
Note: We expect all newbies to have a power up level and a delegation title as soon as they hit 50 reputation. Those with 50+ reputation but don't fall in any category of delegation or PU-level will not be labeled.

All newcomers or members without labels are requested to drop their achievement 1 link in the comments of this post.
Thank you!

---