Announcement of Weekly Engagement Topic | Steemit Pakistan Feedback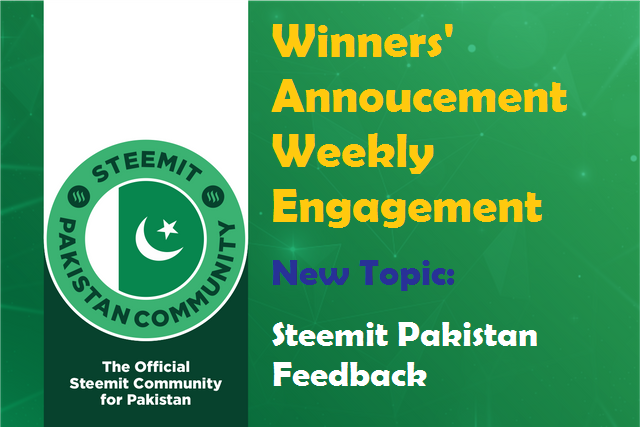 Why Weekly Engagement Contest ?
Its a big question and many of you guys might have it in your mind that why have we started this Contest. The main Reason behind initializing this contest is to gain attention of many users working here internally,
With the Engagement You can Build a Mindset in front of Other people.
Engaging with others is beneficial because we never know when you would need help of someone.
If we take it as an example on Steemit Pakistan we have different people from different parts of Pakistan now If you are engaged with many people you might get good support from them when it comes to the tourism part ! They can guide you What to Eat ? where to stay and where to enjoy ?
Take it as a Connecting People Contest !
We want opinions from every member so the topics are mostly general and we really want you all to participate in it.
There is a very clear rule to make comments on other participants posts as this is an engagement contest. But sadly, none of the participants made any comment.
Moreover, we have repeatedly mentioned that adding your verified achievement link 1 is mandatory in all Steemit Pakistan's posts whether a contest entry or a normal post. Now let's not make it late.

The Winners are:

THE TOPIC OF THIS WEEK IS:
Steemit Pakistan Feedback - Tell us what you like about this community and what improvements or changes you want to see in the community.

Rules to Follow:
This contest is open for the Entire steemit Family.
You should write an article of 300 words to make sure that the quality of the post is worth winning the rewards :)
Upvote, Comment and resteem Contest Post
Make sure to post in STEEMIT PAKISTAN Community
Use #weekly-engagement tag and your country #pakistan Tag in the first five tags in your post.
Entries are only applicable until the payout of this post. 7 days from now.
Only allowed one post per one participant
Comment the link to your entry below in this post, once it is done.
The post should not be published in any other blockchain/platform rather than steemit so Use #steemexclusive tag as well.
As the purpose of This contest is Engagements, so Entries will be eligible if participants comment on other Entries (2 Entries minimum) Or Comment Relevant to Steemit-pak's any post !!

PRIZES:
1st Place - 8 steem
2nd Place -6 steem
3rd Place - 4 steem
4th Place - 3 steem
5th Place - 2 steem

TERMINATION TIME: Post Expiry!
Don't hesitate to comment if you have any queries.


Subscribe STEEMIT PAKISTAN
Quick Delegation Links To earn delegation rewards