SFS | Steemit Engagement Challenge-S12W4 | Influential Fashion Icon | Prize Pool 10 Steem Power
Hello everyone, we are here to share the contest for week 4 of engagement challenge season 12. We are pleased that users share great number of participations in week 3. We will invite all the users to share their unique participation and try to engage maximum to get selected as the winner of steemit engagement challenge season 12 week 4.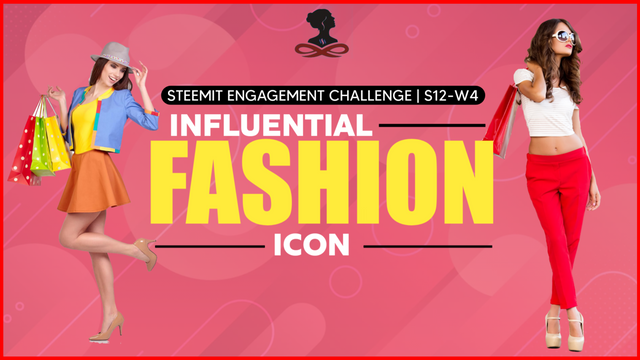 Canva

Contest Theme
---
Fashion is part of our life and we adopt it in any way and sometimes the personality of a few people is so inspiring we want to adopt their lifestyle. Like if I see myself in life the personality of my sister is always influential for me and I try to follow her fashion and style in my life and groom up my personality.
Likewise, in your life, there would be people who inspired you and become influential fashion icons in your life. It can be your your elder sister, elder brother, mother, father or any other person from your family.
Contest Tips
---
Who is your Influential Fashion Icon & Why?
Which thing you like in your fashion inspiration?
Any thing which you want to adopt or follow in your life.

---
Post must be written in the Steem fashion & style community. Subscribe to our community and follow our official community account @hive-126193.

All country members are allowed. You can write your post in any language.
- Plagiarism will not be supported. (Content must be steemexclusive).

The Title of the Post should be Steemit Engagement Challenge-S12W4 | Influential Fashion Icon

The tags are, #steemfashionstyle-s12w4, #fashion-icon, #engagementchallenge others tags are like your country as Pakistan, club status as club100, and #steemexclusive.

Post should be at least 300 words. Try to be unique and original. The images must be copyright free and should be sourced as well.

Invite your 3 friends to participate in our contest. Upvote and Redeem the contest post so that more users participate in this and upvote.

Share your participation link under the comment section of this post.

Share your post on Twitter by adding a little information about your post and a specific hashtag like lifestyle, and share link on your post comment section.
Contest will start at 00:00 (UTC) Monday 25th September 2023, and end at 23:59 (UTC) Sunday 1st October 2023.

Reward
---
10 Steem power can be rewarded for top 3 winners each week. You can also get support from Sc01/Sc02 but votes are not guaranteed. Wish you all the best for engagement challenge season 12 week 4.

Regards
Steem Fashion & Style Team