Steemit Engagement Challange III | STEEM CULINARY CONTEST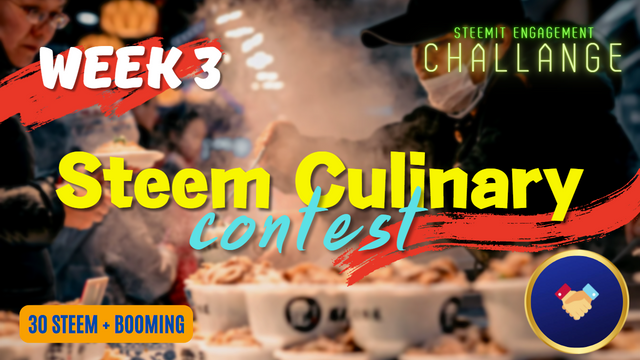 One of the tourism potentials that continues to be developed in order to Improving the community's economy is culinary tourism which is part of the global tourism sector. The tourism industry is currently experiencing rapid development is the culinary field, namely tourism related to the provision of food and beverages.
Changes in people's lifestyles also occur, they eat not only to fill the stomach, but also look for ambiance and service as part of the food served. Many restaurants and new culinary places have been established with their respective qualifications and characteristics. A variety of dishes are offered ranging from traditional regional specialties to modern fast food.
Well, for those of you who like exciting culinary delights with friends, family or enjoy reviewing delicious and unique culinary places in your city. It's time for you to take part in the Steem Culinary Contest in the Steemit Engagement Challenge - Season I - Week 3 in the Steem Entrepreneurs Community.
Review Writing Guide
A review is a clear review or story about your personal culinary experience at a restaurant, food stall, coffee shop or other food business place in the form of text and photos.
The review must contain complete and accurate information, and have at least 2 of the 3 main elements in a restaurant review : food, service, and ambiance.
The review does not contain inappropriate, provocative and racist expressions.
Make sure the location of the place to eat listed in the review is correct and mark it with what3words, google maps or plus codes.
Convert your culinary costs or the price of culinary products/services with Steem or SBD.
The review is written in simple grammar and uses easy-to-understand terms. For example: not too many abbreviations, not using symbols or punctuation that are not needed.
Contest Rules
Subscribe and post on the Steem Entrepreneurs Community page.
The writing is at least 300 words, there should be more words you can write for this contest.
Write in a language you understand well.
Use original photos and paste copyright free photo sources.
Use the hashtag #culinary-engagement in the four main hashtags.
Make sure to use the hashtag #steemexclusive.
Set of beneficiaries 20% to @steemkindness (charity account).
Share your contest post as early as Monday 00:00 (UTC). The last time to join is Sunday 23:59 (UTC).
Plagiarism cannot be tolerated.
Drop the link to your post in the comment section of this post.
Invite at least 3 of your friends to participate in this contest.
The judges' decision will be final.
Submit and obey the rules of steemit.com
Note: Reviews do not include recipes or your cooking experience
Please carefully read each point of the contest rules to fulfill the requirements of your participation in the contest. We really appreciate participants who complete all the requirements properly and completely.
Please note that participants are required to visit other contestants' posts and provide relevant comments to increase engagement in accordance with the objectives of the Steem Engagement Challenge program. Involvement is an important point in the jury's assessment in addition to the quality of the posts and the contest conditions are well fulfilled.
Prizes
The Steem Entrepreneurs Community provides 30 STEEM for 5 selected winners with distribution details :
| 1st Winner | Vote Booming | 10 Steem |
| --- | --- | --- |
| Winner 2 | Vote Booming | 08 Steem |
| Winner 3 | Vote Booming | 06 Steem |
| Winner 4 | Vote Booming | 04 Steem |
| Winner 5 | Vote Booming | 02 Steem |
The organizers congratulate you on your participation in the Steem Culinary Contest. We hope that by holding this contest, new ideas or inspiration will emerge for entrepreneurs among steemians to start a culinary business. Hopefully more culinary businesses will be integrated with STEEM.
Cc : @steemitblog | @steemcurator01 | @steemcurator02

Open opportunities for useful contributions and collaborations with steem power delegates for community development.
Please select one from the link :
Thank you to all stemians who have supported and encouraged us to work hard to advance the Community and STEEM to reach wider people.