Steem Engagement Monitor Announcement | Check the activity of you favorite Steem Bloggers | By @alejos7ven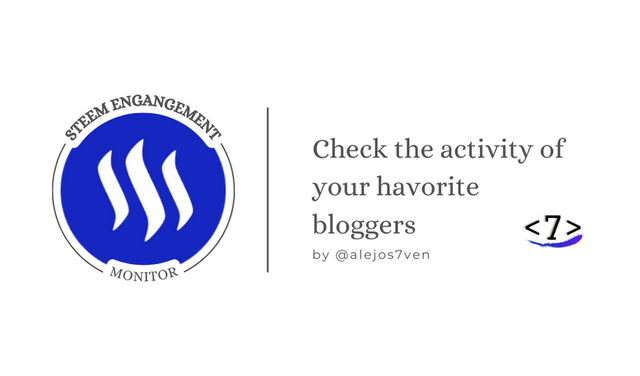 Greetings,
After the announcement from @steemitblog regarding the Steemit Engagement Challenge I was wondering How can I determine if an user is actively blogging and commenting to others? and 'til know I think there is not a way to check it in an easy way so I'm happy to present to you the brand new Steem Engagement Monitor which will be added directly to my website SteemSeven.

This tool will be pretty easy to use and so powerful to check the activity of every Steem user who is not involved in any bid bot service to keep our database clean and show only real activity there, this way the job mentioned above will be more simple. On my website you will find the Engagement global statics, where you will find this list.
---

---
The ranking of users will be determined by a simple point system where 1 post = 2 points and 1 comment = 1 point. This means that if you post 7 times in a week you will collect 14 points but if an user comment 70 times in a week will acumulate 70 points. This will help to determine who is blogging and who is supporting others.
---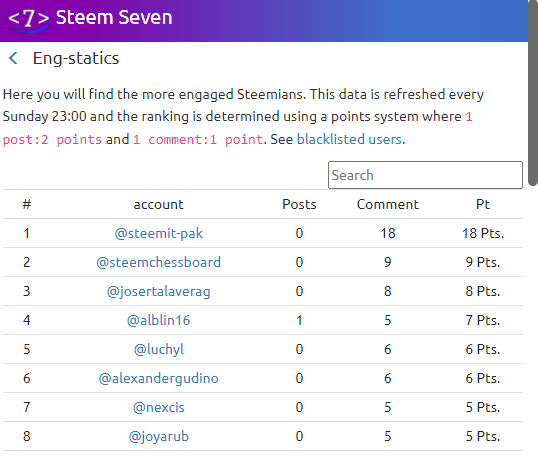 ---
I have included a search bar to find any user easily and get their interaction data without having to check the full list.
---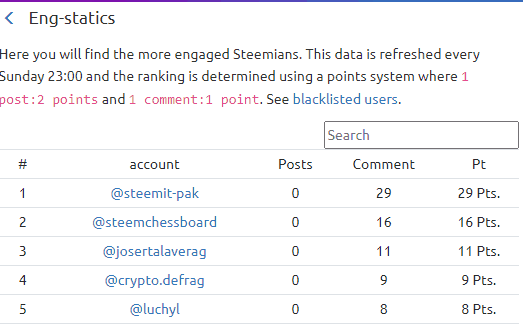 ---

Blacklisted users
---
All delegators for the following accounts were blacklisted, which means that will not be monitored:
upvu
tipu
boomerang
justyy
robiniaswap
nutbox.mine
Aditionally, I have blacklisted a few accounts that I know that do autocomments to avoid this kind of accounts. These are:
alexmove.witness , ecosynthesizer, italygame, successgr.with, ilnegro, worldofxpilar, actifit, mikhaylovichbrin, jswit, steemcurator01, steemcurator02, steemcurator03, steemcurator04, steemcurator05, steemcurator06, steemcurator07, steemcurator08
I reserve the right to blacklist any user who is doing spam to increase their points, the main idea is collect all real engagement across the global community.

Feel free to drop your suggestions to improve it or if you find any bug let me know.
---