Why Oatmeal in the morning? 💜 Blueberry Overnight Oats in a Jar Recipe
Good day steemit friends and eating lovers.... 💜 
.....(I mean... steemit friends=eating lovers, am I right? cause honestly I can't imagine being other way haha).
Me, Myself and I love Food! But in the morning I choose to make quick breakfast since I don't have to much time! That's the first reason WHY you SHOULD have Oatmeal in the Morning.
Quick Breakfast! Nutritious breakfast! Yummylicious breakfast! HEALTHY breakfast! --> cause it is well known that Oatmeal is a great choice to have in the morning. Ofc there are plenty of healthy breakfast alternatives, besides oats (like chia seeds, avocado, eggs, salad, fruits, smoothies, veggies, seeds and nuts etc.)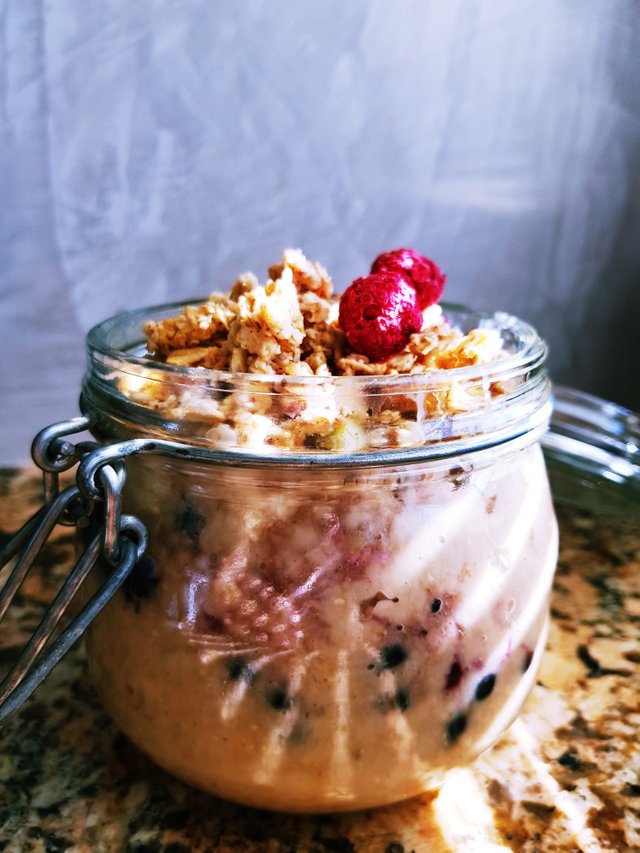 But this is exactly WHY I choose to have oats in the morning ⁉️❓
It is rich in fiber.
Rich in proteins.  According to Wikipedia, oat protein is nearly equivalent in quality to soy protein, which World Health Organization research has shown to be equal to meat, milk and egg protein. 
Oats can improve blood sugar control.
Low in cholesterol and calories.  Its daily consumption over weeks lowers LDL and total cholesterol, possibly reducing the risk of heart disease. [wikipedia source]
They are incredibly nutritious, containing lots of vitamins and mineras.
Oats contain many powerful antioxidants, including avenanthramides. These compounds may help reduce blood pressure and provide other benefits.  [source here]
They may help relieve constipation, due to its high level of fiber.
They are gluten-free. 
At USDA's website, you can see the nutritional data of the oats. See for yourself how many vitamins and nutrients are packed to this simple yet wonderful cereal.  
For me, a hearty bowl of  oatmeal is always food for my soul! Comfort food 100%!  💜 
Remember this: OATMEAL doesn't have to be boring! Be creative! There are so many ways of making them! I will upload down below some photos of my morning oatmeal, see how different they can be! :p
Meanwhile, I share with you this easy recipe of Overnight Oats in a Jar! 
INGREDIENTS:
1/2 cup oats
1 cup vegan milk (almond, rice, coconut, etc)
blueberries 
honey (or maple)
granola 
INSTRUCTIONS:
In a jar combine milk, oats and honey. Leave in the fridge overnight (shake the jar it if you have the chance, but this is optional).
In the morning, add blueberries and granola on top!
That's it!  💜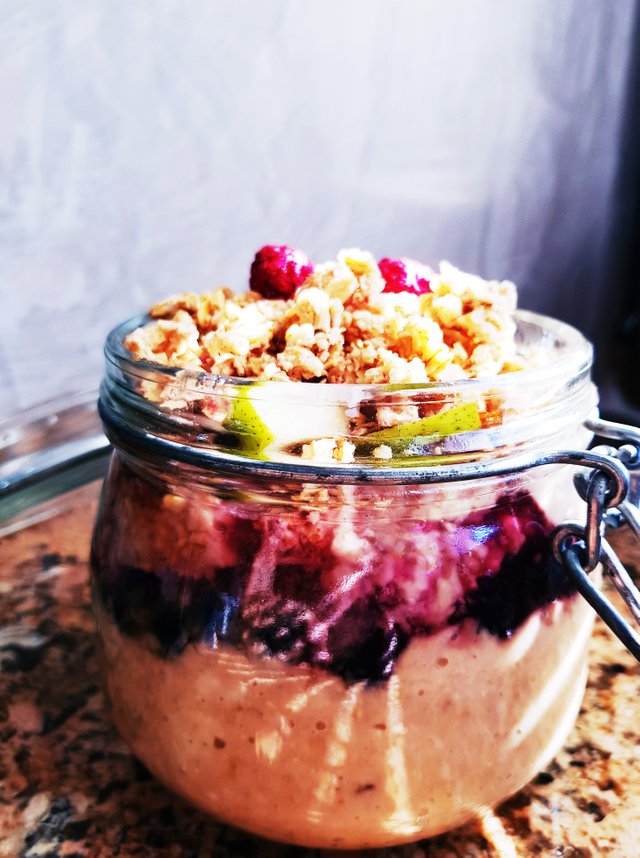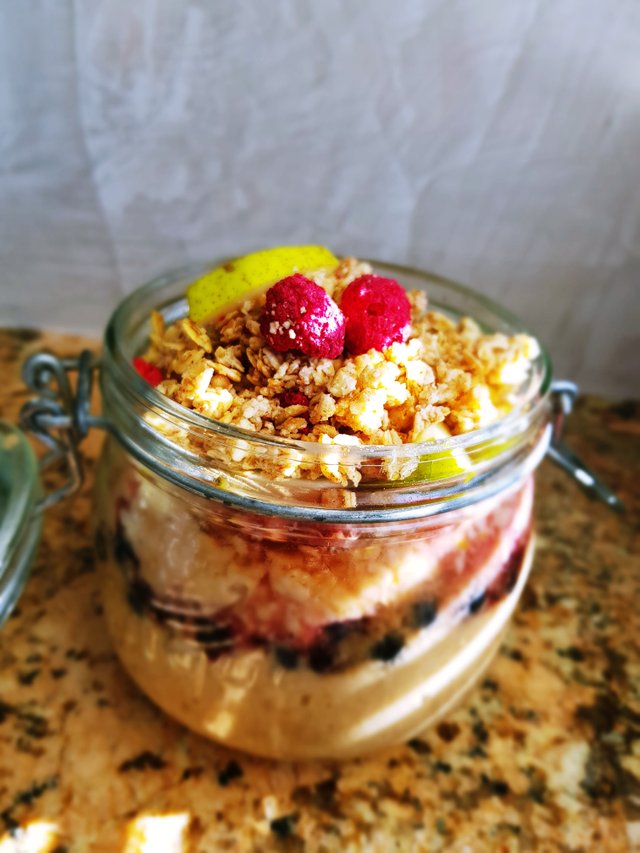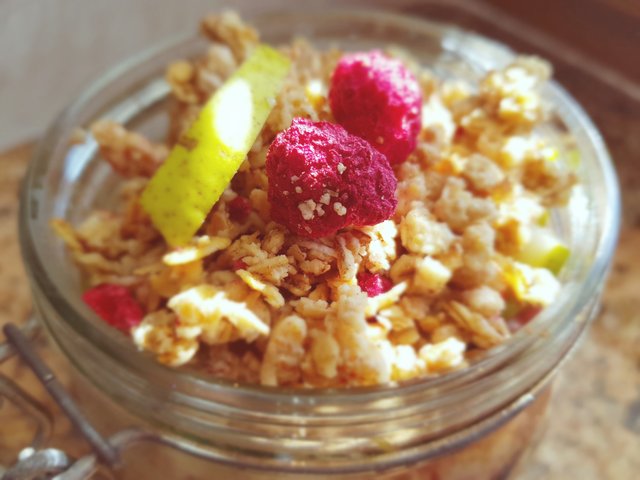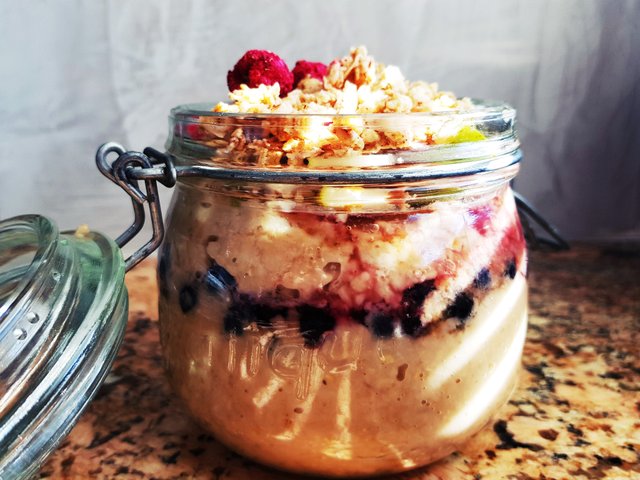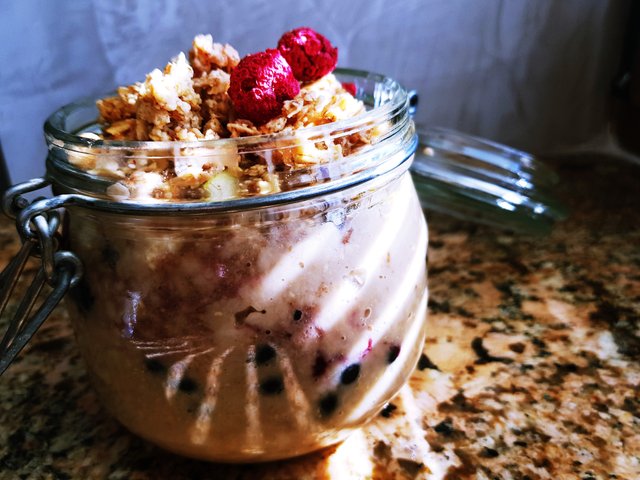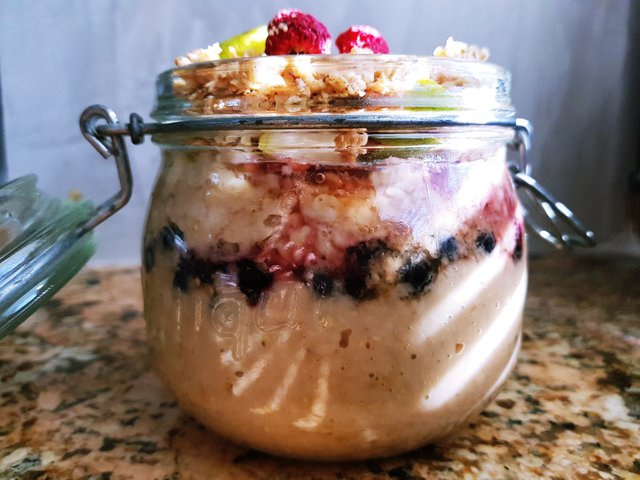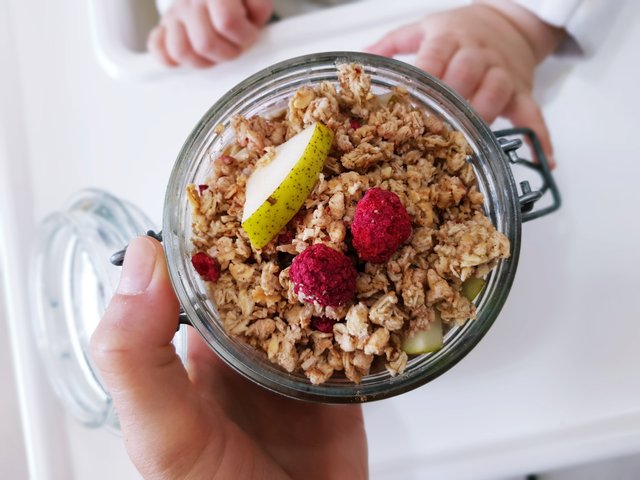 💜💜
If you're not completely sure about the holy Deli-ciousness of the oats, take a look to my other recipes and  combinations I've made before.
MAIN INGREDIENT=OATMEAL
Take a look, maybe you'll get inspired! 💜💜
Sour Cherries Oatmeal Breakfast - original post here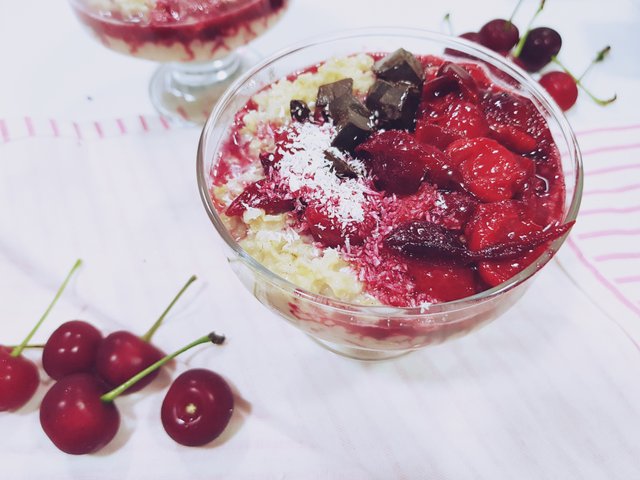 Peach Banana Oatmeal in a Jar - original post here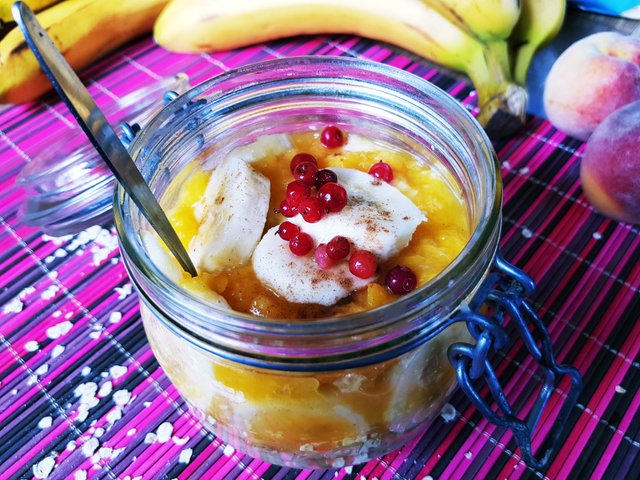 Peanut Butter Jam and Apple Quick Oatmeal Breakfast - original post here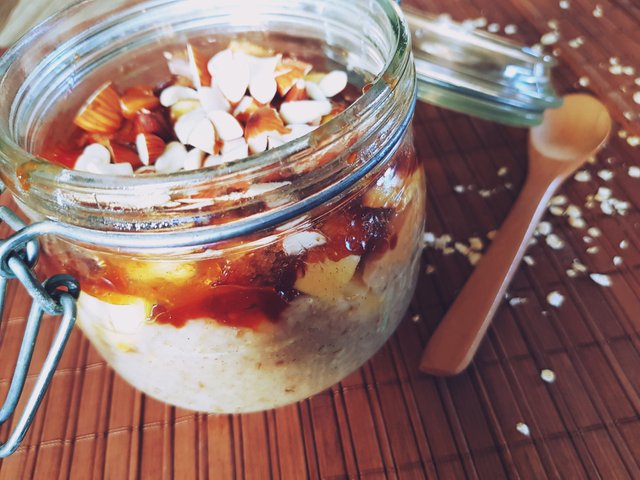 Heart-warming Oatmeal Bowl topped with Autumn Fruits 🍎🎃🍐 - original post here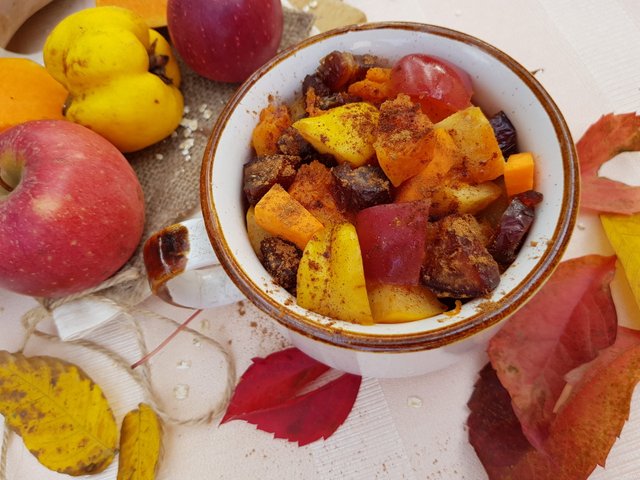 Cacao cinnamon Oatmeal topped with Figs Apples and Peanut Butter - original post here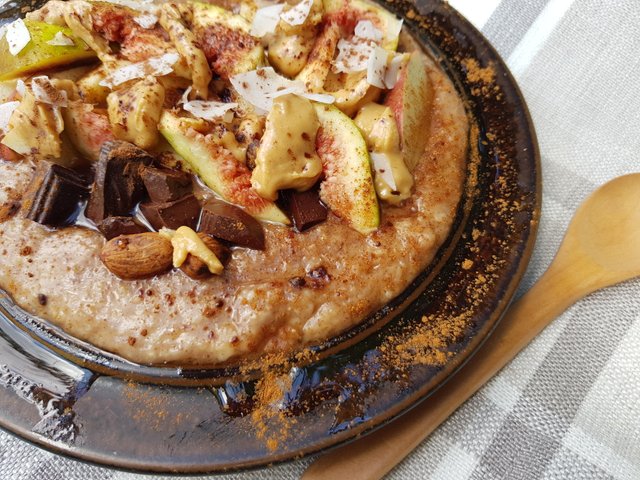 Pear and Cinnamon Oatmeal Bowl ♥ - original post here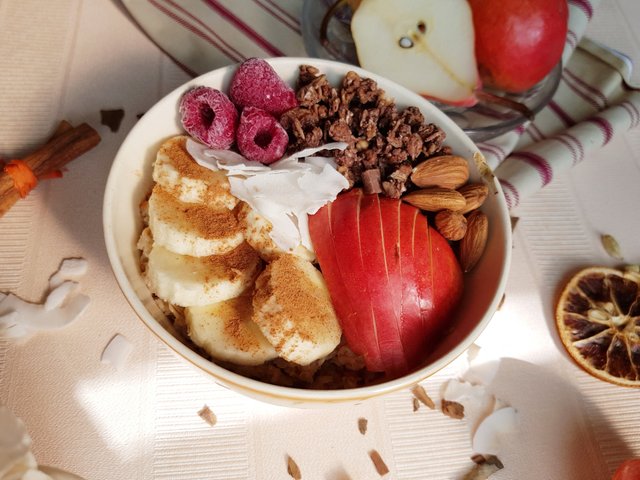 What do you think? Would you give it a try?
And finally, don't forget that Health requires Healthy food!
💜
Wish you a wonderful "oat-day"!! 
Love, Miss Deli 💜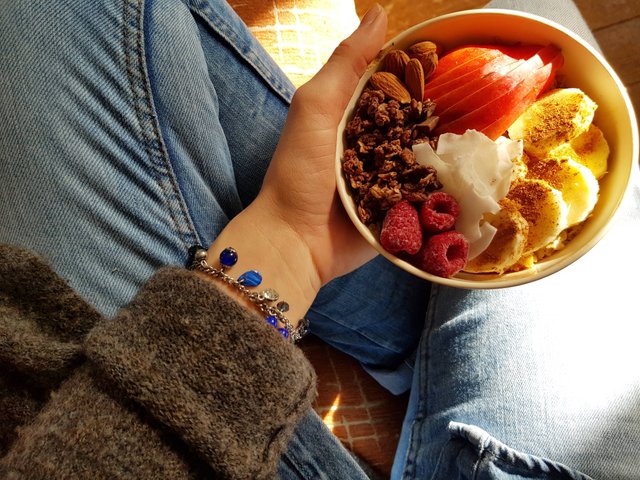 P.S. Stay Close if you're an "oat-er" person.  More Oaty-recipes are about to come! hihi 😈
ALL CONTENT IS MINE AND ORIGINAL! ALL THESE PHOTOS WERE TAKEN WITH MY SAMSUNG S8.
If you like my work, comment, upvote and resteem!  Or if you want to stay in touch with me for more delicious healthy recipes and articles on health, HIT the Follow button on my blog! 


Proud member of @naturalmedicine Team. 

LOTS OF NATURAL HEALING AND LOVE TO YOU ALL!! ❤️