Sour Cherries Oatmeal Breakfast (or dessert ?)🍒🍒 V E G A N
Hey guys!
This is a recipe I wanted to share with you a long time ago, more precisely in summer when all the cherries (and sour cherries) are in season! But I'm sharing this with you now because it's a recipe you can make with frozen cherries too! cause I made it with fresh ones... The result will be the same, don't you worry!!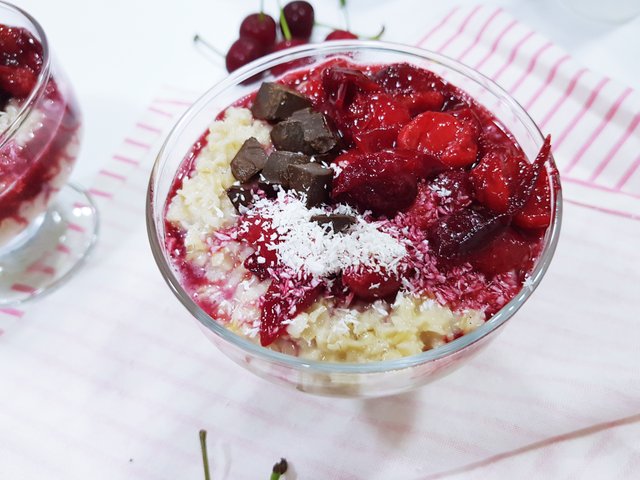 But first, do you like sour cherries?🍒
I must say I'm more into cherries cause they are sweeter but still... I like all kind of fruits. We all love more some than others right?  They are also called Tart cherries.
If you take a look to this chart, you'll see they are VERY popular in East Europe. [Wikipedia source]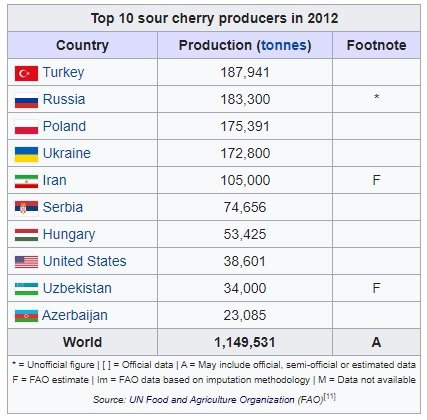 Health Benefits of Sour Cherries 🍒
According to dr. Mercola, they're chock-full of compounds that stave off inflammation and microbes while helping support the immune system.  Sour cherries are also being studied for their potential in slowing down cancer cell proliferation. In a 2014 animal study from the Pakistan Journal of Pharmaceutical Sciences, sour cherry extract was found to possess anti-proliferative and apoptotic properties against tumor cells. 
WOW!! I really like this!
 Anthocyanins, which are flavonoids responsible for cherry's pigmentation, are an important component when it comes to the health benefits that this fruit offers. Sour cherries, compared to other types of cherries, contain the highest amount of this flavonoid. Research has shown that sour cherries may help:
Improve sleep quality — Sour cherries contain significant levels of melatonin, which is an important phytochemical that regulates sleep-wake cycles.A 2010 study from the Journal of Medicinal Food determined that tart cherry juice decreased the symptoms of insomnia in older adults.
Promote skin health — Sour cherries have been proposed as an effective ingredient for cosmetic products because of its antioxidant properties. A 2013 study from the Journal Biomedical and Biopharmaceutical Research tested cherry tart juice as a protective agent against irritants.
Alleviate gout symptoms — In a 2011 study from the FASEB Journal, researchers administered tart cherry juice (TCJ) to alleviate inflammation in obese or overweight patients with gout. Results showed that consumption of TCJ significantly reduced erythrocyte sedimentation rate, which is a marker for chronic inflammation.
In a 2005 study from the Journal of Agricultural and Food Chemistry, the phenolics found in both sweet cherry and sour cherry protected neuronal cells from oxidative stress, depending on the dose administered. This is mainly due to the high anthocyanin content of both varieties.  This proposes a possible neuroprotective property of sour cherries. 
 A 2019 study from the European Journal of Sports Sciences focused on sour cherries' potential benefit in muscle recovery in females after exercise. Participants who received sour cherry supplementation had better recovery of countermovement jump height compared to the placebo group. DOMS, or delayed onset of muscle strain, also significantly decreased. 
All info above you found on Dr. Mercola's website. Click here!!!
After reading all this, I think I love SOUR CHERRIES moreee!!!❤️ hahaha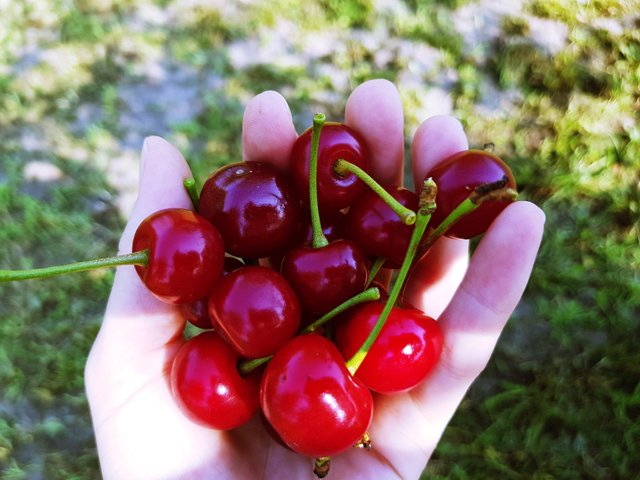 INGREDIENTS
sour cherries (pitted)
oats
coconut milk (or maybe you have your favorite plant-based milk)
vanilla
sweetener (agave, maple syrup) or honey
dark chocolate (optional, but I tell you, this is soooooo good in here)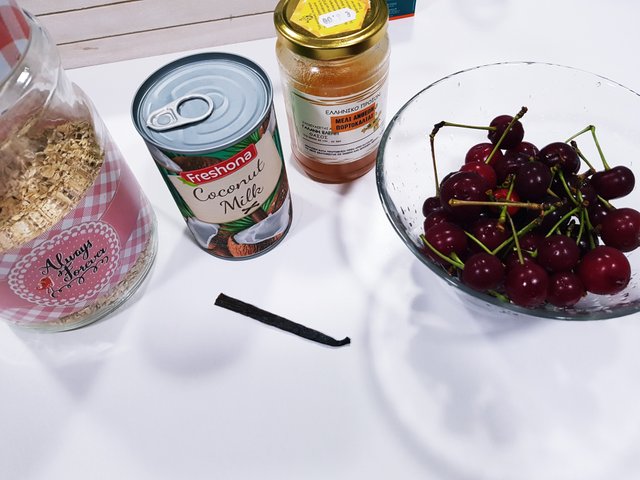 INSTRUCTIONS
First, you make the oatmeal. Put the coconut milk, vanilla and oats in a pan. Bring to a boil, simmer for 5 minutes, stirring ocasionally.  Turn heat off and let the lid on until you make the cherries.
In another pan, put PITTED sour cherries and let them on medium until all the juices are released (about 3-5 minutes). Add the sweetener and leave them together for 2 minutes more.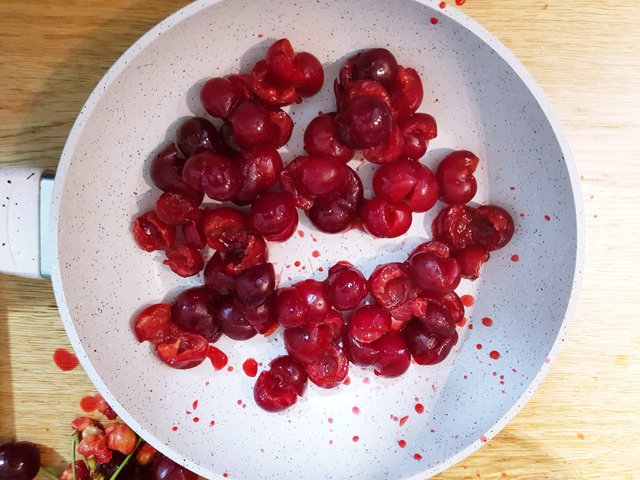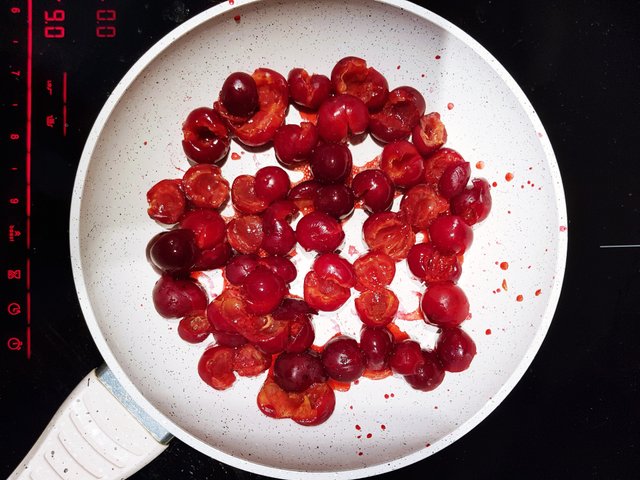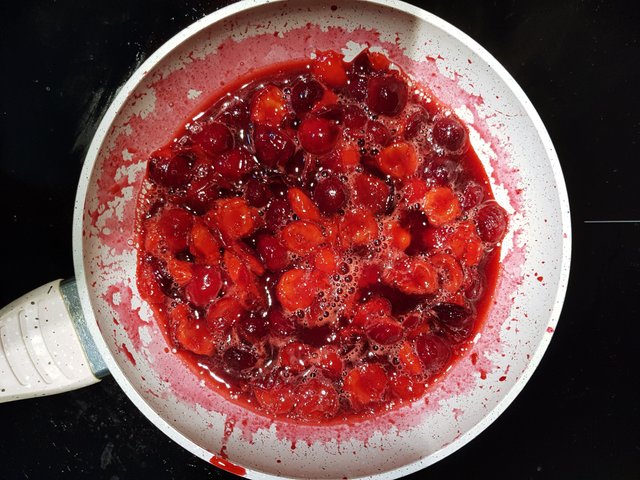 Thats all you need to do! Assemble the whole thing and add some dark chocolate on top! IT IS INSANELY GOOD! I love pies and recipes with sour cherries. They have more juice than regular cherries which is why, when you make pie and tart (ohh Tart cherries got it?) you'll feel a very nice flavor and aroma of cherries! It gives great moisture too! 
Btw, the chocolate and cherry CAKE is very popular in the whole word, as you already know! But in Romania, most recipes are with sour cherries!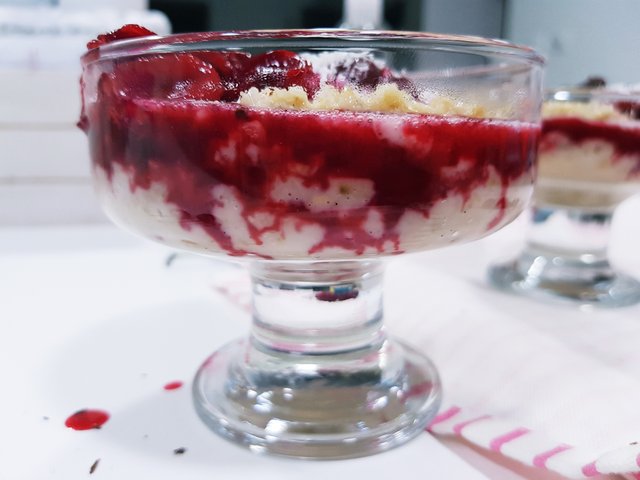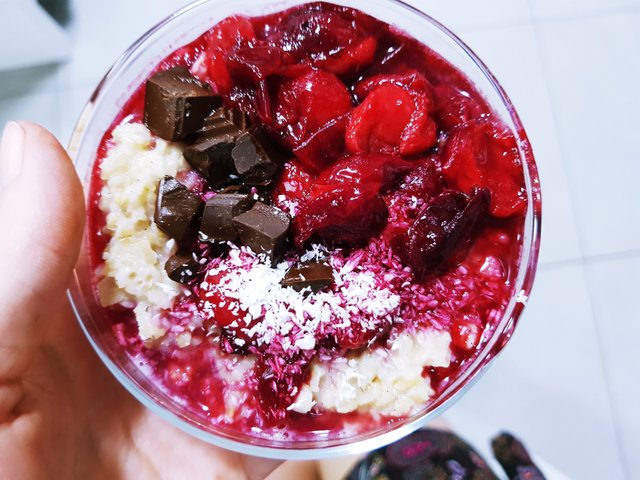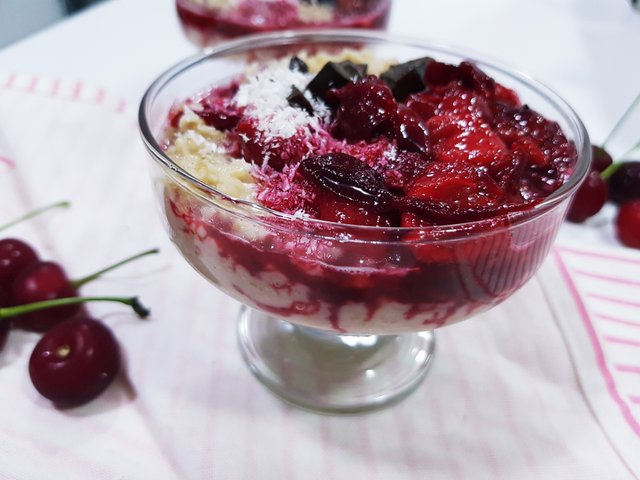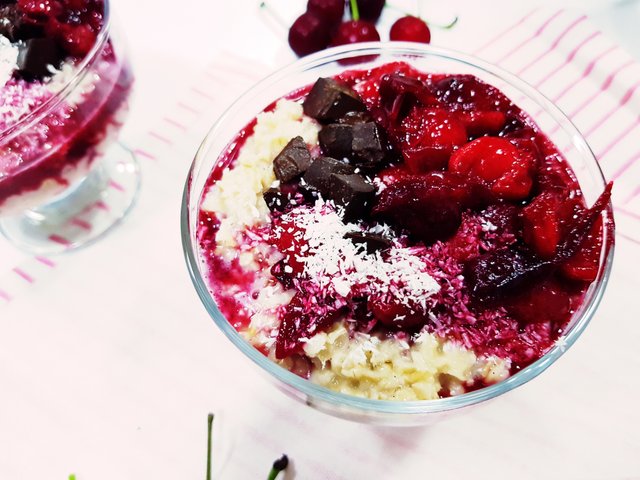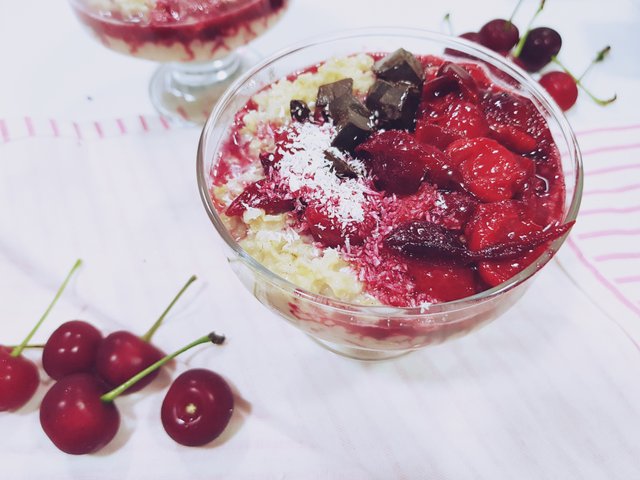 These are cherries from our trees (we have 3 sour cherries trees). As you can imagine, they are bio ❤️; and they grow so well here in Romania!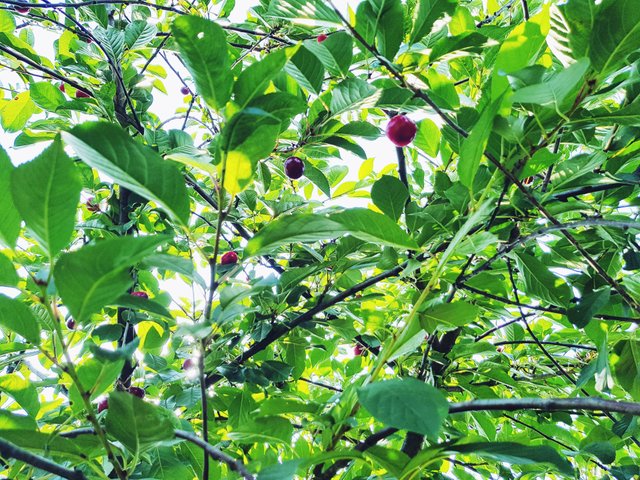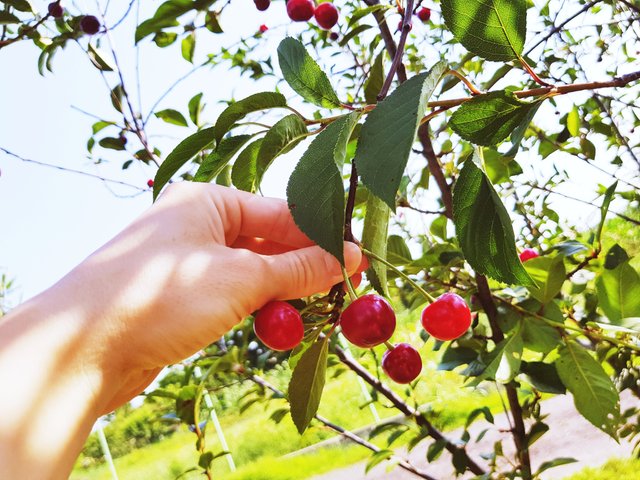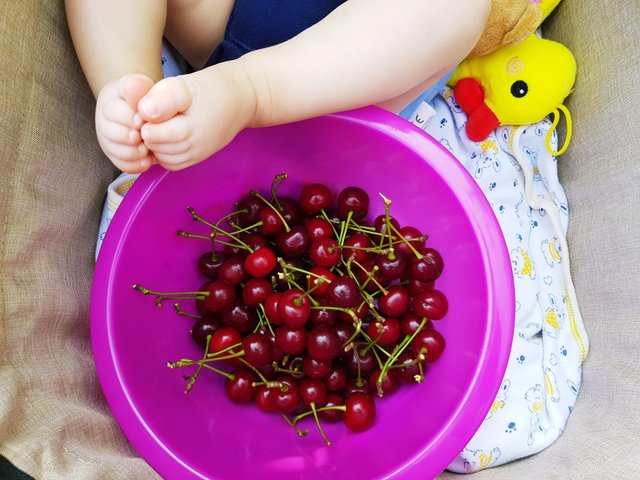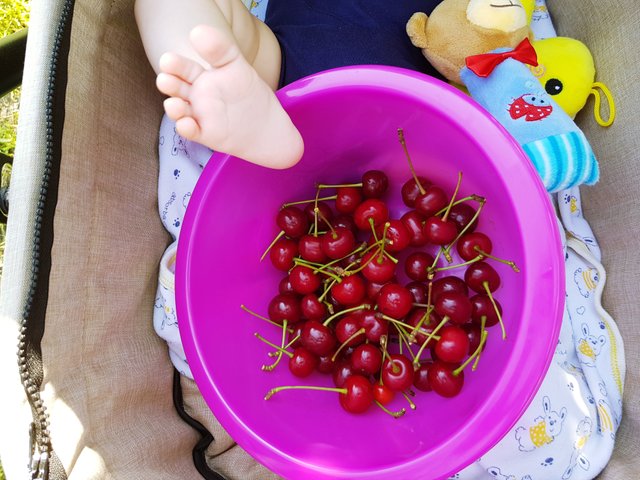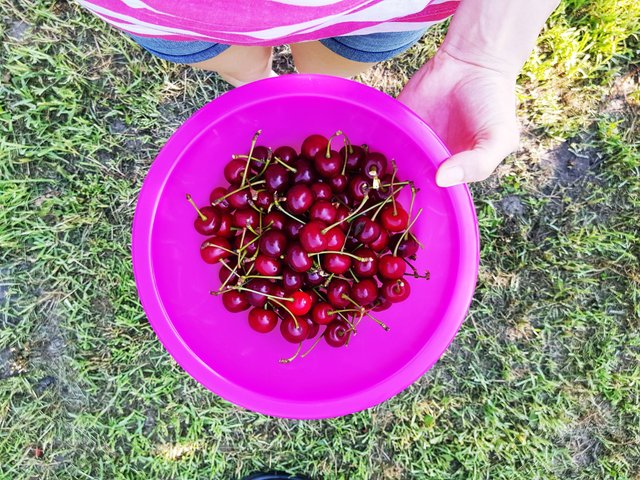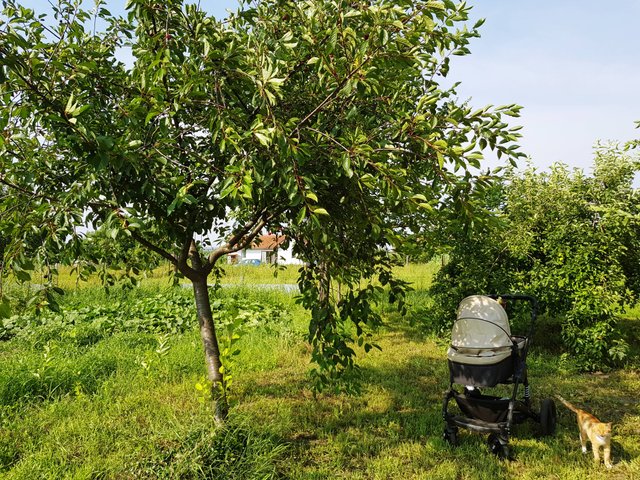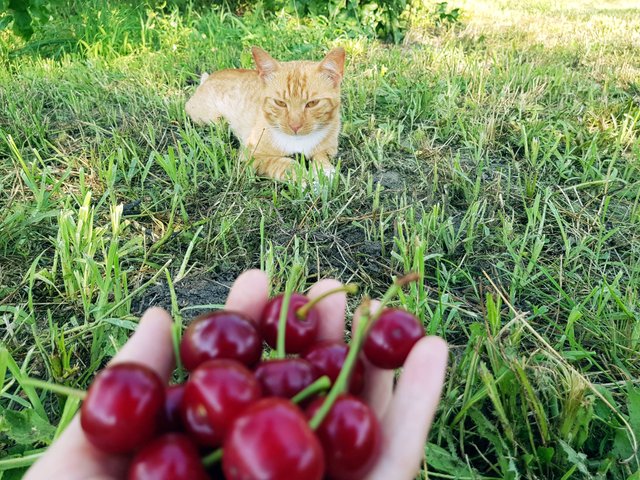 A wise man should consider that health is the greatest of human blessings, and learn how by his own thought to derive benefit from his illnesses.  - Hippocrates  
ALL CONTENT IS MINE AND ORIGINAL! ALL THESE PHOTOS WERE TAKEN WITH MY SAMSUNG S8.
If you like my work, comment, upvote and resteem! Or if you want to stay in touch with me for more delicious healthy recipes and articles on health, HIT the Follow button on my blog!
Stay healthy,
Miss Deli ❤️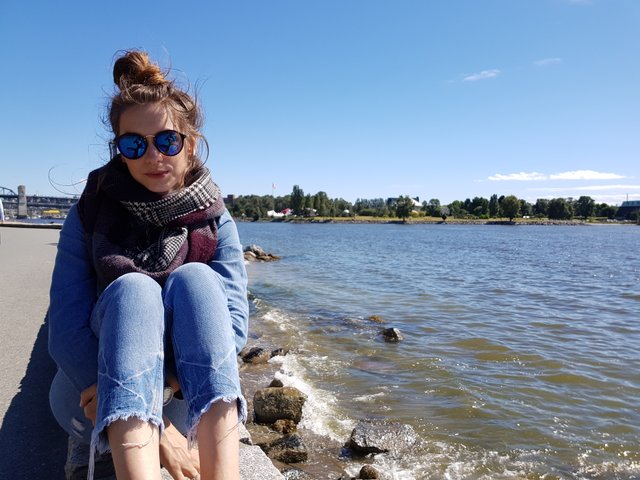 Proud member of @naturalmedicine Team.


LOTS OF NATURAL HEALING AND LOVE TO YOU ALL!! ❤️