Hot News Contest 19 | My Favorite Movie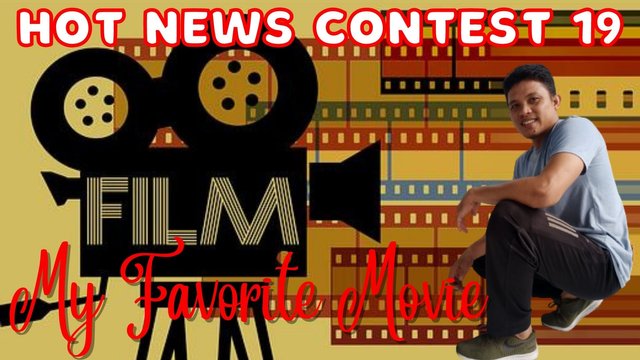 Photos sourced from Pixabay and edited using Canva
---
Hello Hot News friends, greetings to all of you.
This is the announcement of the continuation of the contest in the 19th edition, hope you can participate and develop with us through the contest we held. To shorten the time, here is the background of the theme of the contest we held.
---
Some people think watching a favorite movie is a way to relieve stress or even the most appropriate way to fill a little calmer holiday time. Watching movies is also sometimes a hobby for most people, movies that are watched also have different genres.
Hollywood movies, Bollywood to Korean dramas are favorite movies for most people. The genre of romance, comedy, Action, Documentary to horror, became interesting film genres to watch. What about you? is there a movie genre that you like, or would you like to recommend it to us?
Based on this background, the theme of the 19th contest is titled "My Favorite Movie". To make it easier for you all the following contest tips that you might be able to describe.
---
What genre of movies do you like? explain why you like it.
How often do you watch movies? how do you feel every time you watch a movie.
Is there a title of the movie you like the most that you have seen? Briefly explain why you liked the movie.
Any recent or old movies recommend to us? tell me what the movie is about.
---
Must be incorporated in club5050, club75, or club100.
Subscribe to the Hot News Community and post your posts in the Hot News Community.
Use Photo sources only yours or free image sources are allowed.
Use The Title Hot News Contest 19 | My Favorite Movie
Use the hashtag #hotnewscontest19 #steemexclusive #club #country
We strictly prohibit Plagiarism.
Include the link to your contest post in the comments section of this post.
Post at least 250 words to make it interesting to read.
The 3 Best participants will be at the proposal to get support from the booming.
The contest, themed "My Favorite Movie", will take place from 30 January to 05 February 2023.
Note : There is no guarantee that your post will get support from @steemcurator01 and @steemcurator02, but if your post is quality and lucky, it does not rule out that possibility.
---
In the end, we hope you all can share information and grow with the contest that we hold, this is a form of effort to continue to learn and develop your writing interests in the Hot News Community. Greetings to all of you...
Cc. @disconnect, @radjasalman, @heriadi, @ubongudofot.