⚠️ Another Admin Abusing Their Position with Booming Support - @milakz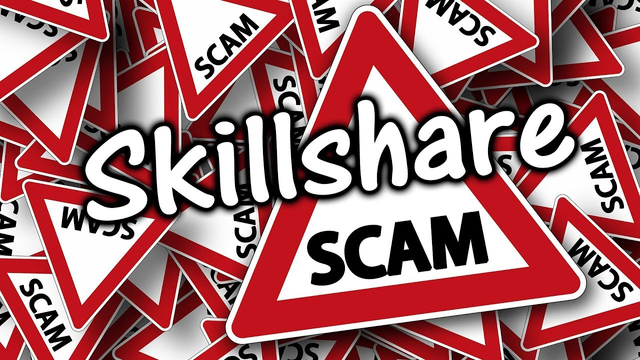 Source
UPDATE: I have just seen this comment from @daytona475 which should be read alongside this information. In particular, please respond to this:

Please do no put in the comments as it can spoil community support
For now we get both 01 and 02
We also got sponsors like @steemchiller and @shitcoiner
I will be contacting all users who have delegated to @steem.skillshare in due course.
---
This morning, I woke to the unusual sight of being tagged to a comment, and subsequently muted within a community.
The comment was highlighting some users who were receiving booming support within the Steem Skillshare Community who as the comment suggests - were powering down a much larger percentage of their power than was being powered up. I.e. these users are not in club5050 and should therefore not receive booming support.
The user highlighting this was instantly muted, suggesting that @milakz didn't want people to see...

But this could have been a mistake on @milakz's part and the simple response would have been to say, "Oh yeah, I'm sorry, my mistake. I'll check more closely in future." But this isn't what happened. Instead, I was tagged and instantly muted.

So, no mistake then, no accident. @milakz doesn't want this investigated. So let's find out why...
I'll begin with the first account mentioned - @natulya21.
This one's quite quick to identify. The first 2 transfers in June 2021, 1 month after account creation are to @milakz.

The huobi-pro account being used provided us with little additional information at first glance. But there are ways of digging deeper... so I followed the money on 22nd February...

And we can see that it made its way to @deepcrypto8 (Binance) minutes later.

So let's see who owns this wallet...
deepcrypto8 - Memo 101241249
It's interesting to see that there are A LOT of transactions to this wallet, over 26,000 Steem in fact. @poloniex, @bittrex, @withdrawal-kr and then a few usernames.
@digital.mine - Creator of many of the accounts listed below and owner of the Steem Skillshare Discord channel.
@vik24 - Moderator in Steem Skillshare.
@live.log - Delegator in Steem Skillshare.
@crypto.lion - Only posts in Steem Skillshare.
It shouldn't come as a surprise that all of these users receive booming support, none of them are in club5050 and all of them withdraw their steem to the same wallet.
So now that we've got the destination wallet, let's save ourselves some time, and track these withdrawals back to the original accounts and get ourselves a list of users.
I'm inclined not to go through every transaction - just enough for all support to be removed from this community and all of its users.
---
Transaction 1

Came from @mirco.snt.

Another loyal Steem Skillshare user who only posts within this community and receives booming support.
---
Transaction 2

This time, it's @life.pics

Shall we see where they're active - you probably already know the answer...
You guessed it. Steem Skillshare. More booming support and more withdrawals.
---
It's worth noting at this point that all of these users receive a 100% post to booming support conversion rate. Which isn't really surprising. It's also worth noting that I started this post having not started the investigation. So you get the exciting process of discovering at the same time as me.
---
Transaction 3

Comes from @the.journal.

Same pattern again. Steem Skillshare. "Developer Team" this time. And no doubt this post will have received booming support by the time you've read this.

---
The question I'm asking myself now, is when to stop. The abuse is clear, consistent and the mastermind @milakz can now be hung out to dry.
Let's do a few more...
---
Transaction 4


@saule.sara - Same pattern.
---
Transaction 5


@mirco.snt again.
---
Transaction 6


@passionfruit this time.
This one links through to @andyfish.

---
It's worth noting, that all of these users were highlighted by @daytona475 in their original comment, highlighting that these booming upvotes were suspicious.
---
Transaction 7


@live.log again.
Let's add in a little bit more at this point - @milakz shares a wallet with this user.

---
Transaction 8


@masix this time.
---
Now we've covered the 8 users that @daytona475 highlighted somewhere in this post. Great work @daytona475 - hopefully some big upvotes will be coming your way shortly.
I investigated many more transactions and they all come back to the same place - Steem Skillshare and booming support. More accounts, obviously.
---
I've tagged too many people for a tag to the Steem team to get noticed, so I'll tag you in the comments. I hope that you withdraw booming and all future support from these users.
I recommend that anybody who has delegated to the community account removes their delegation immediately as it is clear that @milakz will shamelessly use your power without remorse.
---
UPDATE 2: @talk.chinese is another account as confirmed in the comments
---
UPDATE 3: Abuse of the Community Account (@steem.skillshare)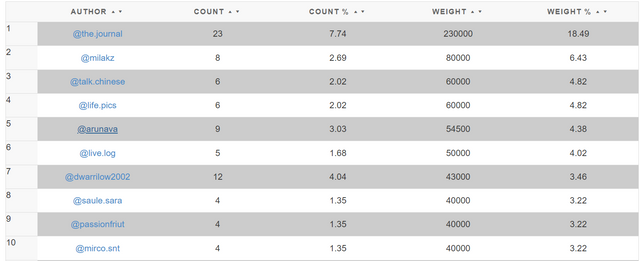 Please note: Since @arunava and @dwarrilow2002 are the only users in this list not to consistently receive 100% upvotes, I do not believe that either of them are involved in this scam.
It's also worth noting that although not in the top 10, @vik24, @natulya21, @andyfish, @steempod, @masix and @crypto.lion are the only other users to always receive 100% upvotes from the community account.
Of which, @steempod is the only user not to have received a mention so far and fits the profile alongside all of the others, the money ending in the same destination wallet.


---
Update 4
In a separate post, it has been suggested that all of these users are unique, autonomous beings and that I am ruining thousands of lives. I have taken these concerns seriously and subsequently investigated further with the following information which I have shared with the author elsewhere (as I've mentioned before (more than once), I was muted from Steem Skillshare before this investigation began):
A community moderator highlighted that Booming was upvoting content that did not fit the booming criteria
All of these booming upvotes made their way through to the same wallet - Binance 101241249.
Transfers to deepcrypto8, wallet address 101241249 on 7th February - This date chosen as it is the largest cluster of transactions to this address in a single burst.
I have labelled the transactions for ease of reference.

| Transaction | Account Origin | User Location | Joined |
| --- | --- | --- | --- |
| 1 | san.marco | Unknown | Jun 2019 |
| 2 | masix | Milan, Italy | Sep 2021 |
| 3 | passionfriut | Portugal | Jun 2021 |
| 4 | steempod | Unknown | Jan 2020 |
| 5 | vik24 | Kazakhstan | Apr 2021 |
| 6 | the.journal | digital.mine | Jan 2020 |
| 7 | crypto.lion | Portugal (related to live.log) | Sep 2021 |
| 8 | live.log | Presumably Portugal | Jul 2019 |
| 9 | natulya21 | Kazakhstan | May 2021 |
| 10 | talk.chinese | China? | Jan 2020 |
| 11 | life.pics | Portugal | Jan 2020 |
| 12 | milakz | Kazakhstan (introduced by live.log) | Apr 2021 |
The recovery account for all of these users (with the exception of milakz) is digital.mine.
12 different users transferring their money to the same wallet in sequence over a 2 hour period. Each transaction gap is between 8 and 19 minutes.
Some clusters of user location but distribution across the world in different timezones.
Now my interpretation of this information could be wrong, despite rumours to the contrary, I am human. But these transactions appear to indicate that a single person has systematically visited these accounts and transferred the assets to their binance account. It is common knowledge that in some countries, access to a crypto exchange is limited so money goes through a single user who distributes the money to his countrymen. Whilst this is possible, I am unaware of restrictions in Italy or Portugal to understand why the money would go to another account first.
Similarly, there's suggestion that the funds are making the way to this wallet as payment for services or goods. The lack of withdrawals from these accounts to other exchanges suggest otherwise. Likewise, why go through huobi-pro which incurs a fee and not a direct to the user's account.
It is not uncommon for people to digest and perceive information through their own lens of life and it is natural that a user will defend a community that they believe is doing some good and supporting users that are also doing good. Unfortunately, we have also seen numerous accounts that appear to be genuine people which have been created to gain booming support and subsequently abuse it for their own benefit.
It is also worth noting that digital.mine is the owner of the following accounts - at this time, I have no idea how many of them are active or within which communities. I am in the process of digesting this new information and further details will hopefully follow soon.
accountsdump
aeroplane.lover
andrea.bru
anna.anna84
asuna.sao
ativos.online
b0t5-t35t1ng
bala-lotus
bikers
bitcoin.network
blockart
blockosaur
boats
bolognesa
bot-testing
brustel
btc.euro.history
btcfreeforall001
caput.mundi
chowkidar
claude77
cluwakchina
crypto.lion
cryptofactsbc
cryptowps
csprime
cultura.digitale
dai.cicco
daisho
danilo.mirco
darkroom993
david.steem
die.berliner
die.frankfurter
digital.mine.ads
digitalmine.app
drawingqueen
elicomp
elicopter
emadil003
enver.tiler
erpasi123
esterofilo
fastsocialpoint
fastsocialpoint1
fastsocialpoint2
food.lover
gabato
gabris
gasusa
gennaro.per
genova
gtittex
helenhypnotic
hive-104524
hive-156057
hive-230678
hiveflow
huashalunzian
hybrintelligence
italy.art
joros.ghi
kalutoncul
kim.eugina
kimcraftshop
korean.lesson
la-frengo
laura.bed
life.pics
live.log
loveforseasons
manuela46
mediawizards-1
miguelpenalta
mirco.snt
myworkoutarena
natulya21
nea.polis
nicolino16
ostuni
palemmo
peterpanpan
priyanukesh
reeta2019
regex.hater
rev.lav
robin1220
rocky.tommy
rysard
san.marco
sent.analysis
shitsignals.leo
sport.car
steem.clash
steemcreator01
steempod
stopi
talk.chinese
test.dapp
the.giglio
the.journal
the.mole
the.renderer
the.shifter
thinkcoin.neo
traveladventures
trucklord
vegetajr
vesko1
vik24
ybit
zimmerfield
ziomar
zuricher
---
To Summarise
@andyfish
@crypto.lion
@digital.mine
@life.pics
@live.log
@masix
@mirco.snt
@milakz
@natulya21
@passionfruit
@saule.sara
@steem.skillshare
@steempod
@talk.chinese
@the.journal
@vik24
PLEASE REMOVE YOUR DELEGATION FROM @steem.skillshare IMMEDIATELY