It's been a beautiful and long time on this platform and more and more goodies unraveling.
Thanks to those who actually participated for they created the awareness.
This is a contest hosted by @anomadsoul and it will help you know me better.
Here is the original post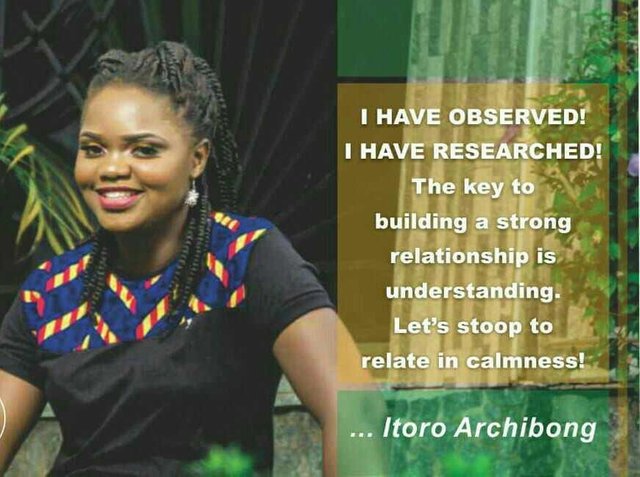 So! Let's get to know me!
1. It's a get to know me challenge and an introduction would be proper.
https://steemit.com/introduceyourself/@itoroarchibong/my-introduction
I started off with my introduction that briefly explained my birth, my origin, my likes, dislikes, hobbies and fields of interests.
2. I then added up who I am at the best I could be and that inspiration that was instilled in me from childhood. I brought my street experience into a fictional story.
CHOOSING THE STREET OVER CITY!
https://steemit.com/story/@itoroarchibong/choosing-the-street-over-city
It's an episodic serie and I would drop all that is yet to be continued...
3. So, I'm actually skipping to the fourth episode... you will find the link to previous episodes from here. The story is yet to be finished and I actually stopped because I felt I wasn't getting the audience I craved for.
https://steemit.com/fiction/@itoroarchibong/choosing-the-street-over-city-episode-4
4. As a woman and a strong fan of gender rights, I picked out a fault in the world today and tackled on which is the misconception of the true definition of feminism.
https://steemit.com/women/@itoroarchibong/international-women-s-day-a-redefinition-of-the-term-feminism
Some ladies understand feminism to be a war between gender. On this post, I corrected that feeling and gave a broader and better definition of what feminism should be about.
5. There's also this part of me that does alot of research. I work part-time with NGOs and research companies and embark on alot of field works and community ethnographic analysis.
https://steemit.com/nigeria/@itoroarchibong/10-days-adventure-the-bridge-of-no-return
On one of our trips, we went to the bridge of no return. A place for ncient monuments of slave trade in AkwaIbom.
6. I also do alot of folktales. As a lover of culture, I dedicated some THURSDAYS and Fridays to Thursdays for tales and Fridays for Folktakes.
https://steemit.com/sankofa/@itoroarchibong/friday-for-folktales-fff-the-mystery-of-the-powerful-river-aeb908c29650e
The beautiful and rich culture of AkwaIbom State has alot of stories to send across to others around the world. I have dropped so many of them.
7. As a lover of poetry and a good learner and upcoming great poet, I wrote a piece ones. I wrote a letter to Monday.
https://steemit.com/poetry/@itoroarchibong/a-letter-to-monday-b798b967372e9
You don't wanna miss out on this one.
8. Yes, using my siblings as I as case studies, I talked about the power in childhood.
https://steemit.com/steemiteducation/@itoroarchibong/there-s-power-in-childhood-fced009c485e7
It's obvious that our childhood actually determines the kind of personality we turn into. This piece elaborately talks about this.
9. Yes! I'm a Nigerian, born and grew up at Warri and my first language is Nigerian Pidgin English. I speak it better than my own mother tongue. A poet who cannot write in his/her first language is not real.
https://steemit.com/poetry/@itoroarchibong/hustle-go-pay-one-day-a-poem-in-nigerian-pidgin-english-f0b22c4c7a9e6
I took the road down to the hustling and hardship on the street with this poem.
10. A little bit of Bad is another fictitious piece of mine that talks about a single lady who was ageing and a therapy session she had that actually helped her in managing bet frustration, wrath and anger.
https://steemit.com/fiction/@itoroarchibong/a-little-bit-of-bad-simply-fictitious-by-itoro-archibong-ba1ee7dd4b78d
---
---
---
Although there's alot about me but that can take you into me real quick! Thanks for going through those posts.
I nominate @mizdais, @chinyerevivian, and @morahn to try this out.
Thanks to @anomadsoul for bringing up such great idea and organizing this contest. Merci!