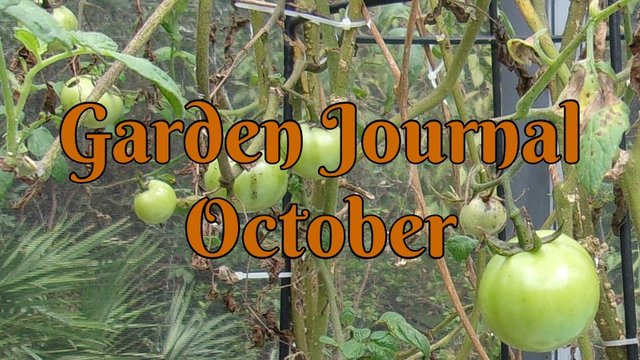 October is always a fun growing month here. Things have started to cool down enough that quite a few plants in my garden really start to thrive. It also becomes rare for me to run into any major issues outside of the weather during these cooler months.
While we have seen some near-record high temperatures for the month of October we are only talking low 90s with the nights getting down to around 70 degrees. I consider the nights to be the ideal temperature that I personally enjoy and the plants seem to agree with how much some of them have been producing.
It's also nice that I can go out and water when it's convenient for me. During the summoner months, I need to water during the early mornings and late at night. In part they just need more water during those months. I've also noticed when it's high 90s if I water them during peak of the day they start to get spots on the leaves themselves. Since I am sometimes a bit forgetful just going out whenever and giving them some buckets of water is a nice change.
During October we did have a tropical storm called Nestor which could have been at most a hurricane 1. It was on the other side and I really did not expect much of an impact on my end. It did end up raining quite a lot of water as it passed through a small part of the state.
With some of the wildfires, other parts of the country are currently struggling with. I always welcome a bit of rain. We have been very blessed this year in fires not being a huge issue for my area. We tend to get a lot of just cloudy days but not rainy during the next few months. This ends up landing us in a burning ban and takes a bit of the fun away from the cooler weather and being able to enjoy a fire outdoors. At least with some rain that helps out.
Herbs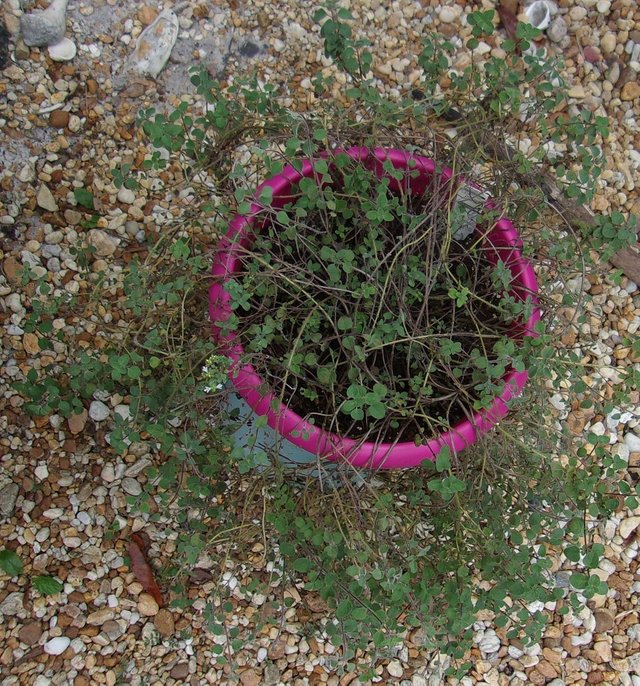 I ended up moving the Oregano to another location during the month. After the tropical storm passed it dropped so much all over the enclosed area and made a huge mess. I have also not been using as much as I was expecting.
I did try my hand finally at drying some out to preserve and use for when I don't have it. Not quite sure yet if this one is going be buy again for next year.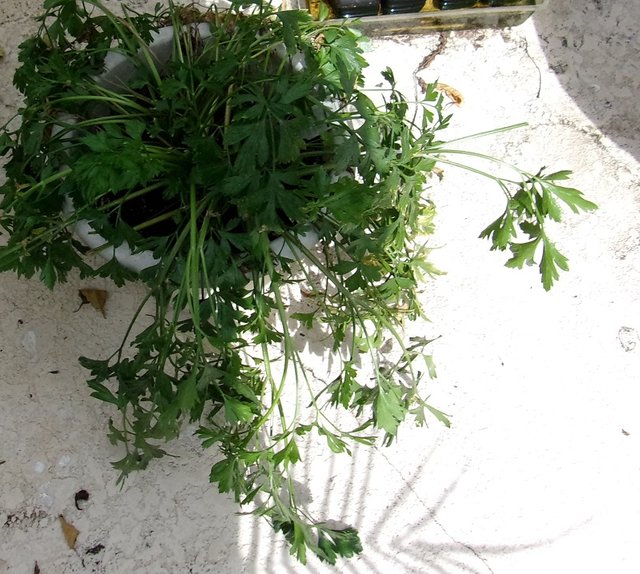 I tend to use far more parsley and just enjoy it even as a garnish on a plate. This you would not be able to tell from how wild I have allowed it to grow.
I really do need to prune this one back and try my hand at drying out some to preserve for a late time. Which if I'm able to grow this year-round and I should. That might not even be needed anyways. It's part what I wanted to do this year so I'll get around to it at some point.
With the herbs I'm growing you don't usually allow them to grow for a second year as that is when they become bitter and start producing seed. Perhaps if I preserver enough of them I could rotate in next year different herbs and just slowly expand my own homegrown ingredients.
Staring Tray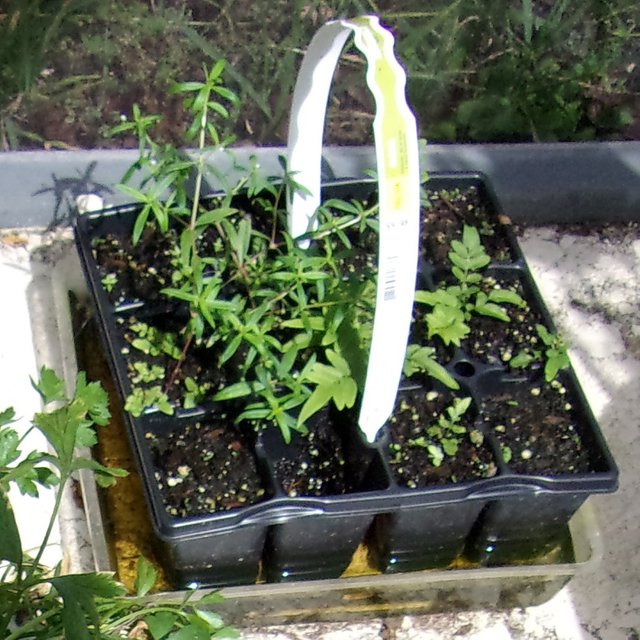 I have refused to give up on trying out starters so here I am going at it again. This time I have a few things growing and it just seems to enjoy the cooler weather. I do have some weeds in there as well I need to remove.
Most this time of year in the rest of the country are not focused on growing effects as they will be getting snow and too cold of weather soon enough. I am on the other hand am blessed and even growing out of season should not be too bad.
Tomato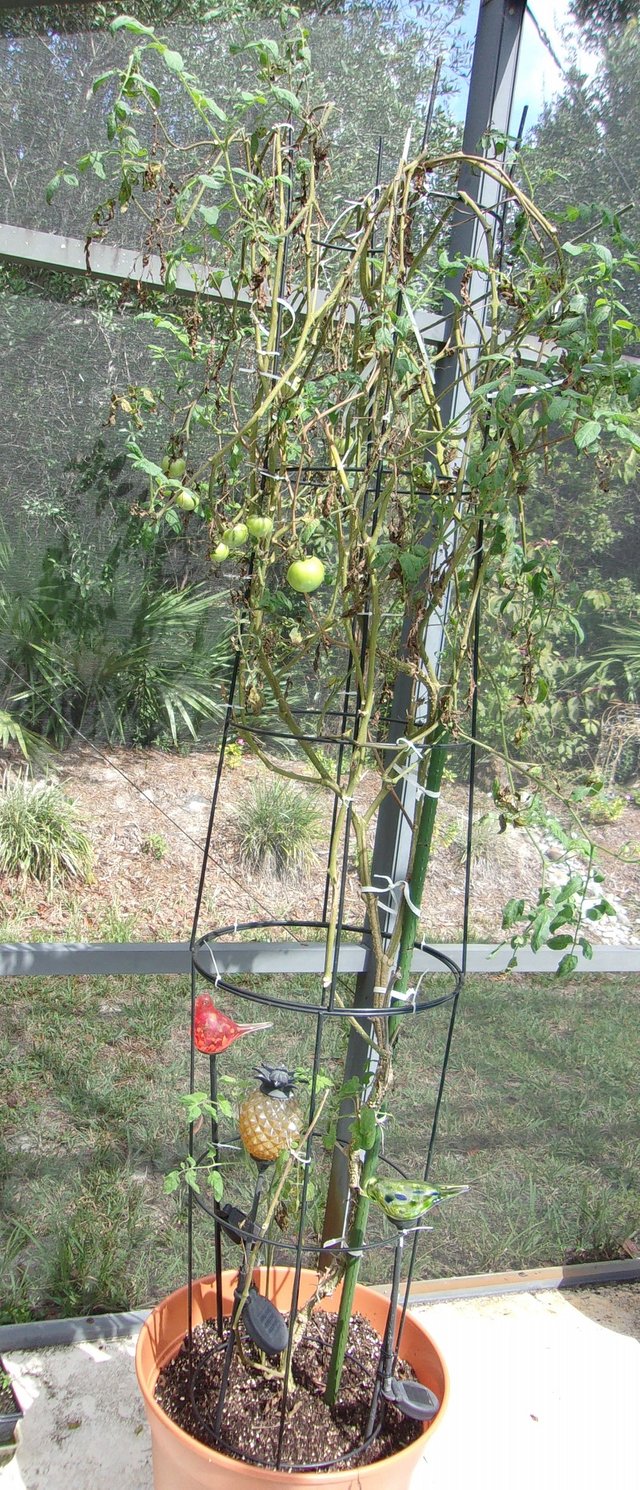 The tomato has started to get a bit shorter. I lost maybe half a foot off the top. Some of the taller branches did end up breaking so I removed them. Other than that it has been loving the cooler weather.
It seems month after month now I am getting more and more tomatoes. There are twelve growing on it at this time. Now if only they would get a bit bigger. They have been quite small for being beefsteak tomatoes. I'm sure I just need to water them more.
I am going be trying out a couple of different types next year. I want to find something that seems to handle our hot and humid summers a bit better. It would also be nice if I could be a bit forgetful about watering them so often and it would not be such a big deal. The current tomato drinks a lot of water!
Peppers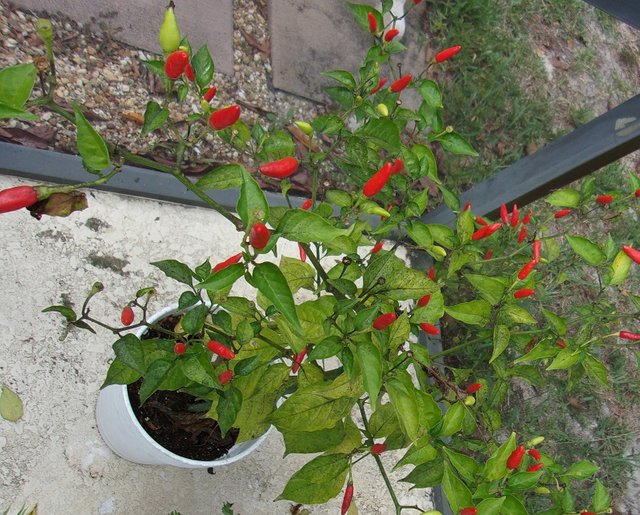 I'm still getting more peppers from a few different plants then I can use myself. Most of the times I just love looking at them more than enjoy eating what they produce. It just adds so much color to what is otherwise a green backdrop.
Next year I'm thinking of just stuff like bell peppers. I can use that type in a lot more stuff. I did enjoy some stuffed peppers that I got from the store and I really would love to make my own. I think it is a nice dish to have a couple times of month.
Final Thoughts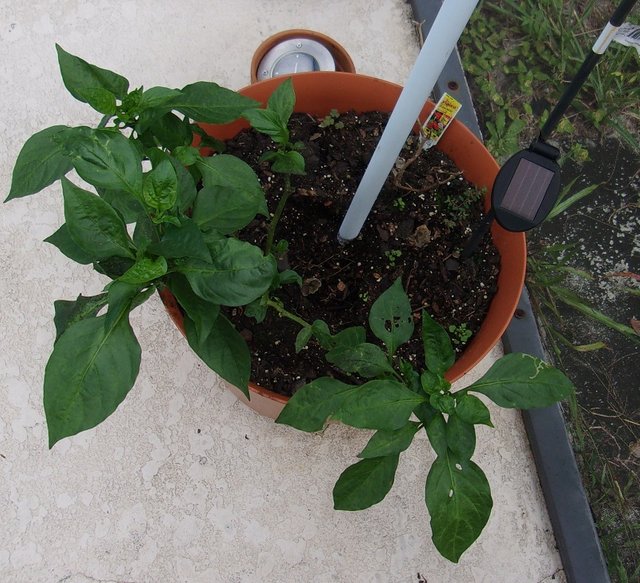 Since it is harvest time for many I have received a couple of things from my bartering this year by giving others mostly Tabasco peppers since I did not like them as much as I was hoping. It's nice to have a more local community feeling from doing such things. Hopefully, next year what I don't end up being able to grow for a salsa I enjoy making I'll find someone in town to barter with.
I was gone for a number of days during this month. So the plants did suffer a bit from not getting enough water. Next month I expect things to bounce back as I'll be able to put more time into watering and being more consistent.
I'm also hoping November I find enough time to start dehydrating and messing around more with that. It was nice to get a bit of a taste of doing it during this month.
Last year I don't think I had much that survived this time of year. So I'm quite interested to see what all will keep thriving. Since I don't expect any snow here most things could end up making it past winter. Still, a ways out before I have to start checking for freezing warnings in the early mornings.
For those who are still growing, I hope things are going well. Have a great next month!
2019 Garden Journal
Information
Photos were taken and content was written by @Enjar.