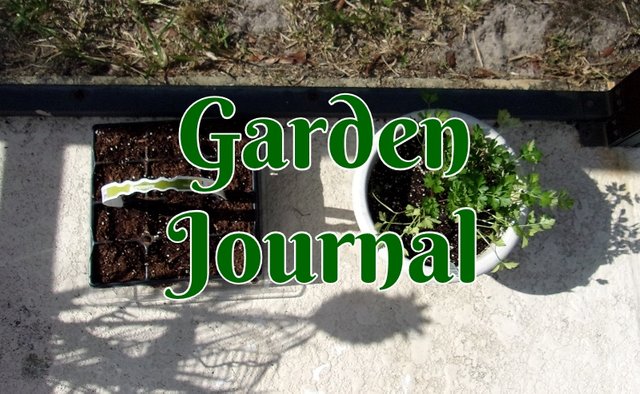 It has been nearly a month and quite a blazer outside since the last update. There was some success, changes, and even a loss. It is interesting how much a garden reflects life and the constant need to adapt to keep letting it grow. Often times letting your winners go free without restraint while raining in and trying fix what's not working out.
Tomato Plant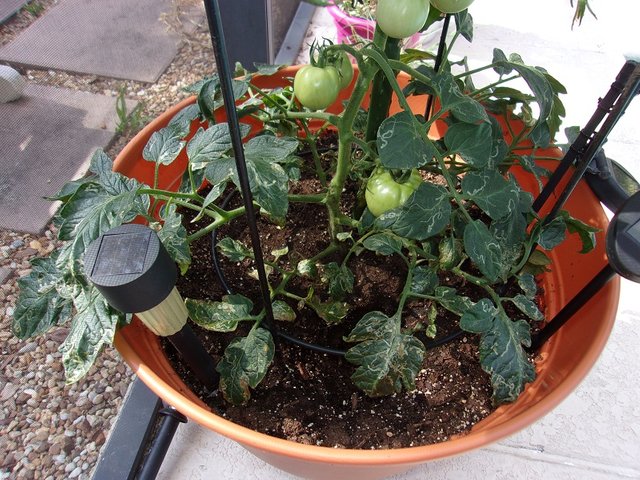 I'm really hoping what white discoloration on the leaves is from watering during the day and sun damage. Have not been around to water them at night when it is much cooler than 90 degrees. If it is something more than that it's still early enough in the season to replace them if needed.
As of right now, there are five tomatoes of much bigger size than the single one that managed to get last year. This plant itself has more than tripled in size. With the second set of five flowers above this section coming in nicely. I always seem to get one plant that just goes hog wild and if it's the Beefsteak Tomato I'd take that any day of the week. Most of what I eat could easily use some diced up so there won't be any waste on my end.
Herbs And A Pepper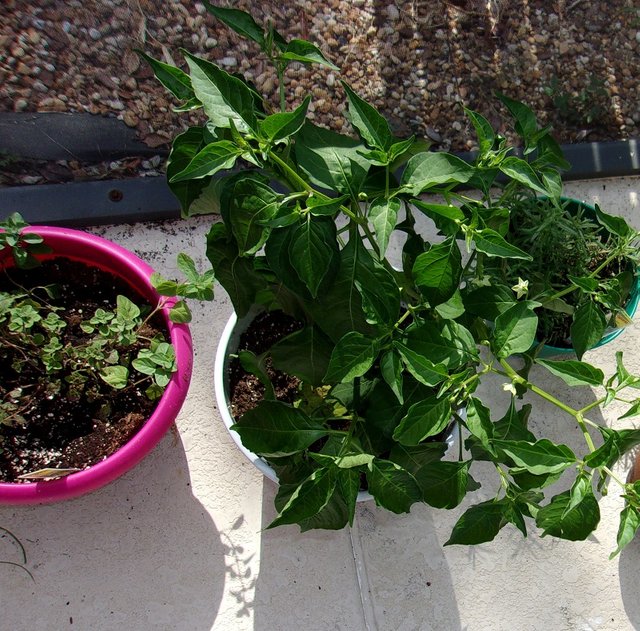 While I did start a bunch of herbs all in smaller clay pots I just could not get enough water on them and as a result, they suffered. Even trying to water them a couple of times a day till I just pulled one of them out and realize it was bone dry. As a result, I pulled a few of them out and put them into much bigger containers. While that does end up spacing them out more than I would have liked due to limited space. There was just no way of getting around that.
Hopefully, they will recover and I'll get to enjoy more parsley, dill, thyme, chives, rosemary, and other stuff. Not all of them are in the photo as they are all over the place for now. Some of them I have trimmed back just a tad and added it to food whenever I was in the mood. So much better than any dried herbs you can buy. It's kind of shocking how much flavor is lost in those preserving processes. I do have a food dehumidifier myself for that fateful day I need to go that route.
As far as this pepper a Tabasco if I recall it correctly. It has started to flower. At some point, I'm going need to find a stick or a pole to help support it. For now there not enough weight for me to worry and I rather just let it grow wild. I can always prune it down a little later. I have been neglecting to turn my potters more often so they would be growing a little straighter.
Growing From Seed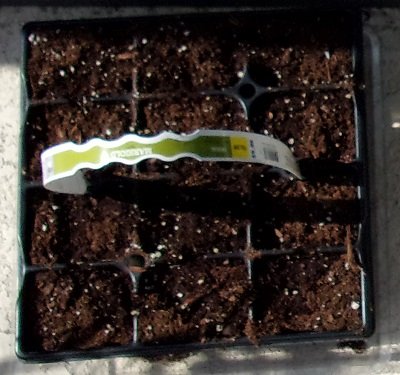 I also got a much deeper and wider seed starter than I had last year. Up to this point, everything has been bought as a plant. Last year it was just one failure after another trying to grow from seed. While I was tempted to just skip trying. I felt why not I already had some seeds and this really is not much of an investment in time or expenses to try again.
I ended up last week planting two rows of Cilantro and Bunching Onion each. If these happen to fail then I'll just wait for the next growing season which starts in late August and goes all the way to October. There a good chance it's already too hot. That is something I did not mess with last year trying a much later growing season. Unlike other parts of the country, we don't get snow and maybe a couple of hard freezing warnings at best.
More Peppers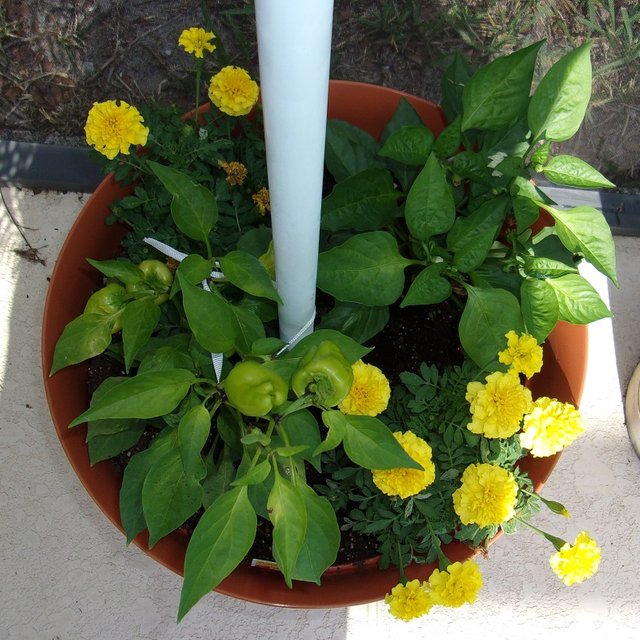 Other than the ugly pole used to prop up one of the bell peppers I'm really loving this arrangement. These Marigolds mixed in are really adding a much-needed color pop to the area I have all these in. Depending on how these two grow I might do something like this again last year at a bigger scale.
At some point, I do want to try layering different things I want to grow to save on space. With how tall these pepper plants get that might be a solution. I'm not settling in yet if I want to try carrots or potatoes. I've also not done any research as with my garden I just prefer to try and see what happens. If things don't work out it's not a big deal.
Last Years Plants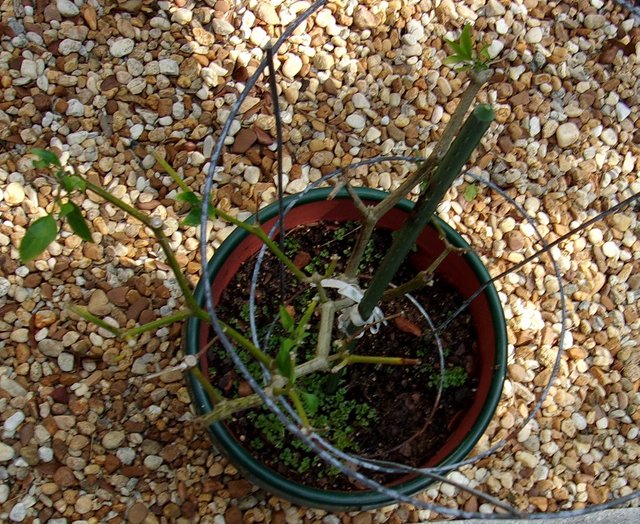 As far as the two plants from last year just the jalapeno is left and its stem seems to be recovering nicely into a green color. The red pepper plant sadly was not getting any better and become even more bridal and darker. Since I was not even expecting anything to survive from last year I've moved onto to just focusing on the jalapeno.
So far it has had a failed flowering attempt. Afterward and some pruning I did last month it seems to look much healthier. I do need to remove all the weeds again that have started to grow in the dirt. Otherwise there nothing much I can do but water it and hope it will start producing. Sometimes you just need to leave something alone and let it do its own thing.
Final Thoughts
It has been very hot, humid and very little clouds cover down here for the past month. We get a little rain here or there but that is never enough. At least once a day I have these plants to use as an excuse to go outdoors and be a little active.
Other than some replanting and whatever is going on for the tomato this year has been far less eventful in issues cropping up. I hope all your gardens are growing great! Cheers to this amazing weather.
Information
Screenshots were taken and content was written by @Enjar.