This is part 2 of my September Garden Update, in which I'll show you what else I have growing in the backyard, starting with these beautiful sunflowers that just started blooming.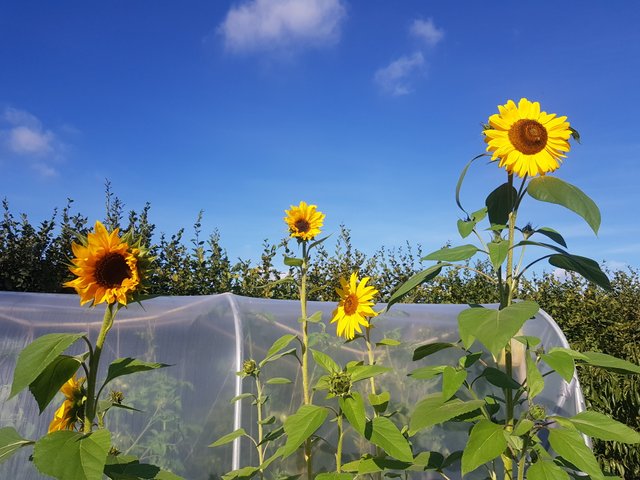 More Lesser-Known Veggies And Fruits
Yesterday I posted part 1 of my September garden update, in which I showed you how some of the lesser known veggies in my backyard were doing.
If you missed that post, you can still read it here:
🌺 September Gardening - It's Definitely Different (Part 1)
But because the post was turning out pretty long, I decided to split up the content and show you the other part of the backyard today.
Afterwards, I'll be showing you my greenhouse and the frontyard garden too, but that will have to wait a little longer.
So, let's go. I'll just start where I left off yesterday.

Cherimoya
When I got my hands on a couple of Cherimoya seeds last spring, I coudn't have been happier.
If you start reading about Cherimoya fruit, the reviews are amazing. Mark Twaine once called it
the most delicious fruit known to men
On Wikipedia, you can read:
Some characterize the fruit flavor as a blend of banana, pineapple, papaya, peach, and strawberry
and
"The pineapple, the mangosteen, and the cherimoya", wrote the botanist Berthold Carl Seemann, "are considered the finest fruits in the world, and I have tasted them in those localities where they are supposed to attain their highest perfection – the pineapple in Guayaquil, the mangosteen in the Indian Archipelago, and the cherimoya on the slopes of the Andes, and if I were asked which would be the best fruit, I would choose without hesitation, cherimoya. Its taste, indeed, surpasses that of every other fruit, and Haenke was quite right when he called it the masterpiece of Nature.
Source
I guess you can understand that, although I've never seen one, let alone tasted it, I completely fell in love.
Because this tree is native to the high altitudes of countries in Mid- and South-America, the chances of me succeeding in growing my own cherimoya fruits are very small.
Still I wanted to give it a try, and guess what? The seed I planted has actually grown into a real little plant.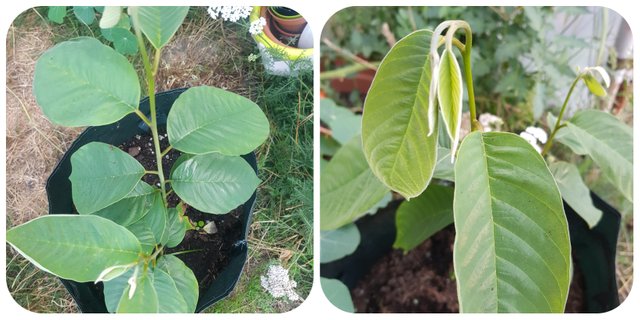 Click image to enlarge
It has been quite a job, because all summer long we had to take it inside the greenhouse when it was a little colder, and bring him outside again, because it can't stand temperatures that are too high either.
Yet, it is still alive and growing. If I can make it survive 4 or 5 more years, there's a very tiny chance it will grow fruits. But it just as well may not, lol. In any case, you can't say I'm not trying.
(For some reason, Cherimoyas are hard to ship to the other side of the world. So if I ever want to taste one, this experiment simply can't fail - or I have another reason to visit you in Mexico, @lynncoyle1).

Cabbages
It has been a very weird year for the cabbages.
Early in the season we were able to harvest a couple of oxheart cabbages and red cabbages.
The broccoli however, seems to be going nowhere. It's a beautiful plant, but it looks like it just keeps growing new leaves. There's still no sign of any broccoli. It makes me wonder if I labeled it wrong when I planted it. Still, I don't have a clue what else it could be.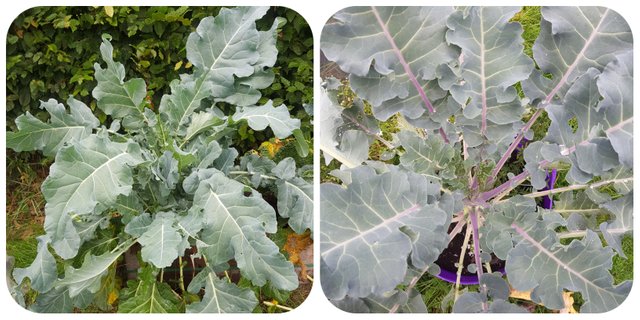 Click image to enlarge
The same is going on for the purple variety: leaves, but not a broccoli in sight. And from this one I'm sure it is broccoli.
Our Brussels sprouts aren't doing vey well either. My mistake. I didn't expect the broccoli without broccoli to grow so big that the Brussels Sprouts I planted behind it would suffer from lack of light. As a result, they are still way smaller than they should be.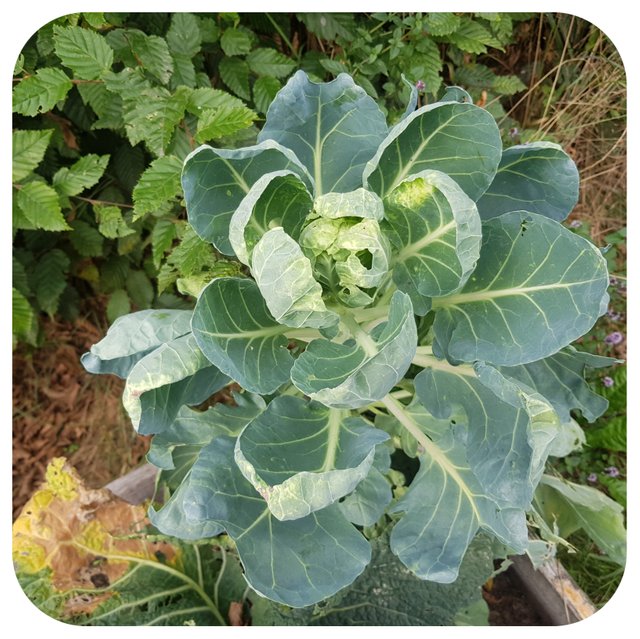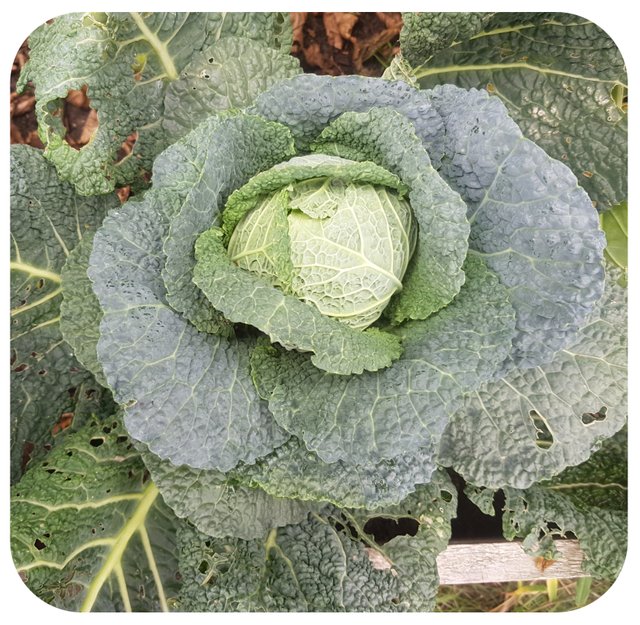 The savoy cabbage, however, is ready to harvest. I think it would be a shame to pull it out of the ground - it's such a beautiful cabbage. We haven't figured out what to do with it, since it's really, really small.
I planted some more cabbages as a second crop - to fill up the empty spots that appeared after harvesting, but I'm starting to think that wasn't the brightest idea I ever had.
What I didn't count on was that we're in the middle of catterpillar season. So every day I go out and pick those hungry, destructive caterpillars off my cabbages, one by one. I really need to remember this towards next year, because to be honest, it is not the most pleasant job around.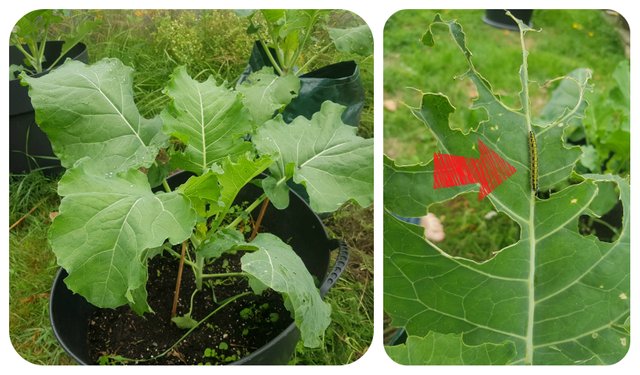 Click image to enlarge

Kiwiberry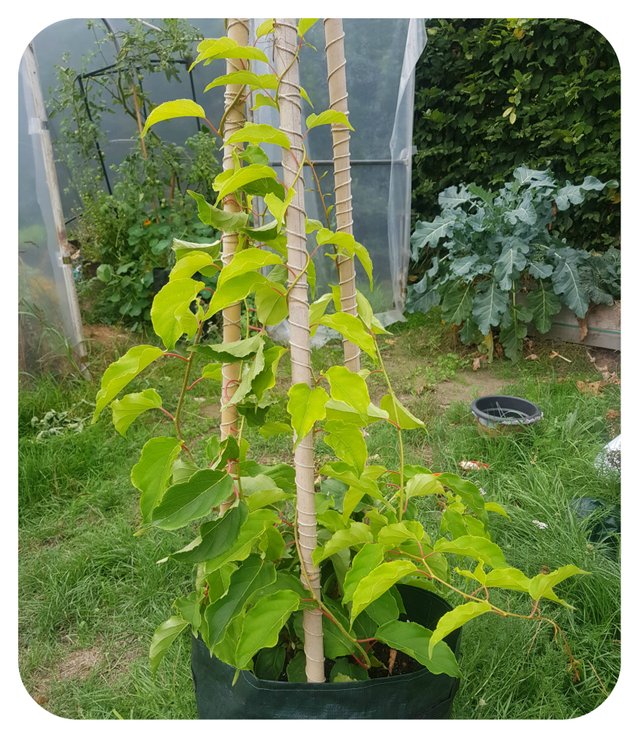 Another experiment this year was the
kiwiberry
.
Kiwiberies are basically very small kiwis that can be eaten without having to get peeled first.
It took a while before the seeedling I bought showed any signs of growth, but right now it is growing faster that I could have ever expected.
Since this is a perennial, it's about time we remove it from the growing bag it is growing in now and put it in the ground somewhere. The only problem is that we don't really have an appropriate spot left.
I'm trying to convince my girfriend to get rid of the fig tree - we both don't like figs, so I think the tree is a waste of space - and replace it with the kiwiberry. She's not convinced yet, but we are getting there :0)


This the kiwiberry's first year, so we'll definitely have to wait at least 2 more years before it will actually start growing fruits.

Strawberry Tree
The story of the strawberry tree is not very different: the poor little plant is still in the same planter as when I got it. It's a real shame, because it has grown much too big for it.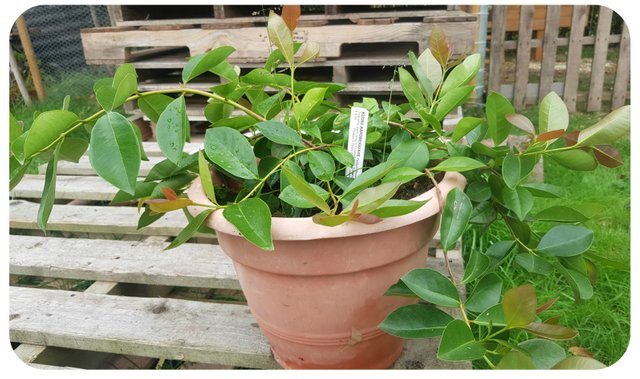 Click image to enlarge
The original idea was to plant it in the soil somewhere, but after I've read that the taste of the berries isn't that spectacular, I'm in doubt whether I want to plant the bush somewhere or not.
As a result, the little bush is still in its small planter, because as long as it is alive and kicking, I can't just throw it away... I'll need to figure it out what I want to do with it soon.

Jerusalem Artichokes
When you experiment with veggies that are unknown to you, there's always a chance you handle it wrong.
If I had done some research before, I would have know that it wasn't a very good idea to plant the Jerusalem Artichokes in large containers, and then placed them on a concrete floor.
No other plants in the garden have suffered more than these poor guys. The soil in the containers couldn't soak up enough water to last them through the day. Every evening, they were completely dehydrated and looked like they had died already. Watering them every night appeared to be only just enough to make sure they survived.
Meanwhile, I'm not even sure the plants have survived, since the greens just don't look very healthy...
I did like the tiny, yellow flowers they grew for a couple of days.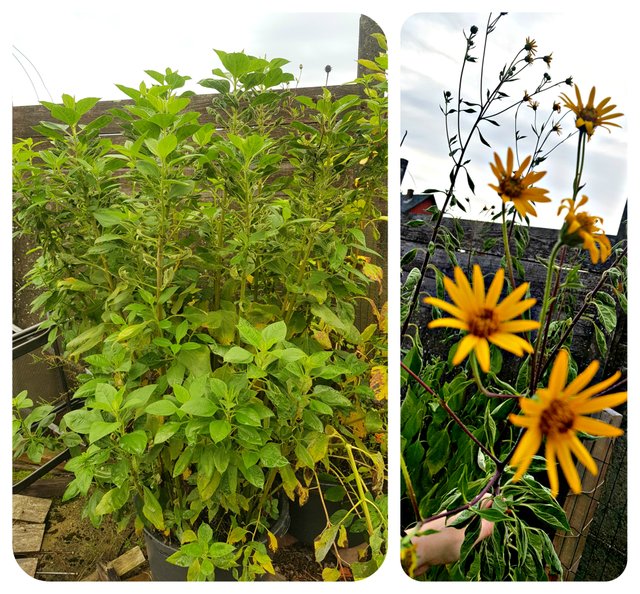 Click image to enlarge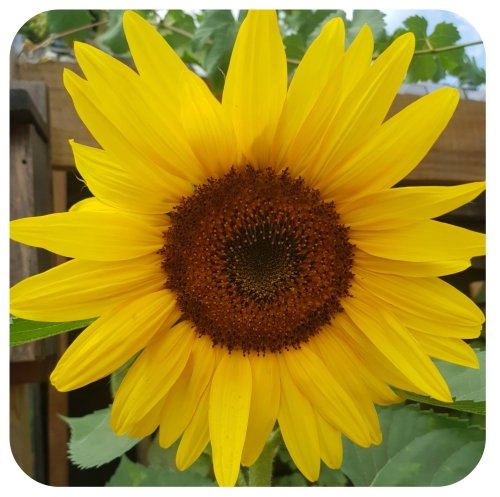 Sunflowers
We had planted a bunch of sunflowers rather early in the season. Sunflowers give your garden such a pleasant look.
But it took them ages to grow, and we had to wait until September to see them bloom. But it was sure worth the wait! Simply take a look at the picture at the top of this post, and I'm sure you'll agree with me. :0)

More To Come!
Now there's a lot more to tell about my september garden - remember the greenhouse with 9 different tomato varieties and a lot more?
But I will keep that story for another time, because there is a whole lot to tell about everything inside that greenhouse.
Be sure not to miss it.
Stay tuned and keep an eye out for my next posts!!




Subscribe Ro RSS Feed | Subscribe To Newsletter
More Posts You Might Like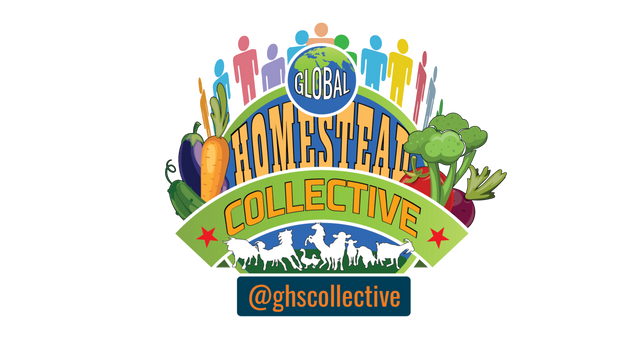 Join Us On Discord. https://discord.gg/hPJs5Rb