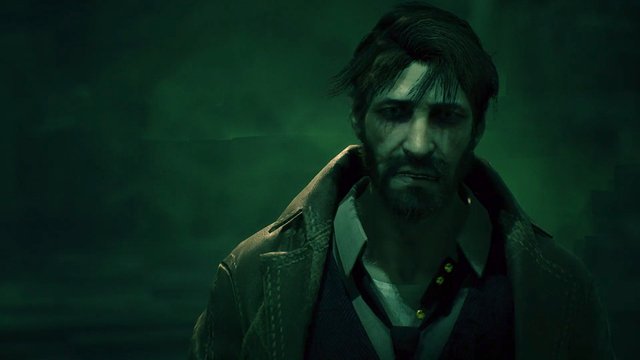 Screenshot by myself
Version Reviewed: PC (Steam)
Release date: October 29th, 2018
Link to Steam Review: https://steamcommunity.com/id/SquireZed/recommended/399810
Verdict: Underwhelming delivery and poor mechanics does a disservice to a strong underlying structure spread given too little room to breathe.
Red flags: Screenshots/trailers do not always match gameplay, length shorter than indicated pre-release.
Call of Cthulhu is a franchise that I have enjoyed since I discovered it. I'm not a huge fan of horror, but mostly because it leans on shocking gore, jump scares, and other cheap tricks. Lovecraftian horror, on the other hand, largely draws on psychological manipulation, questions of sanity and perception, and, ultimately, questions about the nature of humanity in the face of a larger cosmos. When I heard it was getting another game in 2018, I figured it would be worth a shot. I don't regret getting the game, but I also cannot recommend it. I have included a link to my review of the game on Steam, which ends largely because I ran out of characters to write with. I touch on many of my points there, and I won't necessarily address them here again in depth. Rather, look at my scorecard and I'll explain where and why it struggles.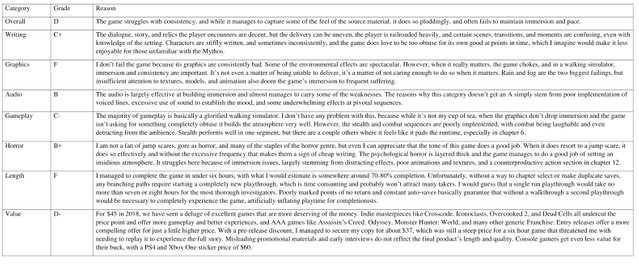 Your dad wants to talk to you about your grades when he gets home.
Call of Cthulhu does one of the things that game developers are infamous for- squandering potential. The Call of Cthulhu IP offers a variety of interesting opportunities, and to Cyanide's credit, they do manage to actually capture the feel of a Lovecraftian horror setting. The blurring of the line between reality and something terrible beyond our plane of existence is captured vividly in many of the sequences, and there are times when the game even manages to defy its low points. It's a shame that the best parts of the game are largely left behind by chapter 10, and that there are some irregular decisions that make the game underperform. For example, if the shooting segment in chapter 12 was more difficult or even just had the appearance of being more difficult (say, shots drawing other enemies, or some enemies taking more than one shot, or having a lengthy reload animation after a certain number of shots) would make it more menacing, but as is it feels like a chore you do, clicking the left mouse button occasionally while looking around for clues.
Some of the special effects, especially ones dealing with the sanity mechanic, are actually fairly well executed, and some of the environments are immersive and terrifying. Then there are other times when cheap tricks or lazy effects (like the grey mist, completely lacking volume, that saturates every outdoor scene from chapter 12 onward) wear a little too thin. If Call of Cthulhu had released in 2014 even, it would manage to handwave away many of these cheap effects, but we live in a day and age where a total amateur can go to an asset store and buy a library that can procedurally generate immersive fog and rain effects. The massive, unnatural droplets that collide poorly with the environment and camera when it "rains" is a distracting effect on a damp New England island on the verge of being consumed by eldritch horror (my screenshots didn't turn out, so you'll have to take my word for it).
Transitions between chapters feel rushed at times, and the obtuseness of trying to keep players in the dark about what's going on often leads to confusion as things are poorly explained, and without an outside knowledge of the Mythos much of the significance of things is, at best, up to the player's imagination. Characters interact with each other and the environment poorly, with clipping issues, minimalistic stealth AI, and a dialogue wheel that doesn't always indicate what your character will say or do (especially in later chapters, where there are sanity based options that literally display in alien characters, a neat touch but one which detracts from player agency).
Some of the characters are flat or handled poorly, and particularly Sarah, the woman whose disappearance Pierce is hired to investigate. Her role in the story is not inconsistent with the Cthulhu mythos, but her character is almost fetishized, with her appearance seeming like a fusion of Lara Croft from the Tomb Raider reboots and Elizabeth from Bioshock Infinite. Her character is critical to the story, but she doesn't have much emotional depth and plays into the troubled artist trope to the letter. In a game with an interesting world, some more subversions might have been interesting with her character, and two of the three named female characters basically function as damsels in distress for Pierce to save- something the game itself even references. It contributes to the predictability of game's story and direction.
While it takes after other walking simulators in having a strictly linear progression, with Call of Cthulhu it feels like this is a betrayal of the source material. Perhaps the reigning supernatural horror game, Vampire the Masquerade: Bloodlines (also from a renowned tabletop gaming franchise), released in 2004, offered players a robust world to explore, but more importantly managed to make the entire game work differently if your character was insane (in that case, belonging to the Malkavian bloodline of vampires). The sanity meter in Call of Cthulhu, one of the touted features, seems to be more a way to unlock dialogue options, and many of its moments are scripted and unavoidable, meaning that it doesn't feel compelling. The world doesn't seem to meaningfully change according to your actions.
Ultimately, the ending sacrifices any narrative significance of destiny in the Mythos by basically allowing the player to choose between any ending that has been flagged for (I'm not sure how the endings are selected, but there are at least three and possibly a fourth, but how to unlock them is hidden behind obtuse "This action has affected your destiny" notifications). At one point, a character even says "Only you can choose." This wouldn't be quite as jarring if the two whole chapters leading up to that point weren't reinforcing that you have no choice over your destiny. This wavering undermines the true abject horror of the Cthulhu Mythos- the insignificance and futility of human action and will.
Call of Cthulhu is not a worthless game. I don't regret playing through it and most of those six hours were enjoyable. But if you're looking to buy a game and you're not a fan of the Mythos, then you can probably find a better use of your time and money. There are simply too many mistakes that should have been caught by QA, too many moments where the magic wears thin because of poor implementation, and too many sacrifices in quality and story to really hold water. It feels like Call of Cthulhu is a game that had multiple scenes cut that were critical for the final product, and the tapestry that we got was held together with patches and string. Transitions are too abrupt, characters are developed too quickly or insufficiently, and too much of the content that does exist functions as lore nods for Mythos fans or padding to boost the runtime of the game. If Lovecraft is your jam, and you really need to get a fix, Call of Cthulhu might be the game for you, but set your expectations at a reasonable level and perhaps wait for a sale.
Cthulhu is pretty intimidating though, when you do get to see him.