Sim-ple ways that YOU can customize your Sims experience! | Part 1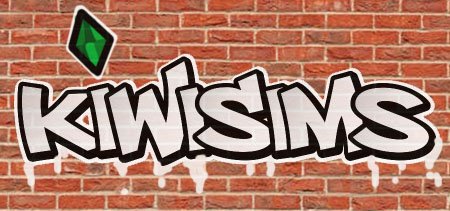 So you started playing the sims (specifically the fourth instalment in the series) and you want to build a little pastel cottage for your pastel sim-family to live. You have your heart set on your little cottage, but alas, there are no pastel colours to be found with which you can build your new abode. So what do you do? Spend hours searching the web for objects and decor that other people have made? What if you want a specific colour? It is positively imperative that you have an armchair in that one very specific shade of blue that looks green! Otherwise, it won't match! So what do you do?
1: Do it yourself.
If you want a specific colour on a piece of furniture then gosh dangit you will have that colour! All you need is some free time, an idea and 2 programs.
You will need:
An image editing software that can edit and save DDS files.
It's okay if you don't know what a DDS is, neither do I. DDS is just the type of file the custom content editing software reads, like a jpeg or a png.
Photoshop is my go-to software. Although it doesn't support DDS by default, you can find a plugin for it easily online.
Sims 4 Studio is a free program that anybody can use to edit and create their own Sims 4 custom content. It can be found easily online and has an easy to use user interface.
Now that we have all of that out of the way we can get to the fun part.
2: Making your own custom content.
Start by launching Sims 4 Studio. It should look something like this: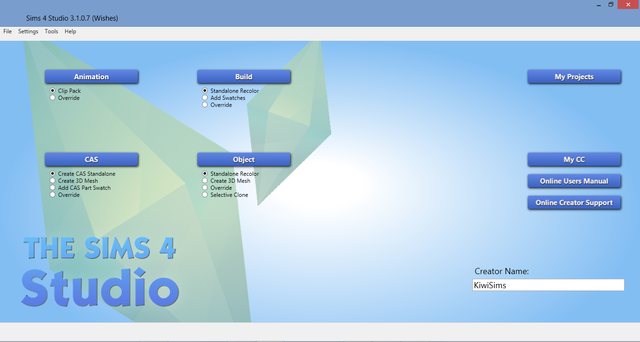 This is the main menu, from here we can choose what we want to edit/create. We are going to be making a furniture recolour to our lovely blue-green so we are going to make sure we have 'Standalone Recolour' Under the blue 'Object' button.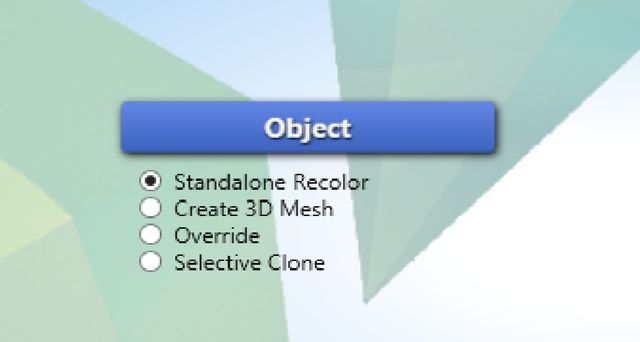 Next, we can click on the blue 'Object' button and get started.
3: Choosing an object.
A menu as shown will pop up and from here we can narrow down what we are looking for.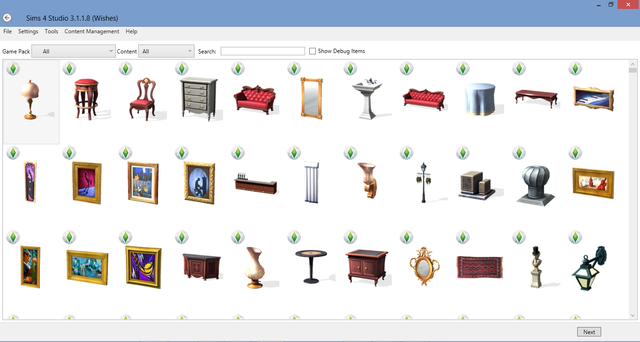 But we don't want just any blue-green piece of furniture, we want a couch. We can use the search bar to find what we are looking for.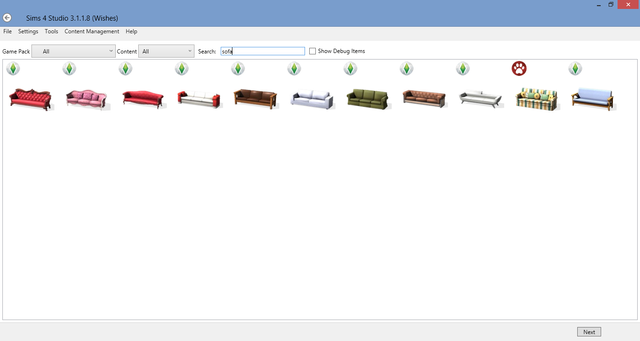 Once we have chosen the couch we want to change the colour of we can click 'next'.
It will ask you to save the package file. Once you do you can move on to
4: Change the colour.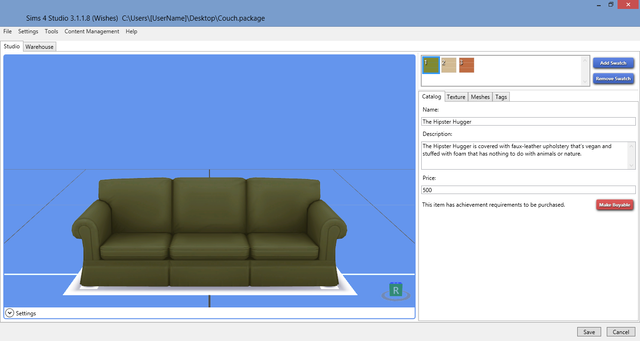 This one is green. Yuck! We want our lovely blue-green colour. This just won't do!
We must fix it immediately!!
We can move to the texture tab to see the texture that is currently on the couch.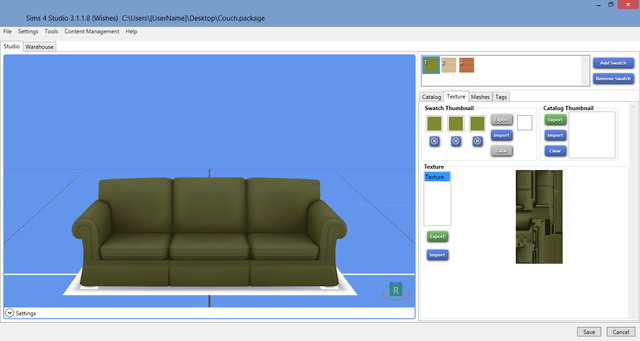 Just as I suspected, green. No problem, we just need to export the texture. We can do this by pressing the green 'export' button.
5: Open the image in your image editor.
Your texture will look something like this.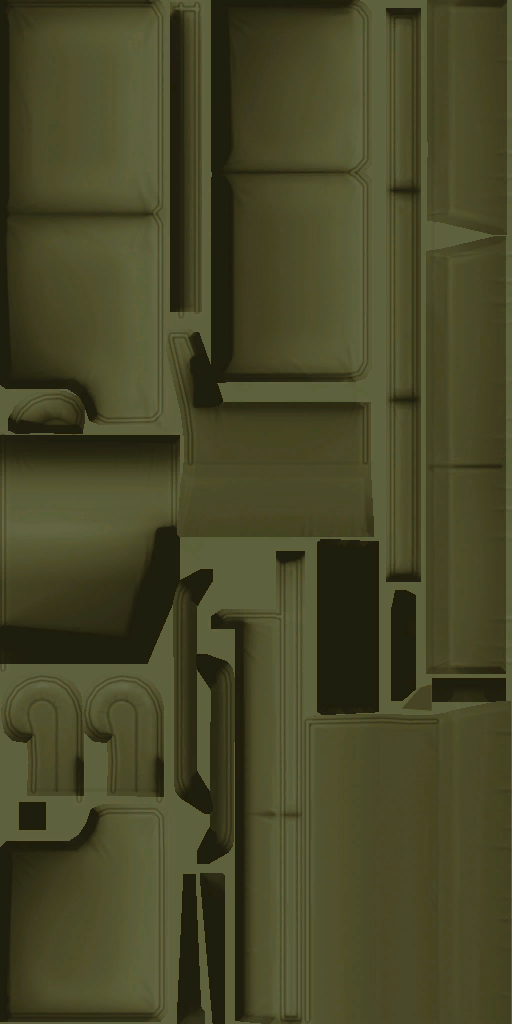 We will make a new layer in the colour that we want.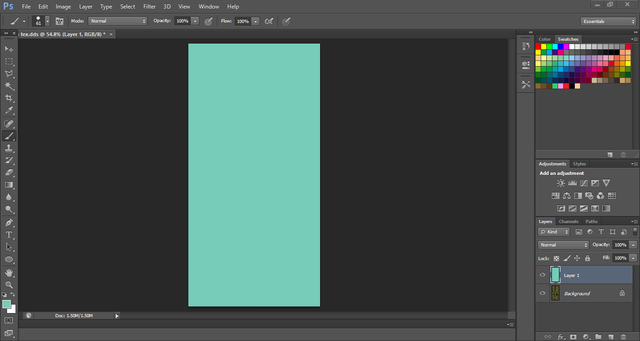 Next, we will make the layer an overlay to change the colour and retain detail.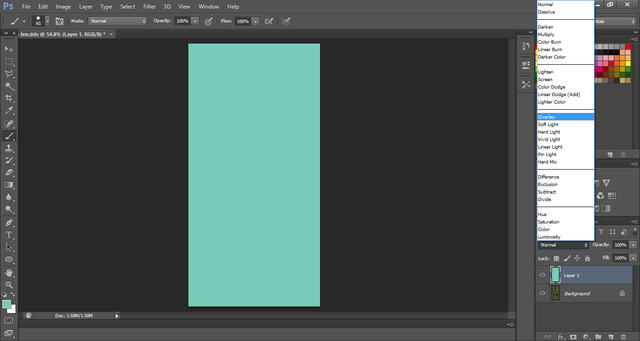 You should end up with something like this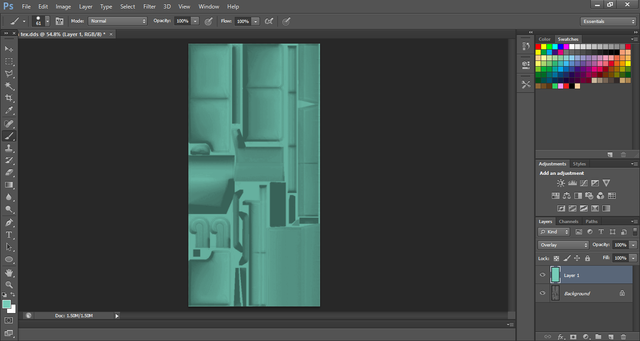 Now we merge the layers and then save the image as a DDS file.
Next, import your new texture into Sims 4 Studio by pressing the blue import button. Once you have imported your texture you can see how it looks on the mesh (the character model)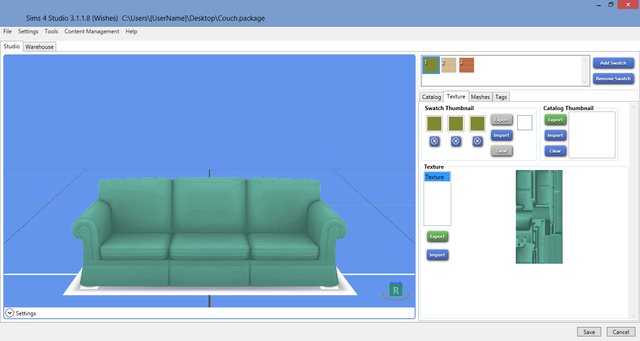 Finally,
6: Save
The package file to your computer. Now you're ready to use it in-game!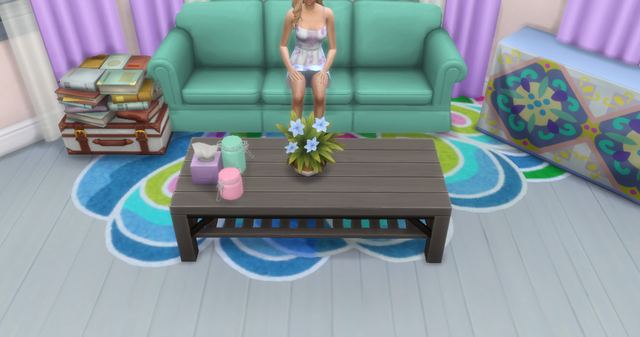 Congrats! Enjoy all of your new, wonderful colours.