My First Entry For Fiftywords Challenge: "The Moment He Stops Crying"
So... I scrolled down the #fiftywords tag, read some of them and find myself interested in writing a short story too. However, I wasn't sure whether I should join in because I'm sure my writing will be bland, not artistic, not touching, atrocious. 
But this particular fiftywords entry by @enjar gave me the last push to finally decided to make my own. To be honest, it's because his short story is based on a video game "to fit his niche" I wasn't sure if it was allowed, but now I know it is. And since my niche is gaming too, I was excited to write one. Without further babbling, here it is...
---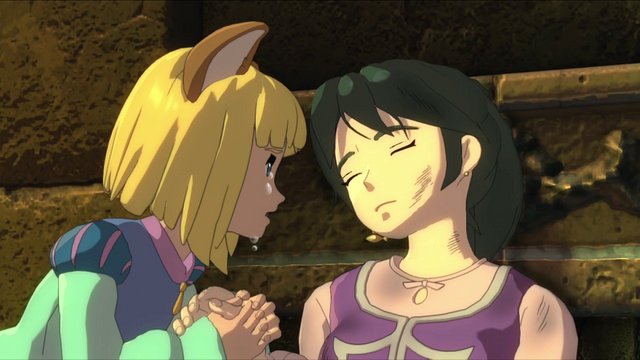 The Moment He Stops Crying
Nella's dying in his arms
Leaving the young, innocent Evan.
She wiped away his tears,
And told him to rebuild a kingdom,
One that will bring peace.
Nella died in his arms
Left the young, determined Evan
To rebuild a kingdom,
One that will unleash his wrath upon his foe.

About This Entry
The picture was taken by me from the game Ni No Kuni II: Revenant Kingdom. The story in this entry is the exact opposite story of the game. In the game, Evan will be a kind-hearted King. I don't like that. The micro-fiction you just read is how I wanted him to be.
Yeah, edgy. Whatever.
Head to the author's this week's post I mentioned to learn more about this challenge. And thanks to @jayna for the challenge! And thanks for @enjar too, for the inspiring post. Unfortunately I stumbled upon the post too late. So sorry about that :<

---
DISCLAIMER: All artworks in this post (except for the cited ones) are belongs to me and I don't allow you, your partner, your cassowary, or your waifu to use them without my consent. Think I'm a smug? Fine by me. Happened before. Hate it if it happen again.