Gaming Posts of the Week | Beta | SPIIIIN TO WIIIIN!!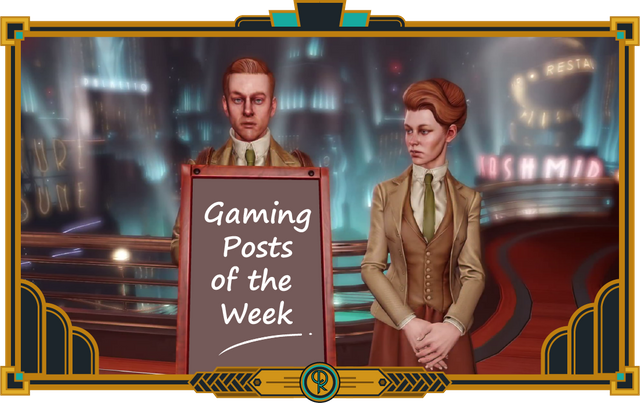 Lutece Twins
Sunday, 1 July 2018.
---
Is it just me, or 2018 doesn't feel as 'big and spectacular' as 2017? I also have the thought that we'll have that moment again in 2019, but not in 2018. Is it too early to say such a thing, or do you think the same? Or perhaps it's only because last year we have Nintendo Switch released, and the rest of the gaming is actually pretty much the same? What's the reality?!
Well, doesn't matter. What's matter is these posts... 
---

Have some nice read ended with even more entertaining gameplay video at the end about one of the oldest characters--or Champions, to be more League of Legends appropriate--named Garen. While the other Champions only have 4 abilities, Garen have 5, and his 5th ability is being hilariously annoying. Garen is only not annoying if you're the one playing him. 
---

We are now 6 months (and one day) into 2018 and there are tons of games released already, both AAA and indie titles, well received and controversial. Of all the games released in the past months this year, which games do you think are the best? I'm thinking God of War would be on everyone's "Best of..." list. And this is Tech Mojo's list of 5 best games so far, check it out.

The giveaways are still the same, and persumably still on. So check them out if you haven't already.
---

As the title implies, apparently there's a weird thing going on in MMORPG Grand Fantasia where the player's character will turn into a fish creature for 5 minutes with little to no explaination behind it. Maybe it's an easter egg, or some sort of teaser for upcoming event. Either way, this kind of thing always intriguing to investigate. 
---

So you've read a list of 5 of the best games in 2018, and maybe even thinking of your own list. Now to close this shout out post, take a look at some great games that are still on great sale for 4 more days. Some say our lord and saviour Gaben will give his blessing again in approx. 180 days, so before the current blessing ends, maybe you'd want to see some of them here, complete with some reviews and gameplays. 
---
I hope you enjoy the posts I mentioned, and be sure to support the authors by leaving upvotes, comments, and maybe resteem too. Thank you for your time to read my posts, Steemian. I really appreciate it. And I'd like to thanks to @opgaming as well for being supportive and encourage its members to be just that. 


OP Gaming is an awesome group of awesome people, too OP to be put down! If you like talking about gaming, writing gaming posts, or if you want to hang out with some awesome gamers, OP Gaming is the place to be! Click the image above to join our discord!

---
Previous Posts:
---
Images credit:
Ghost Story
, and the mentioned authors.
---
DISCLAIMER: All artworks in this post (except for the cited ones) are belongs to me and I don't allow you, your partner, your cassowary, or your waifu to use them without my consent. Think I'm a smug? Fine by me. Happened before. Hate it if it happen again.