What Game Soundtracks We've Been Listening to This Month?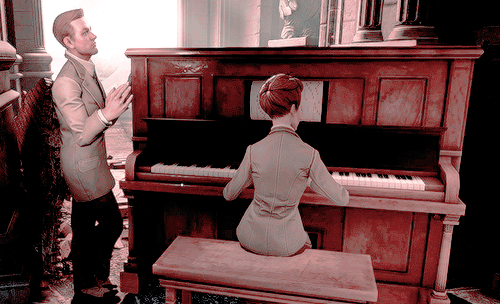 I'm pretty sure we can agree that video game is a medium where you could find not only stories, but also some of the best music you can listen to, yes? This post is similar to my previous "What We've Been Playing...", so feel free to tell me in the comment what video game soundtracks you've been listening to lately. 
We know that usually game soundtracks are made in a way that they'll make the player to be more focused instead of distracting our concentration. But many times they also great to listen to when you're outside of the games, simply because they're that great. Here's the OSTs (except for one) I've been listening to a lot lately...
---
We are bleeding, comrade!
Company of Heroes 2 - Main Theme

The first time I heard this it didn't get into me that much, really, especially before it reached 1:12. I didn't even notice it sometimes. Until that moving violin plays catched my attention at the right time, when I kept losing playing with Soviet and a bit frustrated of how suck I was at this game.
The other soundtracks are as great. Not One Step Back, A Red Army Rising, and Don't Weep, That Time Has Passed, and this one, are my favourite. They really suited to the game, the time it sets in, and plays at the right time too. These musics are so uplifting, heroic, intense, and chill-inducing. Epic. Cris Velasco is epic.
---
Frédéric Chopin - Nocturne in E-flat Major, Op. 9 No. 2

Okay, obviously this isn't a game soundtrack, but is played in one level in BioShock Infinite, in Jeremiah Fink's factory area. I've listened to classical music before from my father. Then when I heard this in the game, this was the last push for me to finally want to know and listen to more of classical music, especially to this piece. But don't start asking me about classical music, I know nothing of it! 
A piece known to be so calming sounded so depressing because it played in sync along with the sound of Fink's mechanical gears/machinery or whatever clanking sound that was, sounded like part of the music. Until I looked around and noticed the slaves and those big cogs and realized it's not. Not sure if Fink really into this sort of music or just being an asshole towards his workers, given how bad the sound quality he played loudly.
---
The Witcher 3 - Hunt or Be Hunted 

I wonder if Cyberpunk 2077 would have more iconic soundtracks like this one, since the composer of the huge and ambitious Cyberpunk 2077 is Marcin Przybyłowicz, the same person who composed The Witcher 3's OSTs. 
His work with The Witcher is awesome and fit well with the theme and the battle. But how would he change the music into something more fitting for cyberpunk genre is something to expect on its own from Cyberpunk 2077. 
---
Pentakill - Mortal Reminder

At first I was kind of confused of this band called Pentakill. It's a band consists of the 6 League of Legends characters, fictional characters with real metal songs so good they made it to be #1 iTunes metal chart last year, like what the hell? I know there's already one like this, the Gorillaz, but still... This band is more like promoting the cosmetic skin along with the lore behind it in the parallel universe of League of Legends, not promoting the band itself. Yet there they were.
The songs are about nothing but things from the game itself, like the in-game items such as Deathfire Grasp, Rapidfire Cannon, and this one, with some pieces of the lyrics referencing to the in-game's things as well. And they are pretty good, in my opinion. Here's their official website: Pentakill.
---
My dad would beat the shit out of me if he found this.
Doki Doki Literature Club! - Your Reality

Yeah, after the screaming and the headbang the next minute I listen to this frilly cheerful soundtrack. Pretty much like the game itself I can't get this catchy soundtrack out of my head. This game's development is similar to Undertale, mostly done by one person. And the soundtracks, including this one (the original version, note that this is the piano cover) was composed by Dan Salvato. 
Recently the game got a new update with a note written below it "No new or hidden content added to the game." That's exactly what someone would say when s/he do the opposite. Well then, I guess it's time to make this soundtrack even more attached to my head... .
---
You're probably kind of disappointed for not seeing some of those catchy (g)old retro games soundtracks here, though. I'm not saying you're old! I meant I'm not that much experienced, which is kinda the same thing. Also, note that I don't own any of these videos. I just share what I listen to to you. The credit for the videos goes to the uploaders. Duh.
Thanks for putting up with my bullcrap, Steemian!

---
Previous Posts:
---
Image credit: Luteces.
---
DISCLAIMER: All artworks in this post (except for the cited ones) are belongs to me and I don't allow you, your partner, your cassowary, or your waifu to use them without my consent. Think I'm a smug? Fine by me. Happened before. Hate it if it happen again.