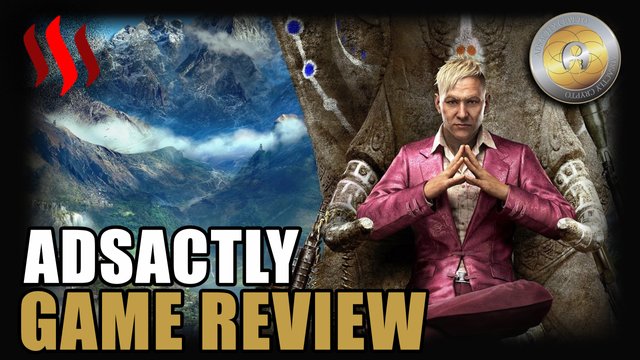 Far Cry 4
Welcome back fellow Steemians, it's that time of the week again, weekend but also time for your weekly game review fix.
I decided for this week's review to take you on a little trip back in time, not too far back, only about four years, then again in the gaming world four years is more like fourteen years. Welcome to the world of Far Cry, and for those of you who know it all too well, welcome back. This particular series has always meant something kind of special to me, and it started from the first Far Cry back in 2004. The first time I played this was in 2007 on PC and it was with my younger brother, we put the game on hard and basically tag team played the game, when he gets killed it would be my turn and then his when I die. We could do the same with Far Cry 2 as we where living pretty far away from each other at the time, but by then time Far Cry 3 came along we both had a PlayStation 3 so we would Skype call each other and basically play the entire game together while just being on a call.
When this game came out it was as the say a game changer, especially for us, we could actually play the game together in co-op mode, sitting on the opposite ends of South Africa. We have basically done this with each of the Far Cry games, and it's a rather awesome way of spending time with my brother, who I only get to see about once a year.
Our story begins with Ajay Ghale, who returns to his home country of Kyrat after the death of his mother.
Her final wish before she died was that her ashes be returned home to Lakshmana, as her final resting place. While traveling by bus in Kyrat, they are attacked by the Royal Army and he is taken prisoner by Pagan Min, the country's self appointed and violent king, who claims to have been romantically involved with Ajay's mother. Held captive in Pagan's mansion, he finds a way to escape with the help of Sabal, a commander in the Golden Path, which is a rebel movement Ajay's father started many years ago. He is then informed that there is no way for him to get out of Kyrat, as the only airport has been taken over by the Royal Army and all the boarder routes have been highly fortified and sealed.
In the twenty plus years since his mother and father had fled Kyrat, the rebellion has basically ceased to exist, with the Golden Path now only fighting to just to stay alive. As the son of Mohan Ghale who started the rebellion, Ajay becomes a symbol for the Golden Path to rally around and rise up to fight the tyranny of King Pagan. His first mission to breath some life back into them is to free a group of Golden Path hostages and liberate one of the territories held by Pagan. The Golden Path then plan on breaking Pagan's stranglehold on power by targeting his three regional governors using gorilla style tactics.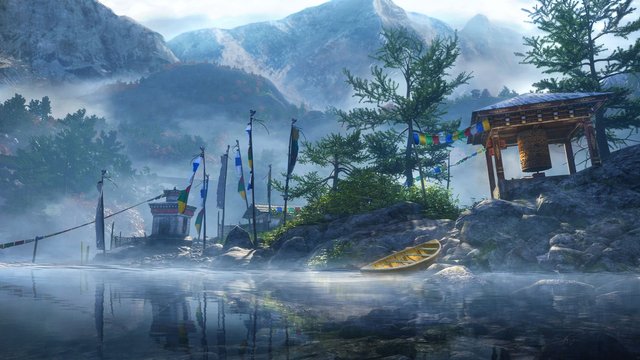 source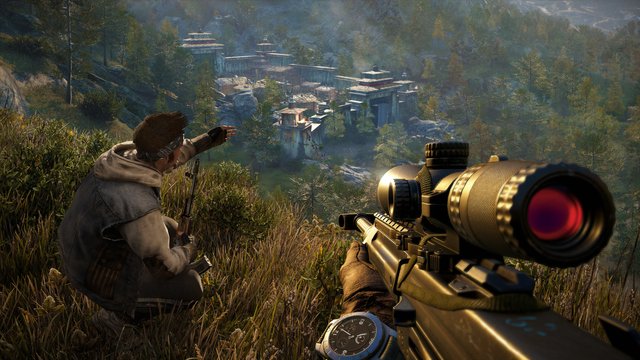 source
There is always an absolutely breath taking environment when it comes to the Far Cry games, it's as if everything is just brighter and more beautiful than in other games.
This game is no exception, the fictional Himalayan country of Kyrat is a place of myth and secrets, and it's one of the best-realized locations compared to most games that came before this, I mean this is four years old. Kyrat is a massive open world, a visually diverse place that really feels lived in, very old and there is a deep history of events that has taken place in this world. I really enjoyed exploring every inch of Kyrat looking for treasure and finding lost letters that adds an even deeper back story to what has happened here over the long years.
There are a lot of similarities as in Far Cry 3, like the enemy occupied outposts and strongholds, where you can either come crashing in guns blazing like Rambo but risk the enemy calling in reinforcements. I personally much rather prefer taking a more stealthy route, the whole ghost with a gun, picking off enemies from a crazy distance away, then sneaking up in the long grass to silently take out enemies up close. I would say my most favorite weapon is the bow, especially when you fully upgrade it, silent and very lethal, but can be troublesome when taking on large wild life. There are huge number of animals in this game, and yes just like in the previous game you're gonna have to hunt most of them if you want to get the best out of your gear, especially when it comes to upgrading your carry space.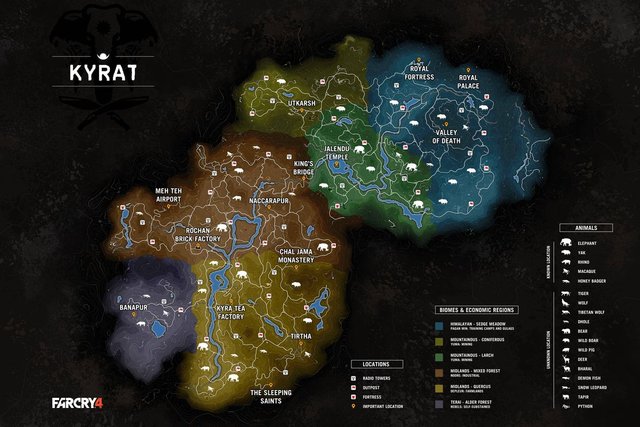 source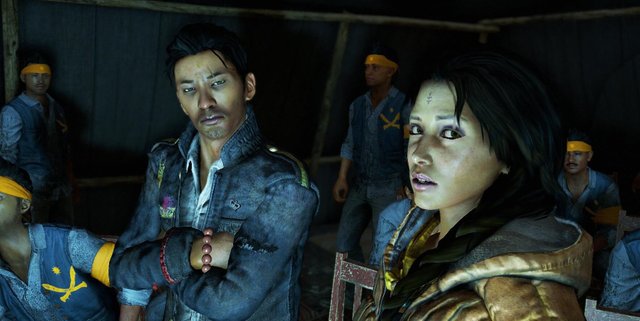 source
---
"Ajay, I hope you don't mind, but I took the liberty of having a new suit made up for you. If you are to lead Kyrat when this is all over, you're going to need a sharper look than denims and fucking sneakers, my boy. And that jacket. Oh, don't get me started. Why on Earth do you need so many zippered pockets? What do you keep in them all? Handfuls of meat? Huh, I suppose you do. I'll make a note for my tailor: "Ajay's jacket, zippered meat pockets." Perfect. Well, don't let me slow you down." - Pagan Min
---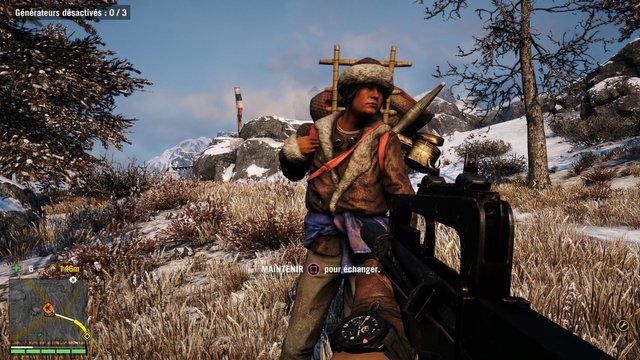 source
There is just so much to do in this game and at the same time it borrows heavily from Far Cry 3, but with massive improvements.
The player progression is very much as it was before but with new features like Karma Events which unlocks gear, discounts, and more XP. You need the XP as it allows you to unlock new skills, like aerial takedowns, damage resistance, and riding elephants, which is both pretty hilarious and actually useful when you've had enough of sniping from the bushes. It's rather awesome riding an angry elephant smashing everything to bits. I also very much enjoyed climbing the enemy-occupied towers which gives you a broader perspective of the world, highlighting notable places and unlocking new objectives in each region.
When it comes to the actual story it's okay, but was no where near Far Cry 3 and the amazing villain that game had, unfortunately King Pagan is far less memorable than pirate lord Vaas Montenegro. The game has a wealth of diversity with lots to do and tons of great side-quests that don't feel overly repetitive. The co-op multiplayer was really epic stand out and now lets you wonder around the entire map, taking down enemies with a good friend or even your brother.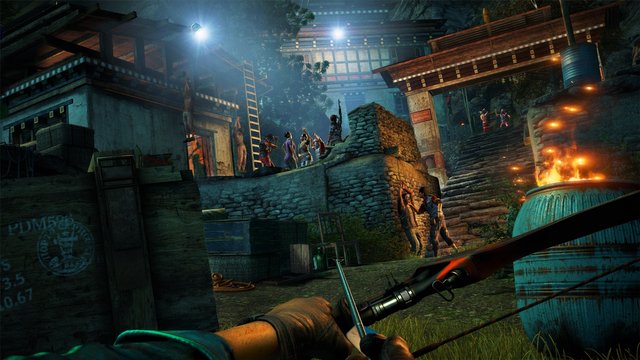 source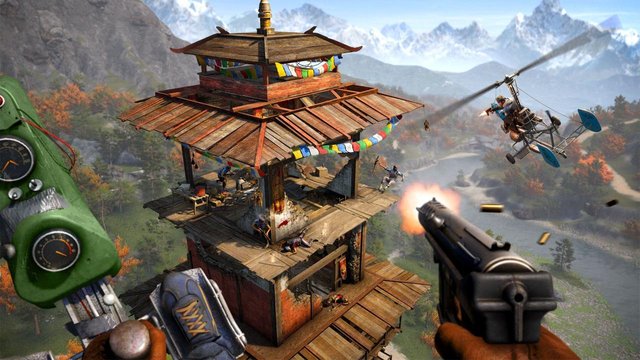 source
Far Cry 4 is an action-adventure first-person shooter game developed by the good folks at Ubisoft Montreal and I have mentioned them a few times.
They are a pretty huge company and have made a lot of the top games like, For Honor, most of the Assassin's Creed series games, as well as Watch Dogs 1 and 2, so needless to say they really know what they are doing when it comes to making games. Published by Ubisoft for pretty much all the platforms, PlayStation 3, PlayStation 4, Xbox 360, Xbox One, and Microsoft Windows. This is the successor to the 2012 game Far Cry 3, and the fourth main installment in the Far Cry series. The game was released on November 18, 2014, so for you bargain hunters out there who haven't played this, you'll be avle to pick this up for next to nothing.
Far Cry 4 gets a solid rating of 8/10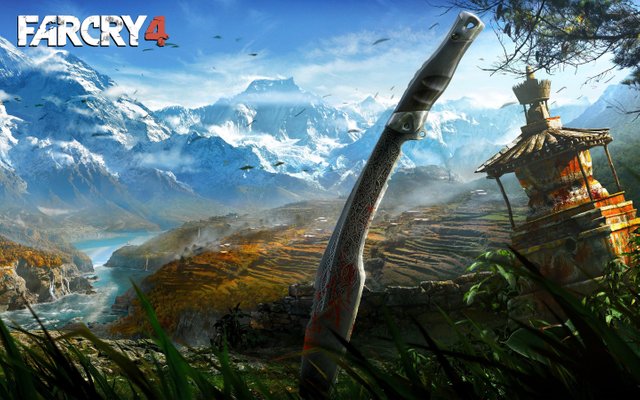 source
In case you missed it, here is the previous game review

Thanks for popping in, hope you liked the post. Please leave me your thoughts and or opinions in the comments below, have a beautiful day.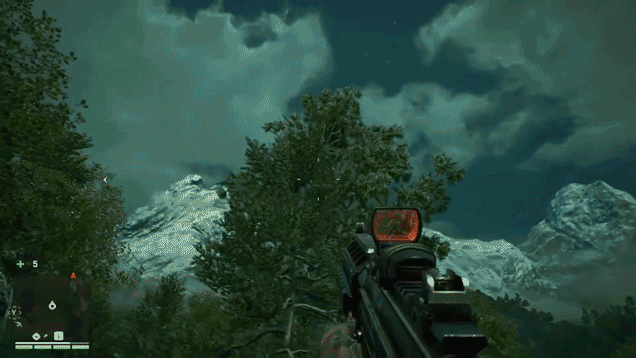 Game review for ADSactly by MorkRock
The views and opinions expressed in this article are those of the author and do not
necessarily reflect the official policy or position of ADSactly
✯ ✯ ✯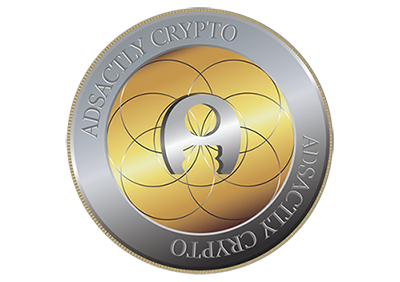 ---
Vote @adsactly-witness for Steem witness!

Witness proposal is here:

Go To Steem Witness Page

In the bottom of the page type: adsactly-witness and press vote.

Thank You