A very happy Monday to you all once again! No complaints from my small part of the world because I enjoyed a stunning weekend. Spring has definitely sprung, and the farmers market Saturday morning proved it. I'll make sure to share on my page some of the yummy things that are starting to pop up at the stands for me to bring home to my kitchen. I know some of the rest of the #fruitsandveggiesmonday family is working on some gardening to go into the season, so I can't wait to see what you all have growing!
Our HONORABLE GUEST JUDGE this week is none other than the master of making just about anything vegan @gguy773. If you doubt that, just check out his Happy Haggis from last week to see his creativity in action. You folks always amaze me with some of the dishes you bring to the Monday table! Speaking of amazing, have you all seen some of the delicious recipes our creator @lenasveganliving has been sharing lately? She never disappoints in her beautiful posts.
I would also like to remind you to read the rules, because only entries following them 100% will be accepted. GOOD LUCK!!!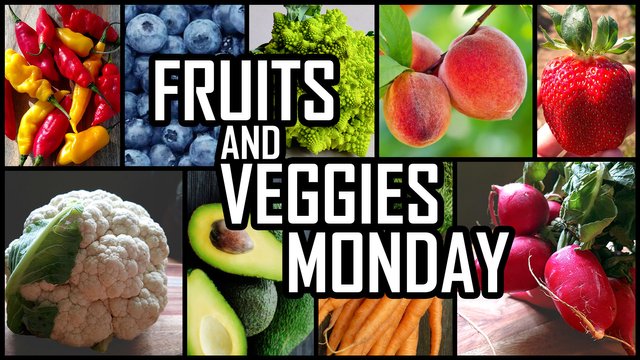 🍒 🍌🍑🌿🍍🍓🍇🍒 🍌🍑🌿🍍🍓🍇🍒 🍌🍑🌿🍍🍓🍇🍒 🍌🍑🌿🍍🍓🍇🍒 🍌🍑
Big thanks to everyone for their contribution! @barbara-orenya, the wonderful artist and creator of the lovely wonkies and our HONORABLE SPONSOR @donkeypong 🍒 🍌🍑🌿🍍🍓🍇
THE FIRST THREE PRIZES ARE:
1st PRIZE 7.00 Steem
2nd PRIZE 4.00 Steem
3rd PRIZE 1.50 Steem
THE WINNERS WILL BE ANNOUNCED ON WEDNESDAY 🍒 🍌🍑🌿🍍🍓
PLEASE KEEP IN MIND OUR TRADITION 🌸💖🌸


THE RULES ARE:
FRUITS & VEGGIES MONDAY by @lenasveganliving
• Take and post at least 3 photos of fruits and vegetables. (It can be variety or just one kind from the garden, supermarket or anywhere you wish, PLANT BASED RECIPES ARE WELCOMED).
• One entry only!!!
• PLEASE MAKE SURE THE ENTRY IS 100% ORIGINAL CONTENT!!! (images and text)
• Text must be at least 100 words.
• Use hashtag #fruitsandveggiesmonday
• Mention the creator @lenasveganliving, the host @plantstoplanks and the title FRUITS AND VEGGIES MONDAY
• Please copy and paste a link of your entry in the comment section under this post. We always acknowledge and upvote, but only if you follow the rules.
• Please upvote and repost.
• Make sure you post your entry no later than Tuesday morning Toronto time.


For additional details on posting, check out the Cheat Sheet by @plantstoplanks
THANK YOU FOR VISITING AND I LOOK FORWARD YOUR ENTRIES!!!
FOR RECIPES PLEASE VISIT MY Lena's Vegan Living Blog


Authored by
@plantstoplanks