Happy Monday Foodies😉
I'm so happy to be on Steemit every monday since October 2018😊 because I will find so many interesting post on #fruitsandveggiesmonday which runs by @lenasveganliving (get well soon and thank you for keep sharing wonderful vegan recipe😉) and now host by @plantstoplanks on @vegansofsteemit😍.
If you want to join us, make sure you read the rules on This Post.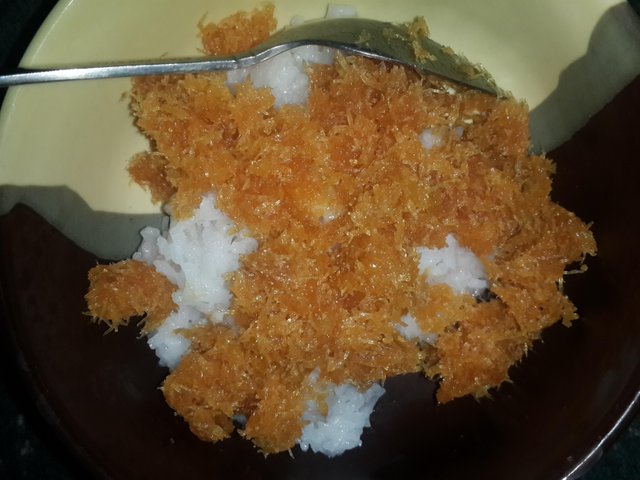 A perfect breakfast😉
I Love glutonious or Sticky Rice so much 😊 I think I can live just with it for the rest of my life 😀 but, sticky rice has too much calories and sugar😊 which will make me easily develop a good realtionship with diabetes😁.
In my hometown, Aceh, to find sticky rice with sweetened coconuts, or fried banana or indinesian sushi aka Lemper as breakfast are not a challenging thing to do😊. We could find in in form of Uli (sweet sticky rice) to eat with savoury tempe or grilled it in banana leaves too. Uhmm.. since Rice is the common main food in Indonesia, we have it as breakfast or other meals.
Why Not include it for FAVM?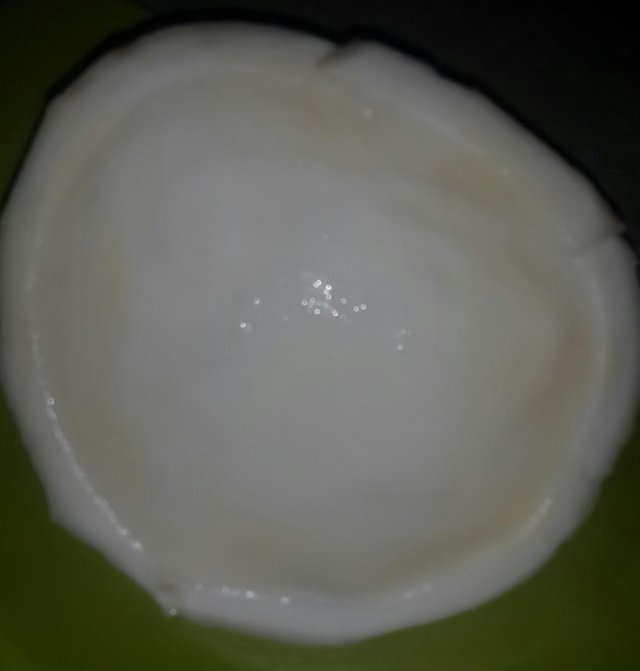 I found a perfect size and age of coconut flesh from Kang Jawir (the vegetables seller) on sunday morning. In this age,the coconut is good for anything but taking its milk😊
But it's not until 11.pm that day, when I remember I bought it😯 and if I didn't proceed it A.S.A.P, it would be such a waste😢. The only thing came into my mind only "sweetened coconut". Well.. you can make candy or other kind of sweet cake with it later, my mind told me😊.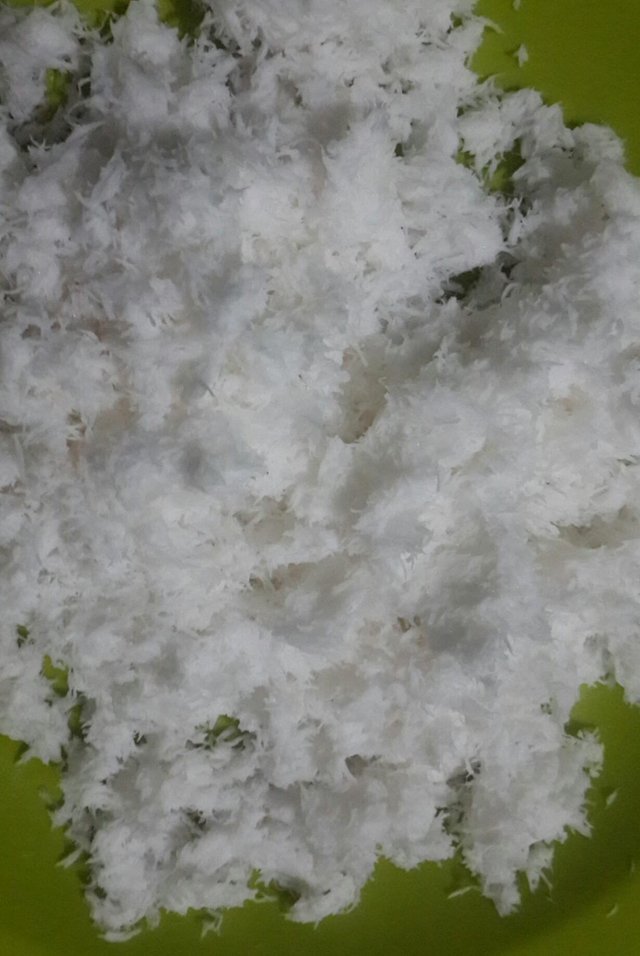 I peeled the outer brown layer of the flesh and made some noise while grating it😊 on 11.30 pm😁
The Process of Making☺
I got about 300 grams of not too fresh grated coconut, I add 50-100 grams sugar, a tea spoon salt, a piece of pandan leave, 150ml water and cook it on medium-low heat.
You must stir it up continously (that's what My Mom said when I was a helper in her kitchen years ago😊), to ensure that all perfectly well cooked.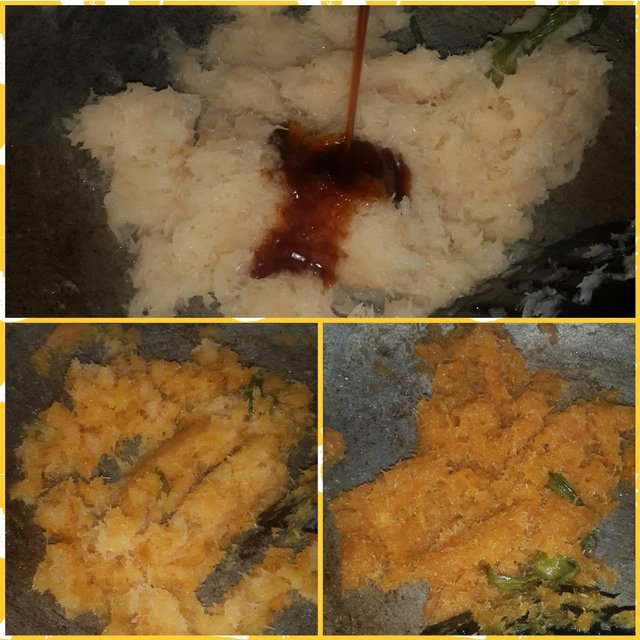 I need to make it a bit shiny😊, so I pour 25 ml sugar palm syrup when the water about to dry and mix it up, flip and stir till it well-cooked😊 taste it a bit, it must be soft and sweet now.
It's already midnight😊 I just put it in a bowl and left it in room temperature on my table under the ventilated food covering. Will cook the sticky rice tomorrow😊
Let's skip the sticky rice proceeding😊 I posted about it few weeks ago when I made Ketan Durian
There are many ways to eat sweetened rice with Sticky Rice or Ketan😊, you can put it as a filling in Sticky rice, wrap it with banana leaves and roast or grill it for few minutes. Or you can serve it like this 😉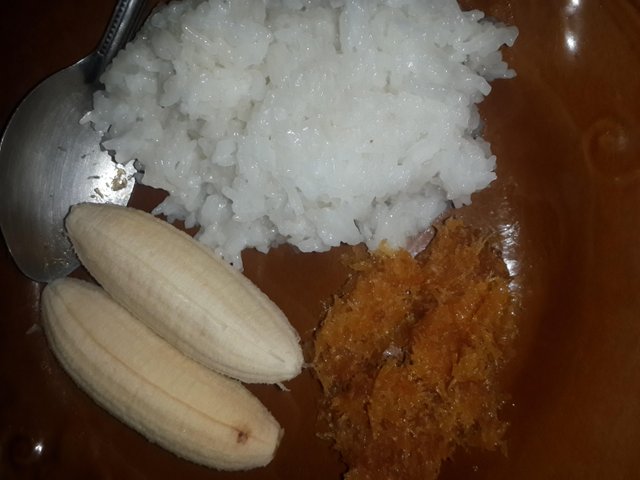 I know that My FIL doesn't like too sweet food, so I gave him options😊 sweetened coconut or banana to eat with his sticky rice😊 If I have banana leaves, I will roll the banana in sticky rice, wrapped then bake it.
This kind of food, if you have it as breakfast or dinner😉 will make you full and want a cup of black coffee to enjoy it😇. Anyway, even though sticky rice and sweetened coconut available as breakfast in many coffee shops in Aceh, this is also a special dish for some ceremonial celebrating events like wedding, baby shower, graduation and birthday too.
Ahhh.. you can keep the left over sweetened coconut in the regrigerator too, you can sprinkle it on your toasted bread next day😉.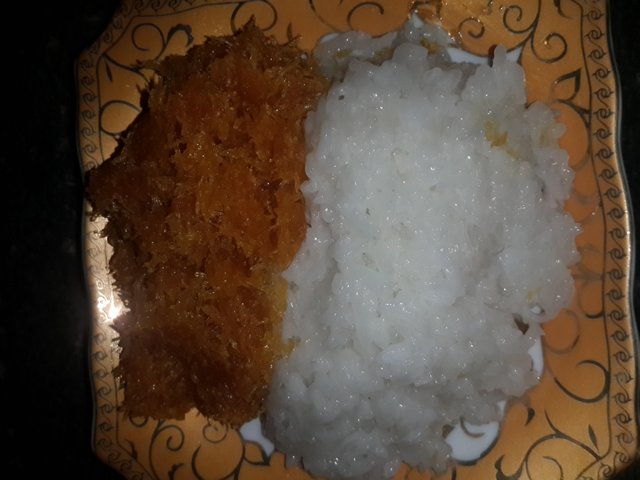 But I love sticky rice with Sweetened coconut, just like this 😊
Have A Happy Monday and See You around😉