THE TREASURES OF FREEDOM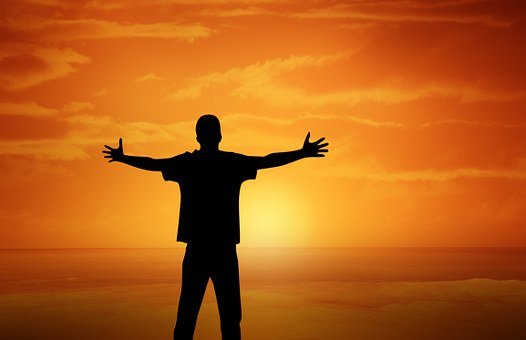 In 1946, one year after being liberated from the Auschwitz concentration camp at the end of WWII, Victor Frankl, a former prisoner in the death camp, wrote the powerful and life changing book, Mans Search for Meaning. It's been many years since I've read that treasure of wisdom but I still recall it's essence and depth.
You may have witnessed through my last two posts some mental struggles I've been going through. As I was grappling with my own ghosts and goblins I recalled what Victor Frankl said in his book: we have the power to choose. When all other freedoms have been taken away, this last one remains, the power to choose ones thoughts and attitudes. I followed his advice and adjusted my attitudes.
Of course Frankl knew, as do you and I, that there are times of illness or accident or addiction when we loose even that, the ultimate freedom, the ability to control our own minds. But for the most part we do have that freedom, and if not strong in that ability we can learn to be so.
I think it is appropriate to quote Frankl: What was really needed was a fundamental change in our attitude toward life. We had to learn ourselves and, furthermore, we had to teach the despairing men, that it did not really matter what we expected from life, but rather what life expected from us. We needed to stop asking about the meaning of life, and instead think of ourselves as those who were being questioned by life - daily and hourly... life ultimately means taking the responsibility to find the right answer to its problems and to fulfill the tasks which it constantly sets for each individual.
And in this quote from Frankl we find the key to freedom: responsibility. In Auschwitz where men and women were beaten, tortured, worked to death and treated like vermin they had only one freedom. To choose their own thoughts. Frankl admits, and we certainly know it to be true, that in this extreme environment it was not easy, but if for only a moment each day, or each week, they could recall moments of love. They could choose to be grateful for one more bit of food, or a helping hand of a fellow. They chose to envision a day of liberation. Those who exercised this freedom had a much better chance of survival. Those who could not sustain these powerful thoughts frequently perished.
But let's go back to the key to freedom - responsibility. The level of freedom you experience is directly proportional to the amount of responsibility you are willing to exercise. Or on a larger scale we can say the level of freedom we have is directly proportional to the level of responsibility we are willing to exercise. Of course, we all know that many humans live under governments that are very controlling and that freedom is limited in those conditions but the principle still applies: To be free you must be responsible, and the more responsible you are the more free you will be. But this is where it gets a bit tricky. Most humans really don't know how to be free, or are willing to compromise their freedom for something governments will provide in exchange. For example many people now believe it is governments responsibility to provide retirement income, or higher education, or medications, social justice, economic justice, fairness, jobs, or even happiness. These people abdicate their own personal sovereignty in exchange for being taken care of. I mean, it's a human failing...if someone else, or government is willing to provide, or be responsible or take care then most humans say, "Let them." Even if government has to steal from someone else in order to give it to another, or even if it drives their government into total economic collapse because of debt, well, so be it.
And now that the State is becoming more and more controlling with more and more restrictions even to the point of surveilling your every call, email, job, grades in school, purchasing habits, bank balances, music you listen to and people you connect with most are still willing to compromise in exchange for safety, or benefits. Most are willing to do as they are told just because an illusive authority says so. But it is so easy that way, isn't it? Oh yes, the chains wrapped around our necks may feel like silk but they are still chains.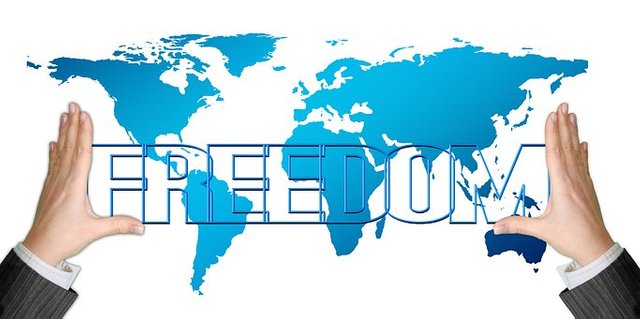 WHY NOT BE HAPPY WITH MODIFIED FREEDOM?
Can you imagine a world without government or with very, very limited government? There would be no social security, no government invasion of your privacy, no welfare benefits, no government-provided education or health care, no onerous taxes, no TSA checks, no environmental regulations, no requirements for business licenses', no local dog/animal shelter, no standards for prescription drugs or food quality, no unemployment or National parks, or OSHA, etc., etc. For most this would be considered to be a very ugly world indeed.
So why not have modified freedom where the citizens of a State choose what level of freedom they prefer, what level of government involvement they like? Wow! That's an excellent question. I'm glad I asked it.
First of all, at our current level of consciousness modified freedom, or pervasive government involvement in virtually every aspect of our lives is what we want...for the most part. Some want more, some less, but for most government is seen as a troublesome but necessary institution. I'll tell you this, however, the level of government we have and what it does is a reflection of our collective consciousness. So is freedom not what it is cracked up to be? (Does anyone know where that phrase came from? ...cracked up to be.)
Here is the answer, an answer that only those who are on a path leading to higher awareness, and higher consciousness can comprehend. For those who prefer to delegate their personal responsibility to government this answer will be reviled and rejected. But it is what it is, and you can measure yourself against it.
Only through freedom can we rise to our highest potential. Only through freedom can we realize our greatest spiritual truth, that being: we are love, light, compassion, truth, peace, abundance, intelligence, gratitude, creators, free. And only in freedom can we practice these things, in the highest degree.
Now, some will vehemently argue that there are many who have achieved these high spiritual treasures, some in very restrictive circumstances. True. Very true. I would suggest, however, that the more responsible one is the greater his/her opportunity is to rise in consciousness. When one forfeits responsibility to another or to government, one decreases his/her personal power. It's as simple as that.
I would be free. I would govern myself.
WHAT ABOUT ANARCHY?
This may surprise you but I am not an anarchist. Why? In my opinion humanity is simply not ready for anarchy, or capable of self government. The overwhelming majority of people, at this point in human evolution/consciousness, are incapable of living free. Were all governments dissolved tomorrow the world would be cast into a cauldron of chaos and destruction. The very first thing people would do, after a period of terrible violence, would be to organize, to form local governments. It would be a matter of survival.
SO WHAT DO WE DO?
So, for those of us who love freedom what do we do? We continue to be as self-responsible as possible. We continue to grow in consciousness and love and awareness. We champion freedom and individual responsibility. We keep the torch of freedom burning brightly in our own families and in our own hearts.
May you be blessed and be at peace.
Mister Mercury