Jaguar.Force: History of a FRAUD!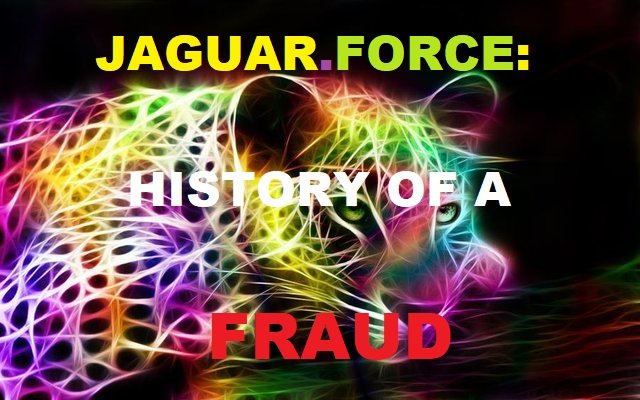 ---
   When no one is in charge of watching over those who watch over us, they roam freely, believing the kings of the place. - Anonymous
---
   I think that the phrase with which this article begins is quite representative of what I am going to show you next, about a project that calls itself anti-plagiarist but which, as far as I am concerned, has shown a total lack of knowledge about the world of plagiarism and its norms, as well as a total lack of impartiality and professional ethics.
   It all started when the group accused the user @zeleiracordero of having committed aberrant plagiarism. At first I was surprised, because I know the trajectory of this user but, as in these cases you never know, this warning alerted me and led me to put myself to investigate the case myself.
   For everyone to know (as I let this group know) I use a plagiarism detection program that has quite good criticism: it's called Dupli Checker. and compares texts of up to 1,000 words with everything it finds similar on the net.
In addition, as its own website indicates and is something that I agree with, plagiarism detection programs are faster and more effective against manual detection since, in addition, in the human can be given factors that cloud that precision such as factors of a personal nature, of the antipathy type, hatred, eagerness to find more to be able to get daily reports (as is the case of this group, which profits from it daily ) and, ultimately, factors that lead to an impartiality, necessary in each and every case.
   Well, continuing with the main topic, this group strongly affirmed that this article in Spanish of the mentioned user contained an insurmountable plagiarism.
But what did Dupli Checker say about it? That only a 6% of the article had words equal to the original and that a 94% of the article was legitimate.
---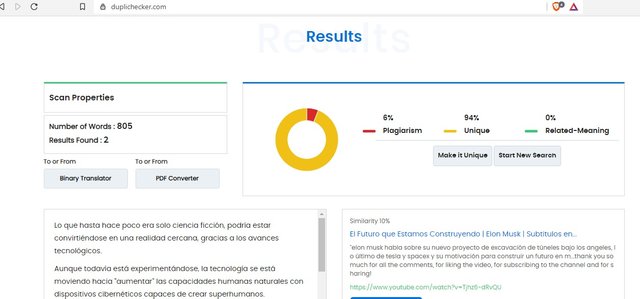 ---
   At this point, it is necessary to inform and know (something that this group does not know or want to know) that to consider a text as intentional or unintended plagiarism, there must be at least 20% similarity between texts. And I'm talking about texts and official cases, such as doctoral theses, etc.
   Important fact to know, since these people are calling plagiarists and scum to people who may have 6% or 3% similarity between texts; normal thing when the text is a paraphrase of the original.
Can you imagine? These people blame other people and blacklist them because of a 100-word text, 6 or 3 are equal to the original text. Words that can be commonly used such as: that or what, how, a, and, etc..
   To be fair, at this point I will say that this first article of this user, reflected a bibliographic source where had supposedly paraphrased from, but not the one that Jaguar Force said, which I recognized but that I alleged could have been a confusion or neglect , since the rest of the article contained a big number of photo credits, etc..
   A curious fact, which reaffirms my claim that they are based on low percentages of alleged plagiarism (or what they consider as such), is that their modus operandi is based on putting screenshots of supposed paragraphs taken from the original source and the alleged plagiarized source, framed in red and blue, as proof of plagiarism.
---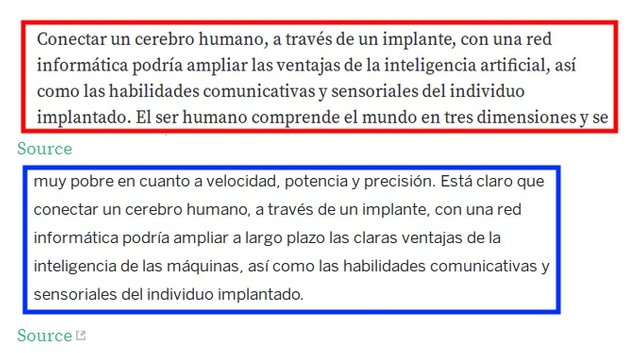 ---
   Well, up here you have the real example of the case of this user and, those who know Spanish, you will see how in the paragraphs almost no word fits, although they put them as proof that they are identical.
   That's playing dirty dear jaguar...
   After talking to them privately (if what we had could be called conversation), they tried to reaffirm their position by bringing and showing me another article by the same user where, supposedly, it also contained a terrifyingly clear plagiarism.
   Can you guess what Dupli Checker told me? I show you:
---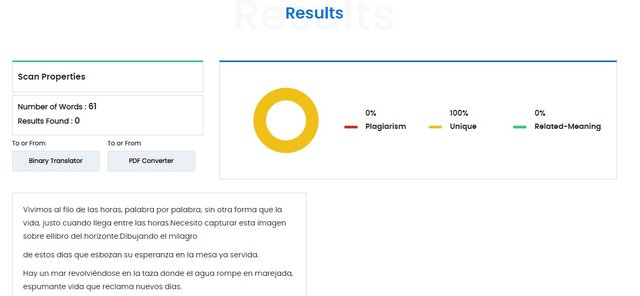 ---
   0% plagiarism!
   In addition, the source that Jaguar Force cited as the original in his article of a new plagiarism report, did not match in any of the 50 poems I read, with the paragraph he put there as an image and proof of having found two equal paragraphs.
   Were you trying to cheat me blatantly, jaguar?
   10 days ago they accused and blacklisted another user: @sandracabrera.
   I took the trouble (I don't charge for this, unlike them) to check it out for myself and guess what Dupli Checker said?
---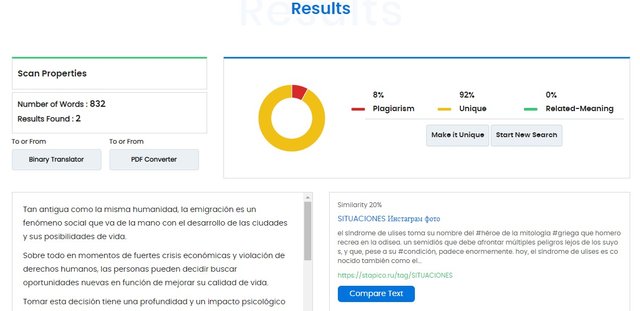 ---
   8% of equal content, 92% of unique content. An article that clearly paraphrases some things but that the rest is totally original.
   And they, without this data or any knowledge, go to other projects to tell them to stop voting for these users because they are compulsory plagiarists....
   As I told you before, I do not take any of this and yet I went to alert one of those projects to ignore this swarm of thugs without any knowledge.
   We, @dresden speaking on behalf of the The Talent Club project, have stopped voting them or their reports, of course; for lack of professionalism and for being a walking fraud.
   Someone should take serious measures against these people to stop establishing their kingdom of chaos and false or misguided accusation.
---
   I did not want to say goodbye without showing you the amount of insults that this group told me in private, by running out of arguments against my personal investigations.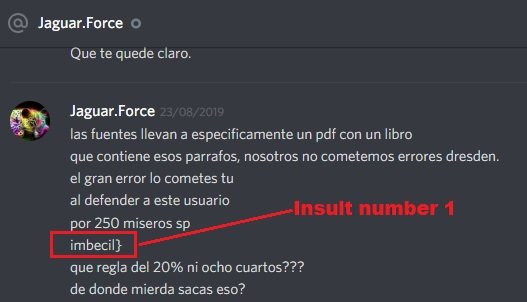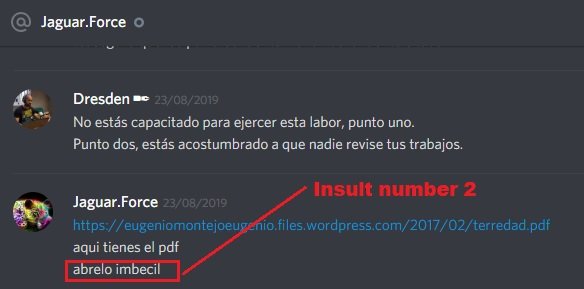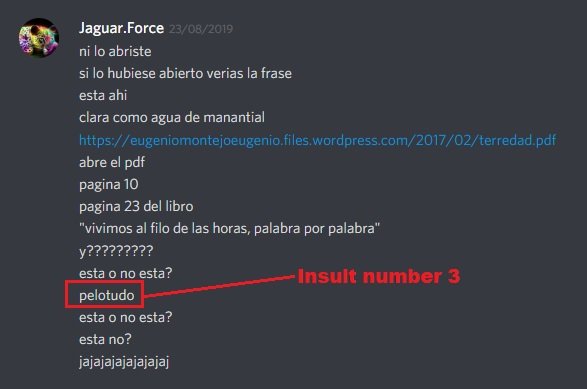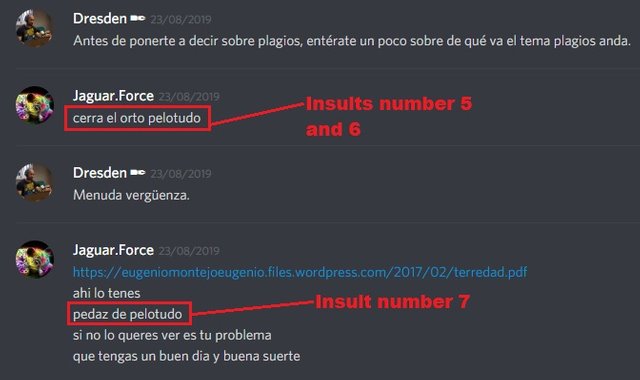 ---
   True gentlemen.