I came up with the Very First Steemit Foraging Scavenger Hunt as a fun way for you to find existing Steemit content about foraging from the wild. I hope you enjoy playing this game!
I have seen so many great posts and enthusiastic discussion about foraging for wild plants, mushrooms, and other natural materials. But with the way Steemit feeds are organized right now, it's hard for us foraging fans to find all the relevant posts. They are scattered among travel, photography, gardening, food, and many other tags. And, just like in the outdoors, I see a lot of wild plants that I know are incredibly tasty or useful, but that aren't identified that way in their post.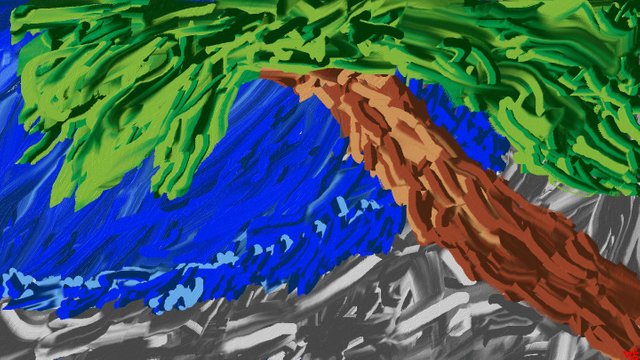 Wild in the Wild - custom digital speed art by @nonameslefttouse and his Three Color Game. I love how it conveys the spontaneous spirit of foraging and finding nature's bounty in many forms. - Thanks, @nonameslefttouse!
How does this Scavenger Hunt work? Are there prizes?
There are 60 items on the scavenger hunt list. Some are simple, others are not. When I go foraging, I don't expect to find all the wild plants that could possibly be there. Likewise, I do not expect that you can find all of the items in the scavenger hunt list! You can ask other people on Steemit for help. That's like foraging, too, where it can be helpful to ask someone to help you identify, harvest, or prepare a wild plant that is new to you.
Several items at the end of the list deal with harvesting animals. I listed them together, and at the end, so anyone with issues can more easily avoid them. Whether pro or con, harvesting wild animals is something that exists and is worth discussing within the foraging community.
Are there any prizes for this scavenger hunt? On any foraging outing, there's no guarantee that the effort you put out will lead to any reward, beyond the fun and challenge of getting outdoors and looking around. The same goes for this scavenger hunt. But if you are foraging with some persistent effort, there is usually something worthwhile to bring home.
---
---
Rules – Just like foraging, attention to detail does matter!
You must be a follower of the @foraging-trail

All contest entries must be posted by Wednesday, Nov 2, 6pm PDT (UTC-7)

The scavenger hunt item you find may be a blog post, a comment, text, a photo, or another kind of image. The post or comments can be made by someone else or by you. Only posts that are less than 30 days old will work for this scavenger hunt, because you must be able to leave a reply to the post or its comments.

Your entry will be a blog post that shows the URL links for each of the items on the scavenger hunt list that you are claiming. For example, if you can only find a poem about foraging (item 22) and a wild edible fruit (item 31), you will have a list of two URLs, one labelled 22 and the other labelled 31.

An easy way to put all the links in your posts is with the Steemify the Link tool made by @joewantsfreedom. It's incredibly great for getting all your links formatted in Markdown! But don't put the itemized list numbers in the tool, just the links.

You must use these tags on your post: foragingscavengerhunt1 and steemitgame

When you find an item in a post or a comment, you have to claim it so that nobody else can use it. To claim the item, leave the hashtag FSH1- and the number of the item you found, in this format: #FSH1-item, where item is a number from 1 to 60. If you found the item in a comment, leave the hashtag in a reply to the comment. If the item is in a post, leave the hashtag as a reply to the post.

For example, if you find a picture of wild dandelion greens in a post, put hashtag FSH1-2 as a reply to the post. If you find a comment where someone says they are afraid of eating wild mushrooms, put hashtag FSH1-1 in a reply to that comment. (Don't forget to replace the word hashtag with an actual hash sign.)

There can be multiple items in a single post, but once a person claims an item, nobody else can claim it. If an item has not been claimed, you can still claim it, even if someone else has already claimed another item within the post. For example, say a post shows wild edible flowers, wild edible nuts, and a wild edible berries. If someone else has already left a comment with hashtag FSH1-3 and hashtag FSH1-49, you can still leave a comment with hashtag FSH1-18. (Don't forget to replace the word hashtag with an actual hash sign.)

If you want to leave a nice comment to the person making the post or comment, that's great!

You are free to interpret items on the list, but I reserve the right to accept or reject that interpretation.

If I have any questions about your entry, I will leave a comment in your entry post. You will need to respond to my question within 24 hours.
---
---
The Scavenger Hunt List
An expression of fear or concern about eating something growing wild
Any wild edible leafy green
Wild nuts that are edible
Wild seeds that are edible
Using a foraging app
Review of a foraging app
Using wild plants for something to drink
Preserving something from the wild to use later
A wild edible mushroom in its natural setting
A post or comment about foraging made by you
A garden weed that is edible
An edible parasite
Use of a foraged harvest in the outdoors
Harvesting something from the wild to use for art or crafts
Why someone is interested in foraging
A report from a personal foraging outing
Edible foliage from a tree
Review of a foraging book
A wild edible flower
Use of foraged food in a restaurant
Art that shows a wild edible
Asking a question about foraging
A poem about foraging
A non-native, invasive wild plant that is edible
Use of a scientific name for a wild edible
Foraging regulations for a local park or other public lands
A meal or dish made with wild foods
Someone harvesting and preparing their very first foraged food
A recipe that uses ingredients from the wild
Artwork that expresses anything about foraging
Serving foraged food to someone else
An edible wild fruit
Instructions on how to harvest something growing wild
Joining a foraging club
Use of more than one common name for the same wild thing
An edible plant that is a garden escape artist – it's grown on purpose, but escapes into the wild
Foraging something from the wild to grow in the garden
Tips on how to avoid an identification mistake
Trying a new wild edible food
Taking a foraging class
Helping another person learn to use something growing wild
A taste review of a wild food
A report from a foraging foray with an organization or group
A wild edible root
A craft made with something from the wild
Family traditions in foraging
A great foraging harvest
A great foraging discovery, whether harvested or not
Helping someone with a foraging identification question
Edible wild berries
A foraging mistake
Getting a foraging permit
Art made with something from the wild
Eating insects from the wild
Harvesting a wild aquatic animal
Eating a wild aquatic animal
Harvesting a wild land animal
Eating a wild land animal
Harvesting or eating a wild bird
Using any wild animal harvest for art or crafts
---
---
-- Good Luck -- Happy Foraging --

and let's not have anyone get hurt out there!

Thanks for your support

See you on the @foraging-trail!

---

---

** Haphazard Homestead **

*** foraging, gardening, nature, simple living close to the land ***

I participate in Operation Translation. All my posts are available for translation under the rules listed on the linked post from @papa-pepper. Logo provided by @oepc85.