Fried Modak
Modak is a sweet dumpling stuffed with coconut and jaggery. Highly popular in Maharashtra on Ganesh Chaturthi. It is considered to be one of the favorite foods of the deity Ganeshji.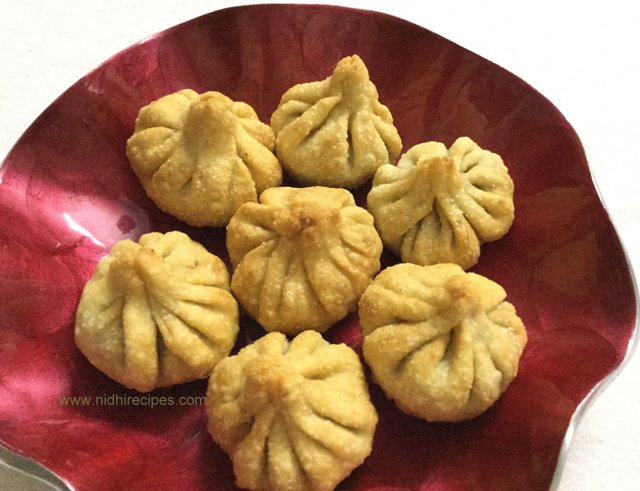 Ingredients (10-12 pieces)
All Purpose Flour/Maida – ½ cups
Sooji – ¼ cup
Oil – 1 tbsp
Salt – a pinch
Milk – 2 tbsp
Water – if required
Coconut Powder – 1 cup
Grated Jaggery – ½ cup
Cardamom Powder – ¼ tsp
Roasted Cashewnuts – 8-10
Oil – for deep frying
Method
To make stuffing:
Heat a pan on medium heat, add the grated jaggery and cook till it melts, stirring occasionally.
Add coconut powder and cardamom powder. Mix well till it is mixed evenlyand is a bit dry. (approx 3-4 minutes)
Finally add cashewnuts. The stuffing is ready. Keep aside to cool.
To make outer cover:
Mix maida, sooji and salt in a bowl. Add a tbsp of oil and mix it well with the help of fingertips.
Now add milk and knead it to a smooth but firm dough. It should not be soft. (Add water if needed).
Cover the dough with damp cloth and let it rest for 15 mins.
Again knead the dough and divide it into 9-10 equal portions
To make modaks:
Roll each portion into small puris of around 4 inch diameter. (for crispy modaks the puri should be thin).
Now place spoonful of stuffing over the puri. Fold the edges (with the finger and thumb pinching) and gather them in the center. Seal it properly.
Do the same for all the modaks.
Heat oil in a kadai and deep fry the modaks on medium heat. (The oil should not be too hot as the modak can get burnt and will remain uncooked from inside.)
Stir them at regular interval to make sure that they are cooked and becomes golden brown and crisp from all sides.
Remove them from oil and let them cool completely before serving.
Store them in an air tight container.