Ghastly Ghost and Bone Meringue Cookies 👻☠️🍪 (PHOTOS + RECIPE)
Greetings F(r)iends! 👻
Yayyyyyy!!! It's officially HALLOWEEN 🎃, and since I'm just a big kid, it's one of my favorite times of year!
Today, I have two tempting themed treats (and no tricks) for you, some SPOOKY and KOOKY ☠️ Halloween COOOOooKIES. 🍪😍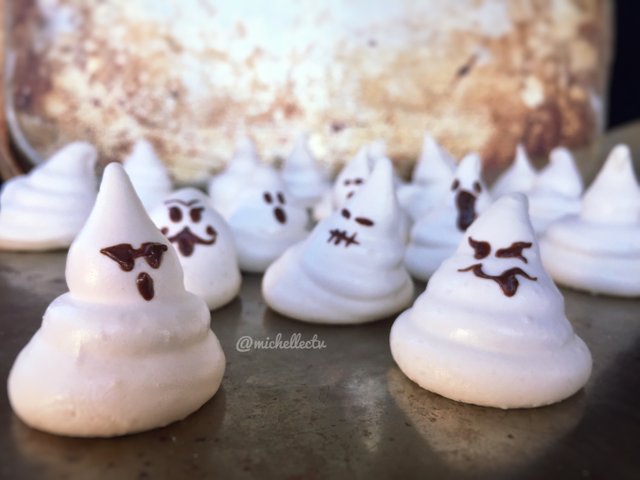 They're frighteningly sweet and cutely conversational. If you're feeling down, they'll likely lift your spirits up. Oh, and don't forget to share a few with your very special bOOoooooooooo!!!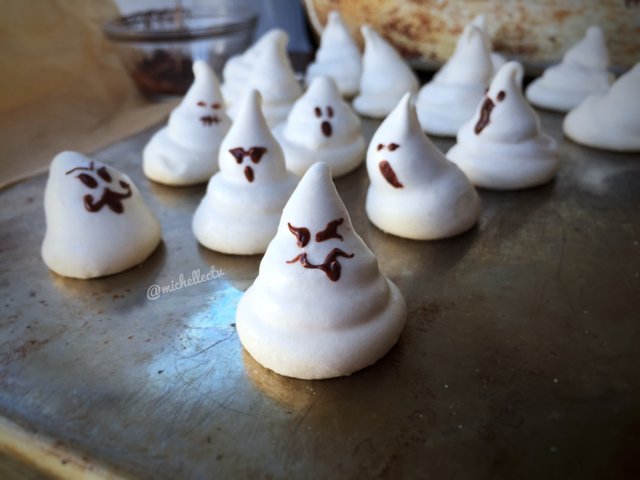 Ghastly ghost and bone meringues only require a few ingredients, however, meringues can be a bit tricky to make and bake.
No worries if your batch winds up weeping (or even seeping). It just adds to their ghoulish charm!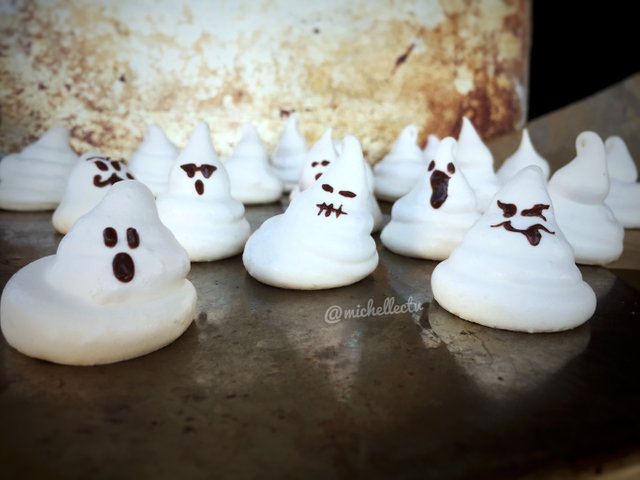 Ghastly Ghost & Bone Meringue Cookie Recipe 👻☠️🍪
---
Ingredients
4 large egg whites
1/2 cup superfine white sugar or confectioners' sugar
2 teaspoons cornstarch
1/2 teaspoon cream of tartar*
1/2 teaspoon pure vanilla extract
melted chocolate chips (as needed) for decorating
---
Yield: approx. 2+ dozen | Oven temp: 200°F (approx. 100°C) | Bake Time: 90 minutes, turn off heat and allow to slowly cool in oven for several hours or overnight.
---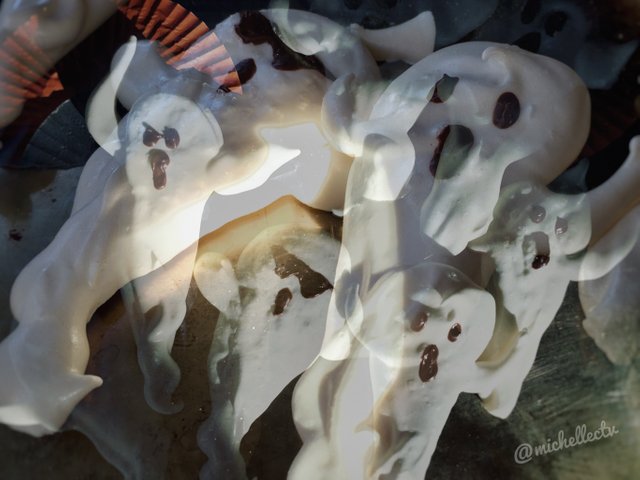 Directions for the batter:
---
Preheat oven to 200°F (approx. 100°C) . Line two baking sheets with non-stick parchment paper or silicone baking mats.

Separate chilled egg whites from yolks* in two (or more) small prep bowls. Cover egg whites and allow to warm to room temperature. *Sweet idea! Save and refrigerate the yolks to make a delicious custard later!

First, make sure your mixing bowl and whisk are grease free. Get them extra clean by wiping them down with a bit of white vinegar. Next, whisk room temp. egg whites in a large mixing bowl until white and frothy (if using a stand mixer, whisk at low-medium speed). Add 1/2 teaspoon cream of tartar and whisk again until dissolved.

Combine 1/2 cup superfine white sugar (or confectioners' sugar) with two teaspoons of cornstarch. This step is optional, however, I found that added cornstarch can help prevent stickiness and seeping in your final product (especially helpful on a high humidity day!).

While mixing at a medium-high-ish speed, slowly add sugar one tablespoon at time, until meringue batter becomes white, thick, shiny, and forms stiff peaks.

Add 1/2 teaspoon pure vanilla extract and whisk together.
---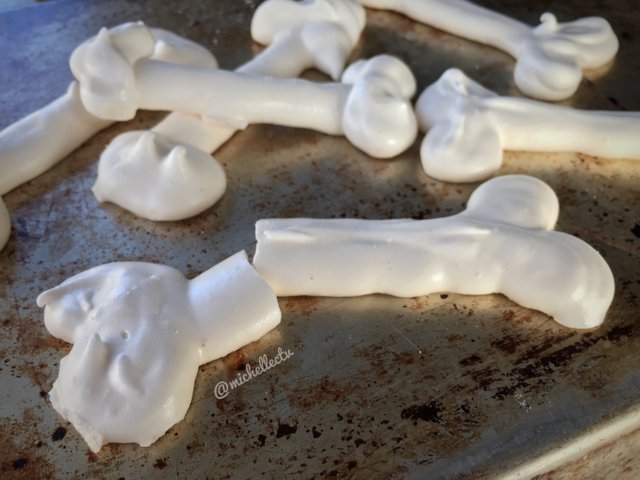 Directions for the fun part:
---
Transfer batter to a large piping bag [I chose a Wilton # 1A tip (or Ateco 809)] and pipe 2" tall ghostly puffs, flat bones and / or Casper-like ghosts onto lined baking sheets.

Bake for 90 minutes at 200°F (approx. 100°C). Turn off heat and allow the meringues to slowly cool in oven for several hours or overnight.

Give your ghouls some soul by decorating 'em! Melt some semi-sweet chocolate chips and use a toothpick to draw on fearsome faces! 😱
---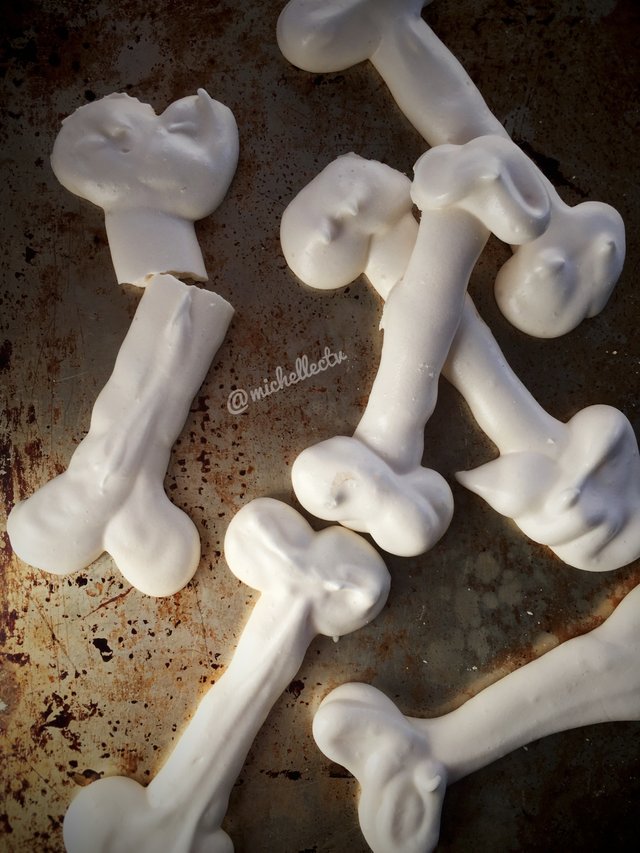 ---
Thanks for commenting and sharing! I hope my post will inspire you to treat yourself to something nice (or naughty) this Halloween 👻! Until next time...
Bon(e) Appétit! 🖤
Michelle
x
---
P.S. If you enjoyed this post (and I hope you did!) FOLLOW @michellectv for more Fun, Food, Drinks, Beauty, Travel & Style!