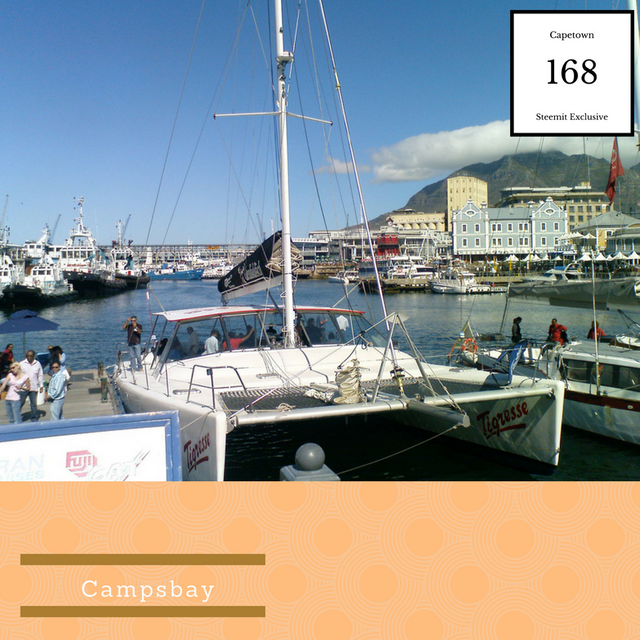 Cape Town is fantastic if you want to escape the cold winter!
If you are sick of the cold winter in Europe you could escape to Cape Town. It has a couple of advantages over the US or Asia. Most importantly there is not time difference between Europe and South Africa. Without a jet-lag you can enjoy the whole day from day 1. Cape Town is warm and you have great seafood. 
Low cost carrier meal from Johannisburg to Cape Town

You can rent a catamaran for a cruise

The Harbour



I think this was a South African Coke


Best thing is the Sea-Food in Cape Town

 Whole plate was less than 35$ (yes that's lobster!)

Sea, Summer and great food !!!
Many people I talk to are too afraid to go to Cape Town, they think they will get robbed on the streets. I have been 4 times to CPT in my life but never encountered a bad situation. We even went out for party until morning etc. and never had a single problem. Of course there might be areas where you should not go at night as a foreigner but the same goes for m any countries in the world. 
Have you been to Capetown ???
I am blogging about the following topics :
Exposed (Uncovering Stories you need to know)
Lifehacks (How to save money,etc) 
SPOTTED (Limited Edition Food, Drinks, Gadgets)
Steemperlen (German Version)
SQUEEZE (Interview Series) 
COOKED (10 Episodes Cooking Series)
Working anytime, anywhere (New series for freelancers)
Frequent Traveller (New series about Travel Hacks and FFPs) 
HEAVEN (NEW Luxury Travel Magazine)
ABOUT ME: Some insides into my Steemit life