Easter Fruit Pizza
This is the best fruit pizza I have ever tasted...sharp lemon sugar cookie base, with a sweet strawberry cream cheese layer, then fresh fruit on top.  It doubles as both a fruit side AND a tasty dessert!  Plus, you can make it in any shape you want.  Given the season, I did an Easter egg so it served as decoration for our event as well!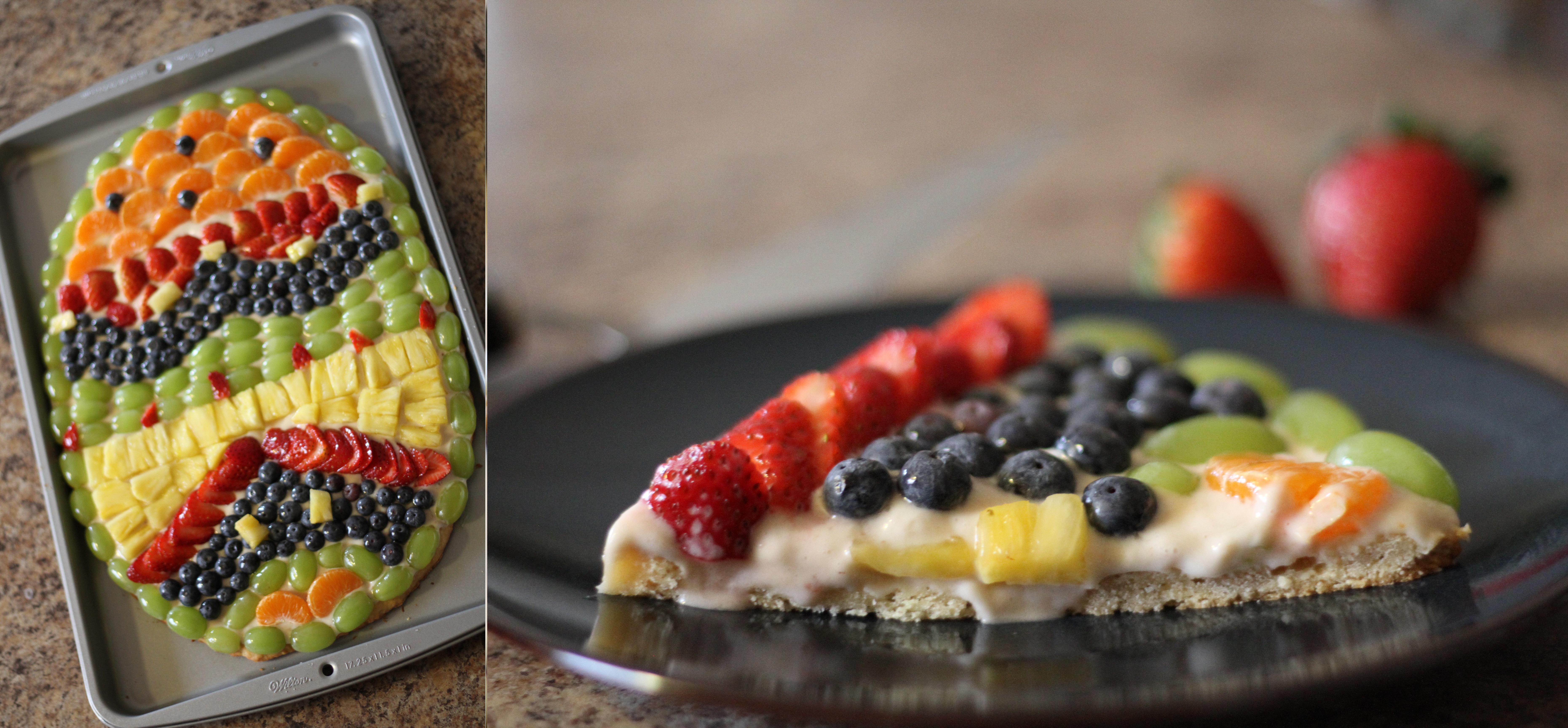 Ingredients
Sugar Cookie
3 1/4 cups Flour
1/2 tsp Salt
1/2 tsp Baking Soda
6 oz Butter, softened
1 1/2 cups Brown Sugar
8 tbsp Lemon Juice
2 Eggs (at room temperature)
2 tbsp Heavy Whipping Cream

Strawberry Cream Cheese Frosting
8 oz Cream Cheese, softened
1/3 cup Strawberry Jam (at room temperature)
1 1/3 cups powdered sugar

Topping
Variety of favorite fruits (the more colors, the better!)
1/4 cup Apple Jelly (or other light-colored jelly)
1 tbsp Water

Directions
First, prepare the sugar cookie:

In a medium bowl, whisk together the flour, salt, and baking soda. Set aside for a moment.

Using a stand mixer, combine the butter and brown sugar. Beat them together until light and fluffy. 
Add the dry ingredients, mixing until thoroughly combined. 

Add the eggs, one at a time.
Add the cream and lemon juice, mixing them in.
Shape the dough into a large disc and wrap in cling wrap. Refrigerate until firm (at least an hour). 

When dough is firm, preheat oven to 350 degrees and cover a large baking sheet with wax paper. 

Sprinkle flour on the paper, then place dough on paper.  Sprinkle flour on top of dough as well, and cover with another sheet of wax paper. 
Roll out the dough between sheets of wax paper until it is a rectangle about 15x12 inches. Use a paring knife to trim it into an oval shape.

Transfer cookie to the baking sheet, and bake at 350 for 20 minutes, or until it takes on a light golden color and is puffed but set in the middle. 

Let it cool completely.

Next make the frosting:

Beat the cream cheese using a stand mixer until it is smooth and fluffy (a flex edge beater attachment works great for this!). 
Add strawberry jam and powdered sugar, and beat until everything is well-mixed. 


Spread the frosting in a thin, even layer over the surface of the cookie, leaving a small margin around the edges. 

Wash and slice the fruit.

Place fruit slices on top of frosting in whatever pattern you want—let your imagination run wild!
[Optional Step] In a small bowl, place jelly and water. Microwave for 20 seconds. Stir them together until the jelly is fluid and smooth. It should have the consistency of a thin gel. Use a basting brush to distribute this glaze on top of your fruit. This gives it a lovely shine, and also helps the fruit slices from looking wilted after being out for awhile.

Tips
This Fruit Pizza is best enjoyed the day it is made.
If your cookie dough becomes too sticky at any point, let it cool down in the refrigerator again. You can also sprinkle with more flour to make it easier to work with.
If you have less time or want to spend less effort making this, you can use a pre-made sugar cookie mix for the base and store-bought cream cheese fruit dip for the frosting. 
For more delicious dessert recipes, check out my other recent posts: