The Scariest Story of All Time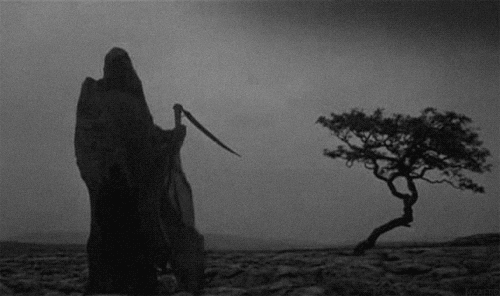 It's that time of the year again when the chills are chillier and the campfire stories are much crazier. For the past two years, I've published critically-acclaimed short stories which many have dubbed instant classics, so, of course, there's no pressure following them up. If you have time to spare, do yourself a favor and read through the Halloween 2016 story here and here and the Halloween 2017 story here. You're welcome.
Up for another? Well, you're in luck!
I've got a killer of a story for you! One that'll surely leave you a bloody mess, you'll need friends and relatives to identify your remains after. I've been leaving clues here and there just so you wouldn't be caught too off-guard when you read it.
Unfortunately...
I've been very busy with work and life (and work) so I wasn't able to finish the story in time. Heck, I've been so busy, I haven't been able to finish the @dreemit -centric post I was supposed to put up two weeks ago!
Given the time-sensitive nature of this post, I'd be remiss if I don't even post an update. I mean, what would the thousands hanging on my every word do with their time?
Consider this a kindness.
But, like I said, I didn't have enough time to finish the story. Shocking, I know. The prolific writer that I am and I couldn't even finish a short story in time. I am human, after all.
It's a shame because I (and the few others that were fortunate enough to read excerpts) strongly believe that the story I was telling is quite possibly the scariest story of all time. Exclamation point! It was so scary that the power went out every time I'm adding to it. The winds howled furiously and the rain started to gush every time I open the file. It's as if the universe itself was trying to stop me from completing the potentially most dreading piece of fiction that could be read by man and beast!
I'm not traditionally a horror writer, so I surprised even myself. I didn't want to believe it, but people have said that the greatest works of Stephen King, H.P. Lovecraft, Clive Barker, Richard Matheson and even Edgar Allan Poe combined paled in comparison to that one short story. It wasn't the first time I was compared to pillars of fiction, so there's no surprise there, but what I found intriguing was the prospect of what I was writing could spell the end of horror fiction as we speak.
That was a lot of pressure.
To have the fate of an entire genre resting on an open markdown file in my laptop... it was unnerving. WIth a few taps on my keyboard, I could literally end Horror Fiction forever. Do I want to go down in history with that hanging over my head?
A part of me wanted it, for sure. But, I am benevolent. While I want to be cemented in the annals of legend, I don't want to be the writer that deprives future generations of lesser scares. I don't want people to laugh at books like The Shining or The Call of Cthulhu after reading a free short story on Steemit.
So, I sat there, contemplating what I was supposed to do with my unfinished opus. Should I post it as it is or delete every trace of its existence? Like I mentioned prior, I am benevolent.
That's why I'm writing to you here, dear reader, apologizing to you for depriving you of a story that would make you question your very existence. I'm sorry for not giving you the chance to be afraid to even breathe.
Too bad you wouldn't get to read a story that would give you chills, take your breath away and make you piss yourself all at the same time. As a consolation, there are many other stories out there that would give you a good scare, but none that comes close to spine-tingling, gut-wrenching, out-of-body experience that my original Halloween 2018 story would give you.
I may never get to write something as magnificent as that one, but I'm giving myself and every other writer out there a chance to write other works of fiction, free from the specter of the story that would end all stories.
I apologize. You're welcome.
---
It's November, so it's time once again to hop aboard the NaNoWriMo train! Last year, I wrote some NaNotes focusing on different aspects of the competition. This time around, keep posted to my account for updates on a new series I'm starting. As much as I wanted to pick up where I left off, I feel like the NaNotes are great the way they are. Time for something new, time for something fresh. Joining NaNoWriMo this year? Hit me up in the comments section and let's write together!
---
Join me in my Year of Resilience!